FEMA Official Warns Bigger Tornadoes the 'New Normal,' Linked to Climate Change
Federal Emergency Management Agency (FEMA) Administrator Deanne Criswell warned Sunday that severe weather events like the tornado outbreak that tore through six states this weekend will likely become the "new normal" due to climate change.
"This is going to be our new normal and the effects that we're seeing from climate change are the crisis of our generation," Criswell said on CNN's State of the Union.
Criswell's warning comes after an intense and unusual weather system struck states including Arkansas, Illinois, Kentucky, Missouri, Mississippi and Tennessee on Friday night and into Saturday morning. The outbreak included dozens of tornado reports and left a wave of fatalities and destruction in its path, with fears that upwards of 100 people were killed.
Kentucky Governor Andy Beshear said Saturday that at least 70 people are expected to have died from the storms in his state, and officials predict the number will climb as search and rescue missions continue. Videos and photos showed how the storms wreaked havoc across the region, ripping through buildings, collapsing roofs, and trapping people under piles of rubble and debris.
"This has been the most devastating tornado event in our state's history. What it has done here is indescribable. The level of devastation is unlike anything I've ever seen," Beshear said on Saturday.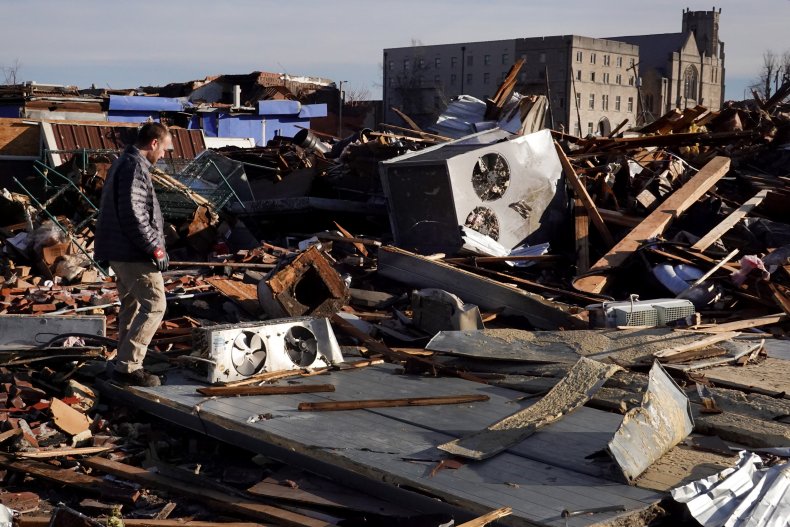 While tornado events are not unheard of for that part of the country, experts have noted that such a powerful and far-reaching storm system this late in the season is rare.
"I think it's incredibly unusual," Criswell added on Sunday. "We do see tornadoes in December, that part is not unusual, but at this magnitude, I don't think we've seen one this late in the year. But it's also historic. Even this, the severity and the amount of time this tornado, or these tornadoes, spent on the ground is unprecedented," she added.
One tornado is thought to have touched down for more than 230 miles, ripping through Arkansas, Missouri, Tennessee and Kentucky for hours. The National Weather Service (NWS) is conducting an official report to confirm if the event was one continuous twister and if so, it will set the record for the longest tornado in U.S. history and the first to cross through four states.
Officials have noted that the storms were brought on by unusually warm, spring-like temperatures across much of the Midwest and South. A tornado is formed when drier, cold air is pushed over warmer, humid air, which can create spinning air currents and changes in wind speed.
"The worst-case scenario happened. Warm air in the cold season, middle of the night," John Gordon, a National Weather Service meteorologist in Louisville, Kentucky, told the Associated Press. Higher temperatures were brought on in part due to a La Niña weather pattern, which typically brings warmer winter weather to the southern U.S.
Northern Illinois University meteorology professor Victor Gensini told the AP that extreme storms are becoming more common "because we have a lot warmer air masses in the cool season that can support these types of severe weather outbreaks."
Scientists have warned that as the planet continues to warm from climate change, severe weather events will likely occur more frequently.
Criswell said Sunday that FEMA is working with communities to "help reduce the impacts that we're seeing from these severe weather events and help to develop system-wide projects that can help protect communities," in the future.