Alternative to Genital Mutilation Emerges for Kenya's Maasai Girls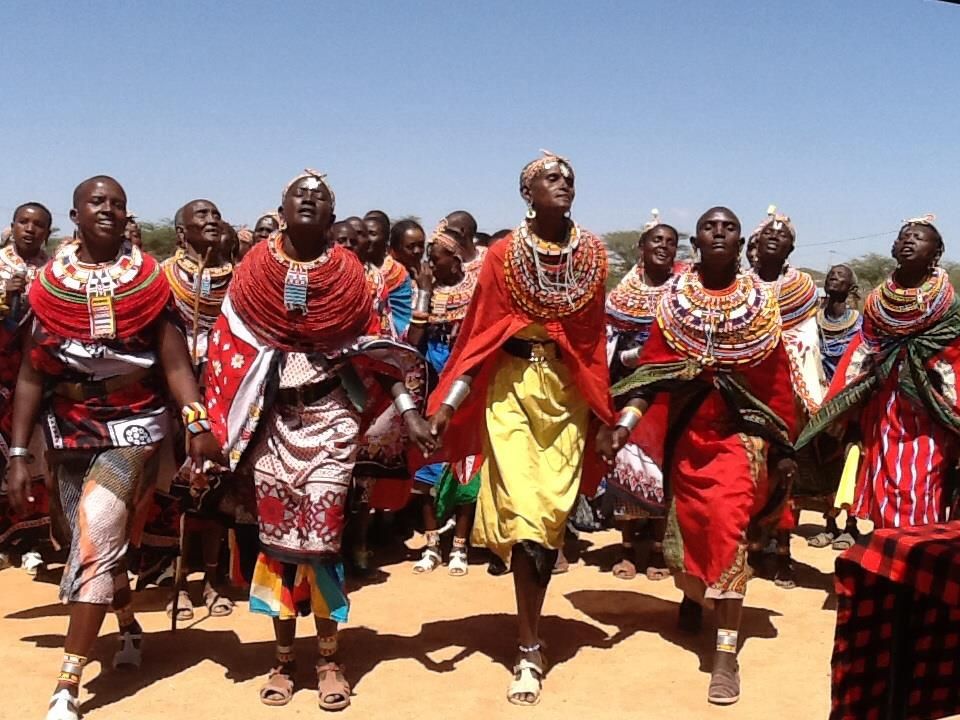 In a remote, deeply traditional corner of southern Kenya, thousands of young Maasai girls wearing black and white robes and with blood sprinkled on their foreheads dance in the light of dawn. Loudly, enthusiastically, they sing traditional songs with the support of a choir and gifted drummers. In the town of Entasopia, the girls are undergoing a rite of passage that resembles the tribe's customary coming-of-age ceremony—but without the usual horror of genital mutilation.
"I am very happy because I will not be married off at this age," says 12-year-old Joan Siyuama as she drinks raw blood from a slaughtered bull to signify her ascendance to adulthood after participating in the ceremony. "I will now go to school and achieve my dream of becoming a doctor."
Siyuama is among many Maasai girls who are bucking a tradition that has disfigured millions of their ancestors. For the Maasai community, traditional culture permeates every aspect of daily life. Until recently, that culture dictated that elders must remove a girl's labia and much of her clitoris before she could marry. But with the help of a generation of activists campaigning against female genital mutilation and early forced marriages, traditional African communities like this one have accepted an alternative ceremony. As a result, fewer girls are being married off as teenagers, and more are going to school.
"In the Maasai community, we have no female doctors, teachers, journalists or any other position in the government because of this practice," says Ole Lelein Kanunga, a Maasai man leading the campaign against female genital mutilation. "But since 2013, we said there will be no such practice in this community of Maasai."
Elder works to spare girls
Thirteen years ago, Maasai elders appointed Kanunga as the chief moran , or warrior, in Entasopia, a lush oasis of trees and pasture in the otherwise desert flats of southern Kenya. He's now in charge of 750 men between the ages of 14 and 30. Since he received training in 2013 from a nongovernmental organization about female genital mutilation's dangers, he has held meetings with men and women to educate them about these risks, including diseases, psychological trauma and complications during childbirth.
"I used to attend several ceremonies where young girls would undergo the cut," he says. "But one day when I visited a ceremony, the circumciser did it wrong, and one of the girls began to cry as she bled profusely. It hit me. I needed to act and stop this."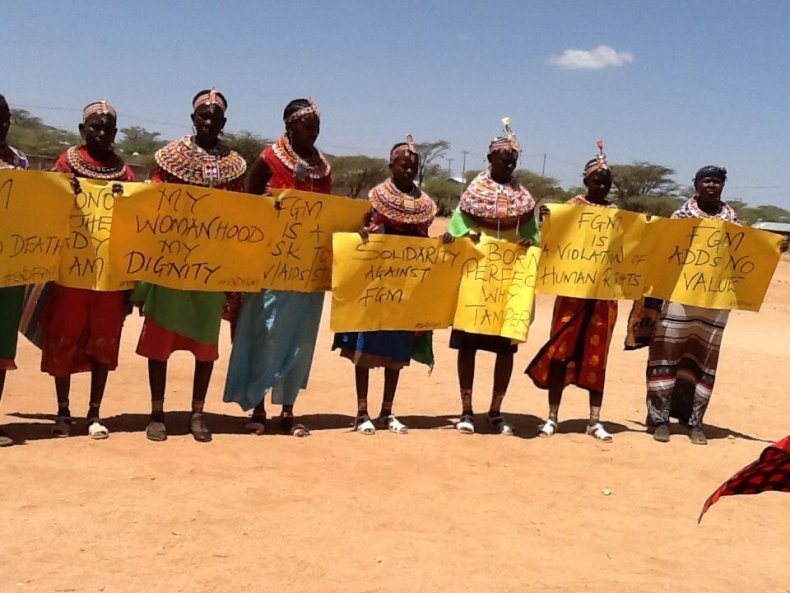 Kanunga says his and his warriors' efforts have helped more than 10,000 girls avoid undergoing the procedure since 2013.
It wasn't easy. Kanunga had to confront other leaders who didn't share his perspective. "It was very hard for me to speak about it, even after being taught the effects of the female genital mutilation," he says. "When I stood up to oppose female genital mutilation, people were shocked. They questioned why the defender of our culture was going against our tradition. But I believe the girl-child should be given a voice, a right to education and a right to life. Girls are a very important element of our society. If we educate them, they can change the community."
In the Maasai community, as soon as a girl undergoes circumcision, she is considered a woman and, typically, no longer has to listen to her parents. She is now ready for marriage, no matter her age. As she is now a woman, she is also expected to leave school, which leads to fewer opportunities for girls and creates major barriers to gender equity.
Female genital mutilation is a huge problem throughout Africa and the Middle East. Today, at least 200 million women and girls have suffered genital mutilation in 30 countries across the world, according to a recent U.N. report . If current trends continue, the report warns, the practice could affect another 89 million women globally by 2030.
"I will ensure that all my girls are circumcised," says Kemani Saruni, 55, a Maasai father of 12 who believes efforts to outlaw the practice are an unwelcome foreign influence. "We should not abandon our culture because white people have said it's wrong. These warriors have been given money to go against our tradition."
Views like Saruni's persist despite government efforts to stamp out female genital mutilation. Kenya outlawed the procedure in 2011. But earlier this year, more than 3,000 Maasai women held protests in the city of Kajiado to demand that the Kenyan government grant them the right to practice the procedure.
Kanunga has addressed some of the concerns of elders who resist his calls for change. As a way to stop female genital mutilation, a group of Maasai morans led by the chief have vowed not to marry girls who are circumcised. "We said as a community that we will not marry and recognize any Maasai girl who has been circumcised," says Kanunga, while holding a rungu , a short club that signifies unquestionable authority to punish morans who break the rules. "Our firm stand on this has reduced female genital mutilation in this community."
Siyuama, the 12-year-old girl, is glad she had an alternative. "My sister bled until she fainted after being circumcised," she recalls. "We rushed her to the hospital, but unluckily she died. I vowed never to be circumcised in my life."
Alternative ceremony takes hold
In the new ceremony, girls between the ages of 9 and 15 dress in traditional clothing that includes cow-skin black robes and crowns of beads to signify they are ready for the ritual. The girls are then taught "life lessons"—or a brief introduction to sex education—in the privacy of their huts before tribal elders bless them with milk and water. Maasai warriors show support for the alternative ceremony by butchering bulls, oxen, sheep and goats to feed the girls and the community.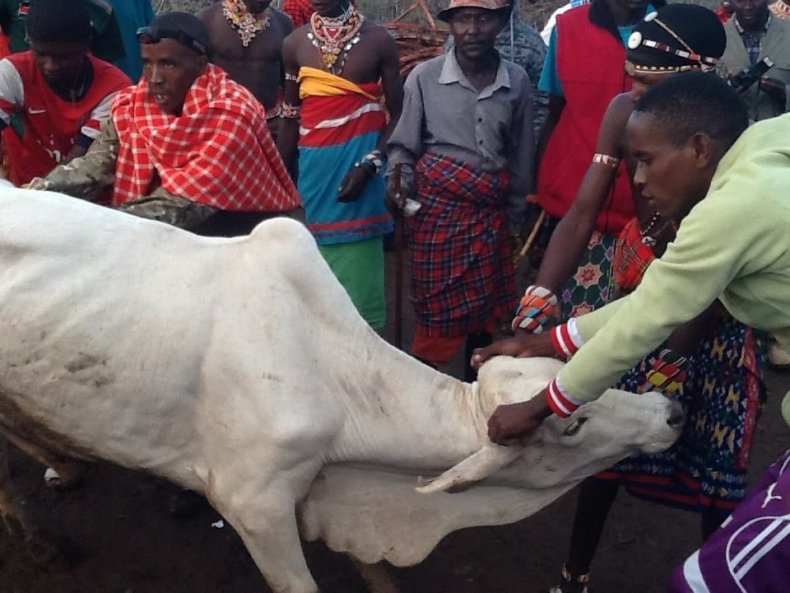 The ceremony takes four days. On the final day, the girls line up and sing traditional songs at sunrise. The rite ends with the girls walking through a ceremonial arch formed by tribal elders as the surrounding community welcomes them as women. Elderly women who formerly performed the procedure then receive a goat in exchange for not circumcising the girls.
"I have really enjoyed this," says Clare Ntasikoi, 13, one of the girls who went through the alternative ceremony. "Instead of being cut and injured, they have circumcised me by knowledge, not by body."
Ntasikoi was among the first girls in the Maasai community to reject circumcision; she asked her father to allow her to finish school rather than undergo the cut and marry. At first, her father worried it would bring shame to his family.
According to the 2014 Kenya Demographic and Health Survey, female genital mutilation has declined from 38 percent of the country's female population in 2008 to 21 percent in 2015. A 2013 UNICEF global report also paints a picture of hope. The prevalence of female genital mutilation among young girls under the age of 14 has decreased by 11 percent globally.
"Down [by] 11 percent for girls under 14 years may look like a big stride towards achieving a female-genital-mutilation-free Kenya, but one girl subjected to the cut is one too many. We cannot afford to lose momentum until all Kenyans can enjoy a future free from female genital mutilation," says Mary Wandia, female genital mutilation program manager at Equality Now. The international human rights organization is dedicated to action supporting the civil, political, economic and social rights of girls and women.
Wandia says medical schools should provide training and information on female genital mutilation, including the laws, how medical personnel should respond to requests for the practice to be performed and how to treat female genital mutilation victims.
"Anyone who continues to perform female genital mutilation must be held responsible for violating medical ethical standards and the law," she says. "Health personnel who perform female genital mutilation anywhere in the world should have their medical license and other privileges revoked immediately."
Such efforts are too late for some. Rose Lenkanai, who is now married with two children, recalls her experience at the age of 13. "It's brutal and scary to undergo the cut," she says. "I remember that morning when an old woman walked into a small, dark hut with a razor blade ready to carry out the procedure. I was shocked and terrified. But I didn't want to shame my parents. The woman lowered her hand between my legs and removed everything. The blood spilled, and I began to bleed profusely. It was painful for me. I was treated, and after a month I was given a husband. I was told by my parents to leave school, as I was now ready to own a home."
Lenkanai now supports the alternative ceremony and speaks out against those who want other young women to go through the ordeal she suffered. "This pains me a lot," she says. "I wish I knew there was an alternative rite of passage to womanhood. I would have continued with my education and gotten married at the right time."