Female Jihad Squad Demand Equality With Men in Militant Video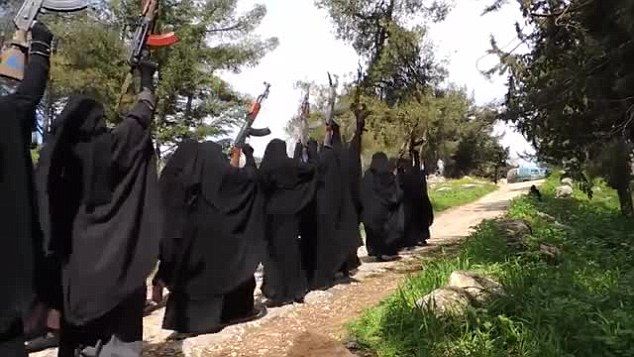 A mysterious video has surfaced online of an all-female jihadi brigade training with firearms, running drills and calling for equality between men and women in Syria.
The five-minute video shows the fully veiled jihadi militants taking part in the "camp for women for victory and empowerment" near the Syrian city of Aleppo. Interestingly, there is no affiliation claimed to any radical jihadi group in Syria, where ISIS and the Nusra Front are prominent.
The footage shows the women shouting slogans, such as "Allahu Akhbar", and waving firearms in the air while walking in the Syrian countryside, some are carrying their handbags and others are pointing their fingers to the sky.
The footage then shows the women firing their weapons into the distance at the Church of Saint Simeon northwest of Aleppo - as identified by researcher at anti-extremism thinktank the Quilliam Foundation, Charlie Winter - and as part of a training drill on sandbags in later shots.
"The role of a woman is no less important than that of a man," one of the female jihadis says in the video.
"We are 45 women from al-Sham," another woman says to the camera. "We have gone out to defend our land. We are trained in the art of shooting and preparations of weapon, as well as Sharia and theological studies."
Max Abrahms, professor of political science at Northeastern University and member at Council on Foreign Relations, says the video demonstrates the desire of women within conservative Muslim societies to prove that they have a contribution to make.
"What I got out of the video, is that this is an effort for women to assert themselves and to see there's a role for them beyond staying at home, caring for children, praying, that they are physically fit and active and make an important contribution to the cause," he says.
"A lot of the women in conservative Muslim societies feel like there is no realisation of their goals and aspirations and talents and terrorism can unlock that, in a way."
While one of the female jihadis gives an interview to the camera, others can be seen in the background talking amongst themselves with the UNESCO World Heritage site in the background. Experts have pointed out that the jihad being proposed by the women may be defensive in nature and not an offensive jihad perpetuated by groups such as ISIS.
Winter, in comments made to the Independent, said that there is ambiguity in the aims of the female jihadists, with the video not one presented for a Western audience as other jihadists have made their aim.
"They say they are leaving their towns and villages to defend themselves. There is no mention of broader aims, but certainly they are referring to the importance of jihad," he noted.
"However, it is important to note that jihad can be a very different conception to what ISIS is trying to achieve; they could just be talking about a uniquely defensive jihad, for example, one that is limited solely to waging war against the Syrian regime."
While the nationality of the female jihadis is unknown, the International Centre for the Study of Radicalisation and Political Violence (ICSR) has confirmed that at least 30 female British nationals are based in northern Syria after leaving their home country.