Images depicting a female Luke Skywalker reveal an alternate take on Star Wars, this time with a young woman as the moisture farmer destined to become a Jedi Master.
Originally posted to Twitter by an account that has since been deleted, the four images of a gender swapped Luke subtly alter images of Mark Hamill as he appeared in Star Wars (no, it wasn't called A New Hope), first released in theaters in 1977.
Original moments from the movie depicted in the altered images include Luke Skywalker at the medal ceremony after the Death Star's destruction, Luke busting Princess Leia (Carrie Fisher) out of a Death Star cell (while disguised as a stormtrooper) and Luke practicing his lightsaber skills against a Marksman-H training remote droid.
Comparisons with images of the original moments from the movie reveal only a few changes were made to present Luke Skywalker as a woman, including lengthening the hair, while smoothening and lightening Hamill's facial futures.
Newsweek has reached out to possible creators of the female Luke Skywalker images via Twitter and Reddit direct message, but haven't yet determined the images' origins.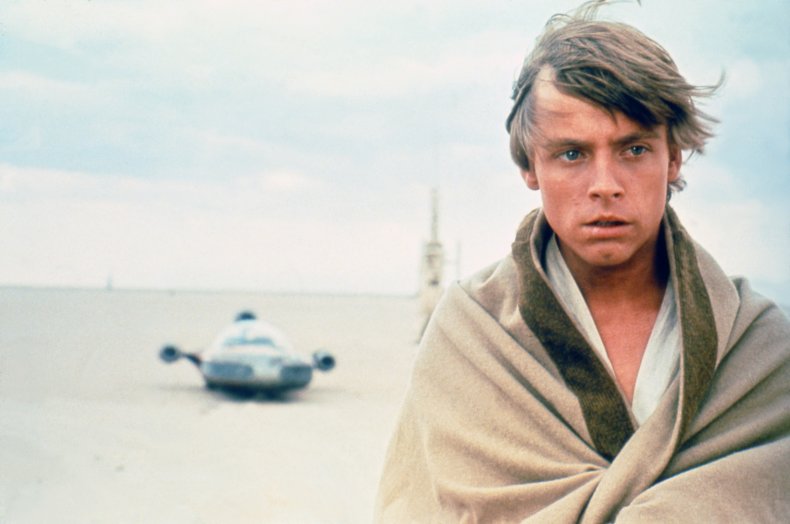 The gender swap was once more than speculative. In March 1975, director George Lucas made a significant change to the second draft of his script for Star Wars, changing Luke into a girl.
"The original treatment was about a princess and an old man," Lucas told J.W. Rinzler in The Making of Star Wars. "Then I wrote her out for a while, and the second draft didn't really have any girls in it at all. I was very disturbed about that. I didn't want to make a movie without any women in it. So I struggled with that, and at one point Luke was a girl."
The change was made just days before Star Wars producer Gary Kurtz travelled to London to begin setting up the production, taking with him the concept art of Ralph McQuarrie to help enlist cameramen, an art director and a cinematographer. McQuarrie quickly worked up versions of Luke as a young woman, giving her a Han Solo-esque gunbelt. Production paintings from this stage of the movie's development show Luke as a young blonde woman with short-cropped hair and a blaster, while Han Solo wears a cape and carries a lightsaber.
Young woman Luke was short-lived. About a month after changing Luke, Lucas changed her back, making the young Skywalker a boy in a new outline written before Lucas' third draft of the script. He also added a new character: Princess Leia.
"It was at that moment," Lucas says in The Making of Star Wars, "that I came up with the idea that Luke and the princess are twins. I simply divided the characer in two."
The young woman version of Luke Skywalker's quick spread on social media prompted shares of other alternative takes on Star Wars characters, including photoshopped gender swaps of Han Solo and Luke's father, Anakin Skywalker.
Whether Luke or also-Luke-but-a-young-woman, the Force will be with them, always.