Female Public Health Experts Say COVID Death Threats They Receive More Graphic Than Those Sent to Male Counterparts
Female public health experts say the onslaught of COVID death threats they receive is "absolutely" more graphic and personal than the ones received by their male counterparts.
"A lot of the hate mail that comes through is really so personal in nature. Most of my male colleagues don't get taken on in that way at all," Dr. Barbara Ferrer, Director of the Los Angeles County Department of Public Health, told MSNBC on Wednesday.
While public health experts were initially hailed as heroes at the beginning of the coronavirus pandemic, backlash quickly ensued as many across the country felt stay-at-home orders and mask mandates limited their freedoms.
Over the course of the global health crisis, 30 health officials in the country have resigned, retired or have been fired following public outcry and death threats as they tried to navigate their communities through the outbreak.
Ferrer said she has personally had her life threatened by individuals who were unhappy with her handling of the virus.
"One woman said, using very foul language, that somebody needed to shoot me. Another person offered to take that task on," she said.
According to the U.S. Census of Bureau, women hold 76 percent of all healthcare jobs and although most of those workers are registered nurses, women also account for a greater majority of state health officials.
Sixty-two percent of state health officials are women, according to the Center for American Women and Politics.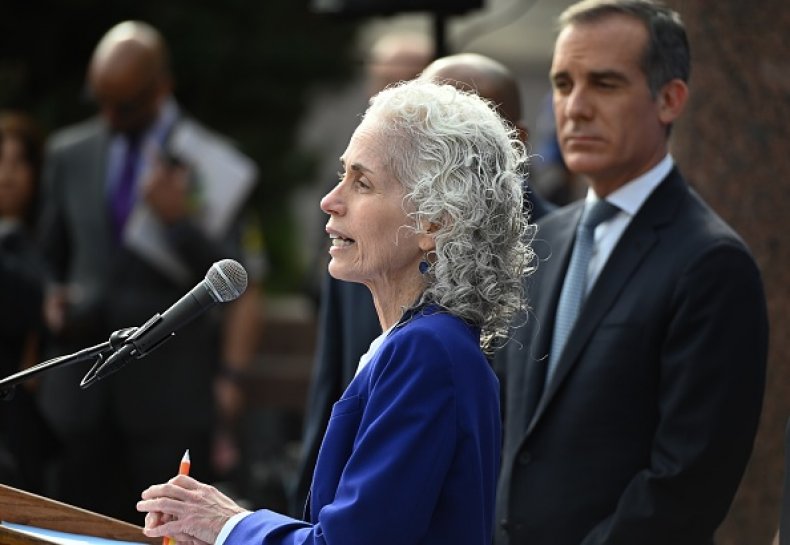 Former Assistant Director of the California Department of Public Health Dr. Charity Dean said that sacrificing the livelihoods of these health experts comes with a far greater cost to the American population.
"When you lose someone with decades of experience, it's riskier for the community," Dean told MSNBC. "So, it's really important we support the ones in office and that we support science."
The outbreak has presented public health officials with a threat to their own safety they have never previously experienced.
"That fear, I've never felt that before," Okanogan County Community Health Director Lauri Jones said. "A person posted to something of the effect of 'F her, F them. Let's start shooting.' I felt like I needed to get surveillance equipment of my own."
The health officials said colleagues had been followed home, had their cars broken into, and had protests held outside their homes.
"Imagine if protesters showed up at the home of the fire chief to protest the way they were managing the fire. That sounds ridiculous, but that's exactly what's been happening to local public health officers as they strive to do their job based on science," Dean said.
"It's been really heartbreaking to see how much our profession is being criticized and discredited when we need public health more than ever right now," added Dawn Emerick, former director of the San Antonio Metropolitan Health District.
Despite the immense amount of pressure these officials face, Ferrer said it's important to acknowledge that the pandemic has raised stakes for everyone involved.
"We all have to understand how angry people are. People have lost so much," Ferrer said.
Newsweek reached out to Barbara Ferrer for further comment.