Femen Leader Dismisses Reports Of Feminist Group's Demise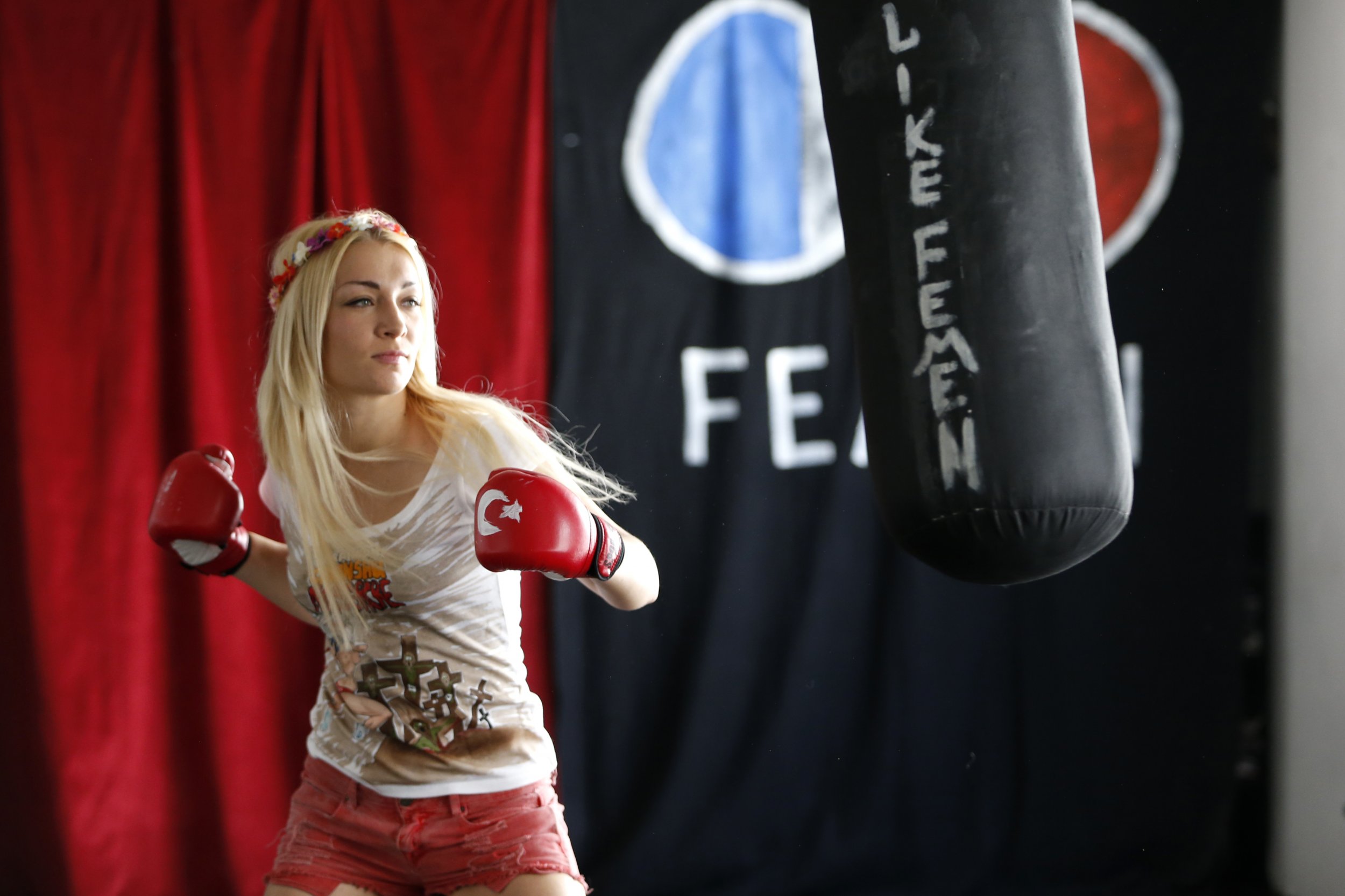 Updated | Feminist protest group Femen has denied reports that it has broken up, as claimed by one former activist.
The group, known for its topless protests against Donald Trump, Vladimir Putin and other leaders perceived as strongmen patriarchs, issued a statement on its website Tuesday announcing that it "is not canceled."
Former Femen activist Yana Zhdanova's claims to the Apostrof newspaper in her native Ukraine that the group had ceased to exist in 2015 prompted the statement.
"Femen is no longer an organization but a style of protest," Zhdanova said, refering to the most ubiquitous form that Femen's "sextremist" protests took—topless pickets. Zhdanova also said that the group's initial intentions when emerging as a protest force in Ukraine over the last decade were far removed from what she saw as more "traditional feminist" ideas now espoused by the Femen movement, currently headquartered in Paris.
Inna Shevchenko, Femen's current leader, took to Twitter to deny reports that the group had ceased operations, instead claiming it was acquiring a much wider platform. "Seven branches, more than 150k followers, dozens of actions, conferences, hundreds of media reports for the last year," Shevchenko tweeted. "Femen is there and will be there!"
She called on Zhdanova to be proud of being part of Femen's foundation "even if she does not continue to contribute to it."
Speaking to Newsweek from Paris on Tuesday, Shevchenko says that Zhdanova no longer speaks for the group: "Yana does not take part in Femen since 2014." Shevchenko says that there was an exodus of original members who were against the group's expansion. "They didn't like the way our movement went international and wished to keep the 'old way' of doing Femen from Ukraine with the founders at the head of the movement etc."
She reiterates that Femen aims to be a global movement, saying, "We are publishing a book written by all the activists from all branches in a month here in France giving our vision to modern feminism and conditions of human rights in the world."
Russia's state media, often at odds with Femen's agenda, granted much coverage to Zhdanova's comments. However, in the full text of her interview, Zhdanova said that while she sees the activism carried out under Femen's name today as separate from her own, she does not object to others supporting the group under its new guise.
The international branches of Femen were also quick to react, including the U.S. branch:
A statement on the group's website also appeared to refer to Zhdanova as an "ex-member."
This article has been updated with comments from Inna Shevchenko.
Femen Leader Dismisses Reports Of Feminist Group's Demise | World