Feminist Collective Takes on European Art World Over Minority Representation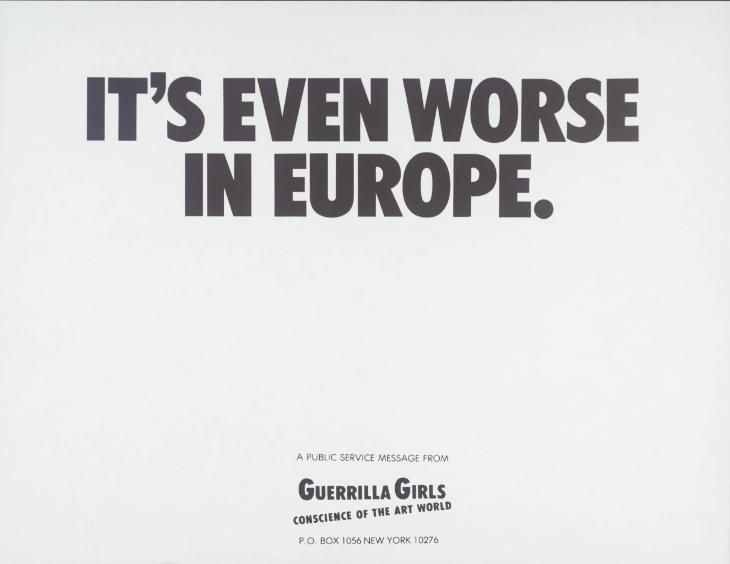 The feminist art collective Guerrilla Girls, who campaign to showcase more female talent in art museums all over the world, will have their first U.K. solo show entitled Guerrilla Girls: Is it Even Worse in Europe? at London's Whitechapel Gallery in October. The exhibition will consider minority representation in European museums and galleries, a topic the collective has tackled since their inception in 1985.
Guerrilla Girls describe themselves as "feminist masked avengers in the tradition of anonymous do-gooders like Robin Hood, Wonder Woman and Batman." The group was founded by seven female artists in New York City, disappointed that the Museum of Modern Art's exhibition An International Survey of Recent Painting and Sculpture, showcasing 169 important contemporary art and artists in the world, featured only 13 female artists—less than 10 percent of the total.
Since its formation, the group has been active in drawing attention to the lack of female and minority representation in the art world. Guerrilla Girls have championed diversity through posters, campaigns, street projects, global TV appearances and books; their aim is to make a difference.
In the U.K., they are part of Amnesty International's Stop Violence Against Women campaign. In the U.S., one of their most famous billboards, which first appeared in 1985 and then again in 2005 and 2012, posed the question: "Do women have to be naked to get into the Met Museum?" Four years ago, less than four percent of the artists in the Modern Art sections of the museum were women, but 76 percent of the nudes were female.
Newsweek subscription offers >
In 1986, the Guerrilla Girls, who have now been campaigning for just over 30 years, created a poster with the simple statement: "It's even worse in Europe." This new exhibition revisits the question of minority representation in the European art sector.
Newsweek subscription offers >
"We are looking again at the question, we want to find out if that's still the case: Is it worse in Europe? In the mid '80s there was less concern in Europe about diversity, certainly gender diversity, than there was in the United States. We were making fun of institutions' failure to emphasize representation for all," an anonymous spokeswoman from the Guerrilla Girls, using the pseudonym Frida Kahlo, tells Newsweek. "We wanted to make a statement: It's even worse in Europe. It was meant to be provocative. We know that all countries in Europe are different when it comes to artist culture, but it was a blanket statement to make people think.
"Our research reveals that there are probably now more initiatives in Europe than in the U.S. to undo the gender imbalance in museums. Certainly in Sweden and Spain and in some instances in the U.K. there are initiatives to bring more women and artists of colour into the public domain."
As part of their research for the new display at Whitechapel Gallery, Guerrilla Girls have sent questionnaires to over 400 prominent European art museum directors asking for statistics on the representation of minorities at their respective galleries: how many artists are female, gender nonconforming, or from Africa, Asia and South America? The findings relating to the state of museums and galleries in Europe will be on display as part of the exhibition.
Nayia Yiakoumaki, curator of the Guerrilla Girls exhibition at the Whitechapel Gallery hopes that the questionnaire will elicit thought-provoking responses. "The questionnaire is not straightforward and it is purposely done in that way so that institutions and directors have to spend time reflecting on how their museums operate, how they collect and exhibit in relation to minorities," she tells Newsweek. "These are questions we didn't really have to respond to with statistics in the past; so it is a challenge for everybody. Guerilla Girls are making galleries, including us here at the Whitechapel, really look into our policies and strategies."
Kahlo says that the Whitechapel Gallery has already received over 100 responses so far. Institutions that refuse to complete the questionnaire will be referred to by name in the public exhibition.
"We will have a different aspect of our research on each wall in the space at Whitechapel: one will have the questionnaire, one will have the analysis of the figures, another will have some archival information on some of our older posters," adds Kahlo. "The idea is that when we do a poster there is a lot of statistical data that sometimes the public can't see, so this show will be about how we gather information. We have a very elaborate database."
Some responses have been positive—"they are love letters"—but others are shocking, she says.
"Some art museum directors actually believe the art world is gender free and color blind, which amazes us that in 2016 anyone would have the lack of consciousness to say something like that."
Guerrilla Girls: Is It Even Worse in Europe? will be at the Whitechapel Gallery, London, from October 1 until March 5, 2017.
Feminist Collective Takes on European Art World Over Minority Representation | Culture