Last month in Berlin, a crowd composed largely of women packed into the Babylon Theater to watch a series of shorts by filmmaker Erika Lust. As A Feminist Man begins, one woman in the audience turns to her friend and whispers, "This one is my favorite." Then they watch as a handsome gender studies professor seduces his sole female student into an explicit romp in the classroom.
The meager plot of the short—which mostly involves cunnilingus—is less important than the fact that Lust considers her work inherently feminist. That work happens to be making porn, but she insists the two aren't mutually exclusive, despite the mainstream porn industry's history of suggesting otherwise. "I would rather call myself an erotic filmmaker," Lust (née Erika Hallqvist), 39, tells Newsweek over tea after the screening. "My films have so many other aspects to them, like emotions and connections. I'm interested in showing female sexuality that hasn't been shown enough onscreen."
The result is still porn, but it's porn with high production values and a sense of humor. It's artsy, like the porn equivalent of being in good taste. On ErikaLust.com's "About" page, a mantra of sorts appears in big pink letters: "Let's make a porno. But let's make it different! Let's make an indie film." When, in A Feminist Man, the man in question writes the word feminism on a chalkboard before going down on his student, it's supposed to be tongue-in-cheek (and elsewhere). Lust's films take what has so often been a degrading and misogynistic format and turns it into something viewers, especially women, can enjoy and discuss.
The global porn industry generates $97 billion annually—roughly equivalent to the gross domestic product of Ecuador. Of that, $13 billion comes from the United States, and $3 billion of that is from Internet porn sales. The cumulative footage viewed on just the website PornHub in 2015 alone added up to 4 billion hours.
So it's not that there was a need for more pornography in the world, per se, but Lust was irritated by how little of what was available appealed to women. Last month, actress Emma Watson talked to Gloria Steinem about the need for "awesome, great alternatives to pornography" that focus on women's pleasure. She may not have realized that they already exist.
"Women go looking for inspiration online, end up on PornHub and feel disgusted instead of feeling good," says Lust, who was born in Sweden but now lives in Barcelona, Spain. So, in 2004, she and her partner Pablo Dobner, 46, started a production company called Lust Cinema. The films she makes build storylines and have likable lead actors, and the action is always rooted in mutual sexual pleasure. "It's important to help women find something they enjoy," says Lust. Asked what specifically makes her films different, she explains, "Aesthetics, values and the way it's produced. I tell stories, create characters."
It's a formula that worked from the beginning. Her first short, The Good Girl, racked up 2 million downloads in its first weeks online. "I thought, Wow, it's not just me," she says. "Other people want something different too." Since 2014, she's managed to shoot 26 shorts a year, plus three longer erotic films, all of which are funded entirely by her audience. Her site XConfessions.com has 120,000 active subscribers (subscriptions range from $15 monthly to $100 annually), with a demographic that's 60 percent men and 40 percent women.
She attributes her success to having a particular style—something unique in the industry. "Somehow, [adult film] is an industry that hasn't bloomed yet," she says. "Where are individuals, people with other visions?"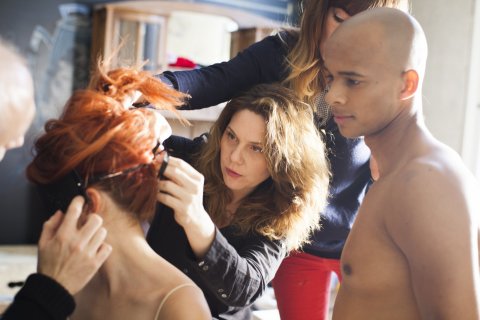 Mostly, they're in feminist porn. The '90s saw an influx of women getting behind the camera and overseeing their own productions. Annie Sprinkle created how-to videos focused on female pleasure, while Tristan Taormino made video guides devoted to the female orgasm. In the early aughts, Ms. Naughty, an Australian writer and director, started her "porn for women" website For the Girls, which selects media that utilizes "the female gaze." Other contemporaries include Courtney Trouble, a queer porn icon, and the philosophy graduate Ovidie, whose nickname is "the intellectual." There's also Jincey Lumpkin, a porn producer and columnist who founded the adult entertainment brand Juicy Pink Box and has been called "the lesbian Hugh Hefner" (she's even given a TEDx Talk). Taken as a whole, the porn industry looks more diverse than Hollywood.
Where mainstream porn tends to push viewers to the limit of their comfort level, much of feminist porn focuses on what people have told the filmmakers they'd enjoy. One of Lust's seven short film compilations, XConfessions, is based on erotic fantasies sent in by her fans. She chooses two each month to depict, making her the first director in the industry to crowdsource. She ignores the clichés of traditional porn—the actresses in her films are attractive but realistic. Some of them have piercings and some have tattoos, but none of it distracts from the female perspective each story takes. "People have this vision of what porn is: a plastic, blond, big-breasted, long-nailed, penetrative sex machine," Lust says. "There is an alternative." She refuses to cast anyone under the age of 23, so there's nothing "barely legal" about her work. "The adult entertainment industry has been too interested in young flesh," she says. On the other side of the bed, the guys in Lust's films look like hirsute Clark Kents, not hairless, muscle-bound brutes. "Many women tell me they love my films because the men are so sexy," she says. "I go for actors with a natural look, people you can identify with."
But it's not just the casting and subject matter: Lust's films are feminist productions. She works with a crew of roughly 15 women, including the director of photography, the sound technician and the camera operators—all jobs that in porn and the mainstream filmmaking industry are typically held by men. "When I have a man behind the camera, he tends to choose the woman's body as the main object [in the shot]," Lust explains. "But when I have a woman behind the camera, she finds other things attractive: his face, her expression."
Lust's works also have something big going for them that the porn industry we know and tolerate doesn't: the potential for mainstream crossover. Lust, who has written six books, including Good Porn: A Woman's Guide, is planning to adapt a novel she wrote in Spanish, La Cancion de Nora (Nora's Song), into a full-length feature called Barcelona 2000. The film, currently in preproduction, is semiautobiographical, following a Swedish woman who moves to Spain to pursue a filmmaking career. When she begins shooting this winter, she'll hand the camera on XConfessions to "female directors who have cinematic vision," she says. A feature has a lot more dialogue than Lust is used to writing, but she is thrilled to be branching out. "To say it's exciting is an understatement," she says. "When I know something is going to be a great movie, I feel almost orgasmic."