As a Feminist Therapist, Coping With Ruth Bader Ginsburg's Death Is Complicated | Opinion
"Trapped." That was the feeling my therapist told me I was experiencing on Thursday, as I envisioned holding on to the pain, suffering and stress of my patients and friends leading up to and after the election. I couldn't think of the word, but I could describe it.
Everyone feels so sad and anxious, I said, like they have little reserve and are just barely hanging on, hoping they can get there and come out the other side still intact.
The number of adults experiencing symptoms of depression in the United States has tripled amid the pandemic, according to a recent study, rising to nearly 28 percent. Data from the Centers for Disease Control and Prevention suggests that anxiety symptoms have also increased threefold from last year, now at over 25 percent. Reasons for this are many, but the American Psychological Association's July 2020 "Stress in America" survey found that most Democrats and Republicans reported the coronavirus, political climate and uncertainty in our nation as significant sources of stress. And, like with many other things in the pandemic, women have been disproportionately affected.
The weight of other people's pain is a burden we choose to carry as therapists and psychiatrists, but it has been exponentially heavier lately. By talking to my therapist early, I was hoping to build resilience, so I could help everyone make it through this difficult time.
However, when the text messages started pouring in Friday night, filled with explicit four-letter words, I knew something was different. Something had snapped. Suddenly, that feeling of being trapped became a pervasive, heavy sensation throughout my body and my feminist soul.
The reason: Justice Ruth Bader Ginsburg had died.
I wanted so badly to simply mourn an icon of feminism. As a woman, I wanted to reflect on all that she fought for, including her own equal pay as a law professor at Rutgers Law School. As a physician, I wanted to honor her incredible resilience, including surviving multiple cancers. And as a person raised Jewish, I wanted to think of her and her family as being at peace on Rosh Hashanah, knowing she had made such a difference.
But it wasn't as simple as that. My advocacy life and friend life and patient life were about to collide. Existing fears and concerns in my patients, mostly college students or health care workers, would magnify. My friends and fellow activists, especially the ones whose jobs would feel more tenuous or who would have to dramatically increase their work, would feel shaken and scared, as if November were already here.
With coronavirus, racism, job loss, social isolation and existing mental health issues all stacked like dominoes, someone had dared add one more, Ginsburg's death. And the whole lot was crashing down.
This is what trapped feels like. In between social media scrolling and responding, and texting and emoting, I wanted to tell my therapist that our conversation the day before was a bit too prophetic. I stopped myself. It was nearly 8 p.m. on a Friday, and she has a right to a work-life balance, just as I do. Yet she is a feminist too. Just another person grieving. And, if she wanted, she could choose not to respond.
And so I wrote.
When she texted me back and acknowledged her own feelings about Ginsburg's death (and normalized mine), I was reminded there are ways to be both human and a caregiver. Sometimes, we try to create boundaries or hide our emotions because that is what we were trained to do, or perhaps we think it makes us better at our job. Yet what we really need to do is just be OK not being OK.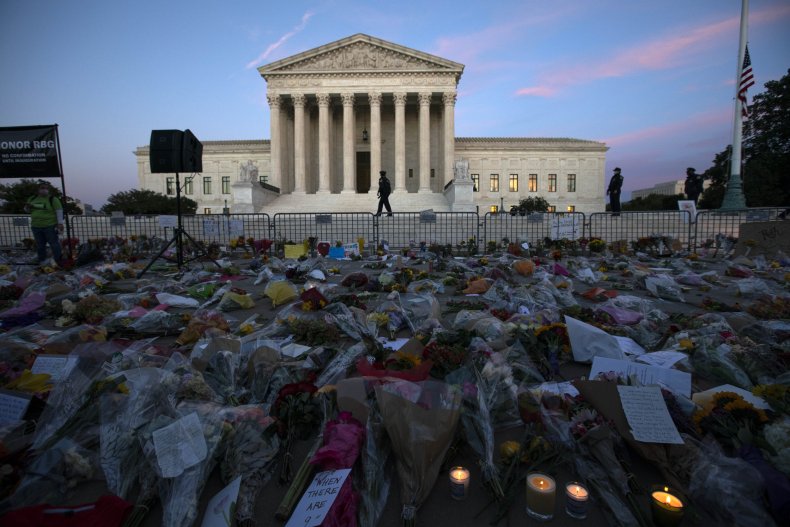 Everyone needs to ask for help when they need it, including those who help others, whether as therapists or as other health care workers, advocates, teachers, parents or caregivers of any kind. Though all of us are experiencing higher stress than ever before, on average, parents are feeling higher stress than adults without children, and in a recent survey, over 30 percent of unpaid caregivers of adults reported having suicidal thoughts in the past 30 days. We all need to show ourselves self-compassion and allow ourselves space to cry, yell, laugh or scream out loud. For trapped feelings are truly unbearable.
Do I worry about the worsening mental health of my patients and friends, as well as its effect on me? Yes. Has the timeline to prepare myself to better cope with that sped up? Yes. But I want them to know I will remain here, in their corner, ready to support them if and when they need me.
Together, this is hard and unexpected, but hope is something we can all try to keep. As RBG said, "Real change, enduring change, happens one step at a time."
Jessi Gold (@drjessigold), M.D., M.S., is an assistant professor and the director of wellness, engagement and outreach in the department of psychiatry at Washington University in St Louis.
The views expressed in this article are the author's own.