The Feminists in Tahrir Square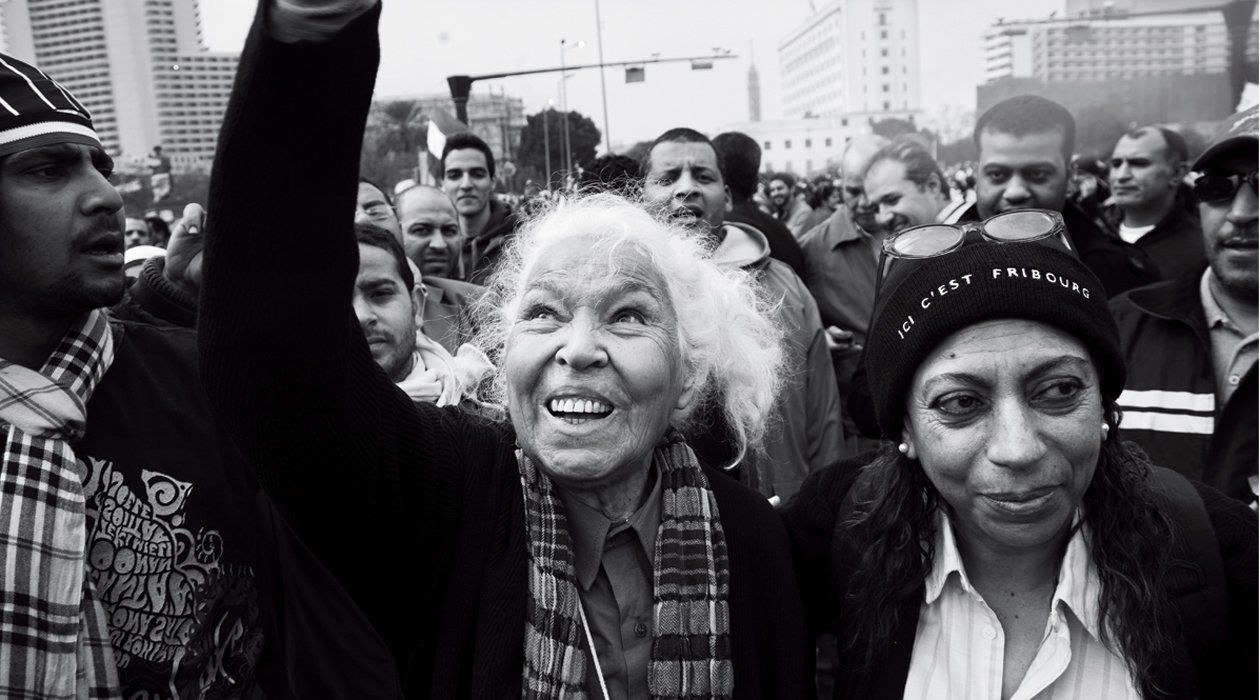 At the height of the protests in Cairo's Tahrir Square, I saw the crowds cleaved by a stream of girls and young women in pink and blue veils. Men formed a shield around them so they could move through the square unimpeded. When a solitary man tried to join the procession, he was turned away: "No! This is the women's revolution." To which one of the women added: "We are here as women, but we are speaking out for everyone."
The novelist and essayist Ahdaf Soueif, who was in the square passing out cookies, was in an ecstatic mood. "What we are seeing is not a shift in personality, but people finally able to access their personalities." She says she and her women friends were thinking of issuing a statement asking, "Can we get rid of this whole gender thing?"
In the euphoric, even utopian, atmosphere of Tahrir, everyone talked of the Egyptians' psychological breakthrough. Walls of fear, class, and even gender were broken. There was no feminism or ideology. Women were simply demanding the same pragmatic constitutional changes that every Egyptian wants. Everything is up for debate, including the Islamic laws that remain within the Constitution. But the "gender thing" cannot be so easily expunged in a culture where women have been, in many respects, second-class citizens, despite the crucial role they have always played in nurturing democracy and nationalism over the last century.
Unlike in Saudi Arabia, where women cannot even drive a car, women in Egypt have always held prominent public roles in the media, film, literature, and civil society. Nonetheless, patriarchal laws are still inscribed in the Constitution. And conservative mores have steadily seeped into the culture from the Gulf states, where millions of Egyptians have been forced to migrate for work over the last few decades. The numbers of women in Parliament, for example, are telling: only four won seats in the 2005 elections.
The story of Egyptian female power may date back to Cleopatra, but the name I heard among women and intellectuals around Tahrir (Liberation) Square was that of Hoda Shaarawi, who was in the forefront of the 1919 revolution against the British and, in 1923, famously tossed off her veil in public. It was a symbolic act of rebellion, resented by the religious establishment and too shocking for universal adoption, but Shaarawi inspired a generation with her inch-by-inch fight for women's personal and political rights—the abolition of polygamy, the right to divorce.
Around the time Shaarawi died in 1947, a girl named Nawal El Saadawi in Kafr Tahla, a village north of Cairo, had already taken up the torch. Jailed, menaced, and exiled throughout her life, Saadawi is now 79 and could be found protesting in the square every day.
Saadawi's father was a progressive man, an official who had taken part in the 1919 rebellion but followed the custom of having his daughter (one of nine children) married off at the age of 10. Or, rather, trying. Nawal had already fallen in love with literature. She'd read Jane Eyre and pretended to be mad when the suitors came around. She went on to graduate from medical school, become a chest surgeon, and marry a fellow student who ran off to Suez as a guerrilla fighter against the British and returned a broken man and drug addict. In the 1967 war with Israel she volunteered as a doctor in the trenches and in the Palestinian camps in Jordan. The experience radicalized her. She wrote a novel about a Palestinian fighter she'd met. In 1972 she broke even more taboos than Hoda Shaarawi did by writing Women and Sex, which dealt with female desire, religion, and genital mutilation. Unsurprisingly, it angered the religious and political authorities. By then she'd been working in the Ministry of Health for 14 years. She was dismissed, the beginning of years of persecution.
On the 12th day of the demonstrations I visited her modest four-room home in the 26th floor of an apartment tower in the working-class neighborhood of Shobra. "The young men hugged and kissed me," she said. "They tell me, 'You were our inspiration to do this revolution.' Even young men in the Muslim Brothers said, 'Thank you for your books—we respect you.' I was crying."
She wore a black-wool hooded cape against the winds that howled through the open porch doors. The cold kept her fresh, she told me, in between phone calls. Media from all over the world wanted a soundbite. "Veiling and nakedness are two faces of the same coin," she told one reporter. "Women are sex objects in the free market. I am against makeup. Plastic surgery is a postmodern veil," she said, looking at me, smiling, laughing silently. A bit of a ham, she's been collecting these one-liners for decades. To me, she said, "I divorced three men. Why? Ha ha! For my freedom. So I could write. I've had a terrible life." She paused, reconsidered. "And wonderful."
The apartment is all books and sculptures of goddesses representing literary awards from various countries. For nearly seven decades, Saadawi has been making purposeful trouble. Her more than 50 books—novels, plays, memoirs, autobiographies, treatises on feminism—sell out in Egypt. Woman at Point Zero, about a prostitute who is executed for murdering her pimp, has become a classic in feminist literature. It's a grim book suggesting that death is the only liberation for women in a world where abuse is as quotidian as breathing.
For decades after she was kicked out of the Ministry of Health, Saadawi was on the margins of Cairene society, blacklisted, imprisoned, and threatened with death by fundamentalists. Forced into exile from 1988 to 1996, she taught at Duke and Harvard, coming to be a writer celebrated more in the West and elsewhere in the world than at home in Egypt.
She still seethes that the regime shut down her Arab Women's Solidarity Association back in the 1990s. "We had hundreds of women, and Suzanne Mubarak banned it!" She harbors particular venom for Hosni Mubarak's wife and her Nobel ambitions to be seen as leading the movement for women and children around the world.
If you mention Saadawi's name among intellectual Egyptian women in Zamalek, the upscale leafy old Cairo island on the other side of the Kasr Al Nil bridge that connects to Tahrir Square, or at the Gezira country club where Egypt's upper classes (regime haters and beneficiaries alike) eat, play tennis, and gossip, you can see a slight contraction of the spine, a twitchy smile. Saadawi is a little too out there, too loud, too explicit. She writes boldly of her clitoris being cut out when she was 6. She began campaigning against female genital mutilation long before doing so was fashionable. She airs too many social ills, and many don't appreciate Egypt being portrayed so harshly to the rest of the world.
Her autobiographical writing, however, is electric. In her memoir about being imprisoned under Anwar Sadat, she describes the overcrowded mothers' cell, infants and children with broken, insect-ridden flesh, and "eruptions of cursing, woman cursing woman?.?.?.?They must have put us in this place so these voices would drive us mad!"
Saadawi befriended a prostitute who'd read her books. "I told her, 'Zuba, can you find me paper? Because every day the jailer tells me, "If I find a pen in your cell, it's more dangerous than if I find a gun."?'?We were not even allowed toilet paper. But the prostitutes were not political and were allowed everything: TV, radio, toilet paper, books. So Zuba gave me her eyebrow pencil and toilet paper, and every night when the jailer was away, I wrote my memoirs in prison sitting on a stone with the eyebrow pencil of a prostitute and toilet paper."
Saadawi's energy is still astonishing. And every day she returns to her flat, euphoric and filled with ideas. When people ask her how she managed in the chaos of Tahrir, she replies: "I was about to be knocked over by Mubarak's horses. I felt I could kill the horse. It's psychological energy. And the young people picked me up and carried me home."
Saadawi, for all her activism, is still a part of yesterday's Egypt—except that now she's recognized by her own people as an icon rather than an outcast. The question must be whether the Egyptian women who come after her can pick up and carry forward the dreams of those who have resisted for so long. At 44, Gamila Ismail has lived in the public eye for nearly two decades—as a stringer for NEWSWEEK, a TV personality, a parliamentary candidate, and the wife of charismatic opposition politician Ayman Nour. They cut a glamorous pair, at one point living in a houseboat with a menagerie, their St. Bernards, and their two sons. The downtown office of their party, el-Ghad, on Talaat Harb Square above the Greek Club, was an intellectual hangout—at least until January 2005, when their family life came to a crashing halt. Nour, who was running for president, was arrested on charges of forgery that were never proved. Ismail became known as Job's wife, embattled, angry, sad, shouting outside police stations, "Down with Mubarak." That is how people still remember her. A man in Tahrir even called out to her: "I saw you when you took the police and wiped the floor with them!" She gave him a weary nod.
Ismail and Nour are just two of the many Egyptians who got on the regime's radar as troublemakers. As the clique around Hosni Mubarak's son Gamal grew wealthier and more ostentatious, so did the critics and the crackdowns. Dozens of journalists who exposed their corruption were fined or beaten or jailed.
Ismail lost her jobs. Anyone who tried to help her received warnings from the Interior Ministry. "These six years have been terrible," she says. "The world completely against you. Me and my sons so isolated, as if we were born on the day of Ayman Nour's arrest without any past, no connections." She began selling off family assets to keep her kids in school. Even the private TV stations wouldn't hire her because they had to get licenses from the Interior Ministry. "They'd say, 'Your issue is so exceptional' and then point up and make the shape of long hair." They meant Suzanne Mubarak.
At the end of 2008, while Nour was in prison, Ismail's political struggle took a deadly twist. A pro-government faction of el-Ghad marched to take over the party headquarters. Security thugs set the offices on fire. Ismail and her colleagues barely made it out alive. The story got more Orwellian as the night wore on. While she was at the attorney general's office filing a complaint against the interior minister and Gamal Mubarak's men, a call came in. She was the prime suspect in the arson case. If she persisted with the charges, she would go to prison. "I thought of my children. I was in charge of them, the finances, the party, and that's when I realized how mean this regime is."
The next day the papers wrote: "Gamila Ismail destroyed the precious building of Old Cairo." Even among Cairo's intellectuals, many believed it and saw the whole affair as a political squabble among elites.
"I had this mask for years of a very resistant, strong person," says Ismail. But the mask broke after the arson attack, when she choked up with tears at the end of a televised debate with the politician leading the pro-government el-Ghad faction. "I thought, how could I be such a weak woman?"
Like most of her 40-something generation of activists and opposition politicians, Ismail had stopped believing anything like the Jan. 25 demonstration was possible, so, as it is for Saadawi, the revolution has been a vindication both personal and political—a sweet, unexpected victory against a regime that had persecuted her family.
When I met Ismail, she was so anxious and exhausted she could barely breathe. She was flipping among the news channels. Every few minutes she was phoning Nour, her 21-year-old son, who had gone to Tahrir to deliver medicine. The first night of the protests, Nour was grabbed by security thugs and thrown in a paddy wagon with dozens of other protesters and a Guardian journalist. When a policeman recognized Nour and tried to release him, he refused. "Either I leave with everyone else or I stay with everyone else; it would be cowardice to do anything else," he told the Guardian reporter. "That's just the way I was raised." His parents found out about Nour's detention and managed to secure the release of the entire vanload.
On the 10th day of the protest, Ismail addressed the crowd at Tahrir, as she did each day, and condemned by name the interior minister, Habib el-Adly, and the minister of information, Anas el-Fekky, for deliberately inciting the violence. Ismail has been in a public war with Adly for a decade now. But behind him she—along with many Egyptians—has seen the hand of Suzanne Mubarak, who has become, in caricature fashion, Egypt's Lady Macbeth, a mother whose vaulting ambition would stop at nothing to ensure her son Gamal succeeded her husband, Hosni.
After years of bearing up, Ismail is optimistic. "We should not let the long, bitter years destroy the future," she says. "I honestly believe [the Army] wants to set a good example for the other Arab states and give a white fingerprint on Egyptian history that they handled the country for a while but helped it cross the border to democracy."
She has decided to become the first Egyptian woman to found a political party, one that will emphasize national dialogue along the lines of South Africa's Truth and Reconciliation Commission. "We need a new psychology," she says. Human-rights lawyers she is working with are appearing with young police officers on prime-time shows asking, "Who ordered the police to abandon the people on Jan. 28? Who ordered you to shoot bullets at the people?" "It's had a big impact on the street," she says. "We need to hear all these testimonies and confessions of people who committed crimes. Who told presenters and news editors to put all these lies on TV that ended up killing people, 365 martyrs? We have to purify the media and security organs from those who committed these crimes and repair the relationship between the citizen and the police."
She is not so idealistic as to believe that a military-controlled government will march to democracy on its own. "I am telling the youth, let us polish and let grow the good moves by the military and react instantly to anything that is making us suspicious!"
A vivid embodiment of that youth is Salma Said, a representative of a third generation of Egyptian women who are the real engines behind the revolution. She camped out with her fellow activists in Tahrir Square from Jan. 28 until Mubarak resigned Feb. 11. And since then she's been taking to the streets and using Twitter, Facebook, and other websites to demand specific changes from the Army, which she does not trust.
Now 26, Said grew up in a family of activists. She was a part of the Kefaya movement for change. She's been arrested, kicked, groped, and pepper-sprayed at protests over the years. "Two years ago I just got disappointed in organized groups and left it and discovered this world of Twitter and blogs." Through the Egyptian Center for Economic and Social Rights she began holding workshops to teach workers how to use Twitter and to live-stream their strikes. "We work with Twitter aggregators, Web designers, techno-geeks," she says. One of them is her husband, a British blogger.
What she saw in the early days of Tahrir Square will shape her for the rest of her life. It was a medieval war—the regime's thugs assaulted the protesters with horses, camels, swords, Molotov cocktails. Young men from the Muslim Brotherhood and middle-class secular activists had to protect the women and children. They created defenses at every artery leading into the square. Assembly lines smashed the cement to make ammunition. The women then carried the rocks and medicine in plastic bags up to the front lines.
"I felt the violence you feel when you are defending your life," Said recalls. "I never imagined we wouldn't get killed. Four or five friends would go to defend the bridge and come back with stitches. But then the light of morning came and Al Jazeera was showing it live and we called for help: 'Come save our lives or they will kill us all.'?" Egyptians answered the call. And the 20-something, pampered, middle-class youth lost their fear and inspired professors, doctors, workers—nearly all the Egyptian nation.
"These past days proved the opposite of what the Egyptian state made Egyptians feel for 30 years: passive, stupid, violent," says Said. Now she and other artists are discussing how to revive Egypt's culture after years of government control. Her whole family is in action. Her 17-year-old brother Shadi and his friends are publishing El Gournal, a new newspaper devoted to the revolution. Her mother is pushing for faster change in her union, Doctors Without Rights. And her father is doing the same at the engineers' union. Said is still not satisfied. "I'm one of the people saying we should go back to the sit-in. I don't think that the Army is with the people. The Army is still with the old regime." She is not alone in asking the Army to step aside, and for a presidential committee of civilian experts to take over.
Along with her other work, she has found a group she can bear to join—one of the neighborhood committees for defending the revolution. When the police withdrew at the end of January, young men organized checkpoints to protect the neighborhood. Now they will paint the pavement, clean the streets, and address other civic needs. She is helping to create a Web portal that will coordinate the meetings and initiatives that spring up daily. "Nobody said that revolution is easy," Said says. "But as my friend said, 'Now our revolution can really begin.'?"
Rubin, a contributing writer for The New York Times Magazine, writes frequently about the Middle East.