'Fena: Pirate Princess' Voice Cast on Creating Their Characters and Challenges of the Show
Fena: Pirate Princess is what it says on the tin, a fun swash-buckling adventure centered around the quest of its heroine, and secret princess, Fena.
As well as following Fena Houtman on her journey to solve the mystery of "Eden," a word that could hold all the answers to her past, while also finding a place where she can belong after years of life in captivity.
The Crunchyroll and Adult Swim original series is set to conclude on Saturday October 23, and ahead of the finale Japanese voice actors Asami Seto, Ryōta Suzuki and Takahiro Sakurai spoke to Newsweek about their part on the show.
Seto takes on the lead role of Fena, while Suzuki portrays her former childhood friend Yukimura Sanada, and Sakurai plays Shitan, an elite warrior who is part of the Samurai Seven group alongside Yukimura.
Creating their characters
Describing her interest in being part of the project, which is directed by Production I.G's Kazuto Nakazawa, Seto explained that it was the duality of Fena's character that intrigued her most.
"I was fascinated by the gap between her beautiful appearance and her talkative, restless personality," she explained. "Her expressions change so rapidly, I had a hunch that I would look forward to playing her every episode."
Seto went on: "[Fena] was so much fun to play! All of her emotions show on her face and in her words, so I was able to play her in a very honest way."
For Suzuki, both the joy and challenge of playing Yukimura came in his stoic personality, because he had to convey his character's closed-off persona simply through his voice.
Of creating the character Suzuki said: "I made sure to leave traces of the emotions he keeps hidden inside.
"Also, things like the having a convincing weight to his voice as well as a resonance that comes from his physicality.
"Then there's the way he finds it so difficult to be honest with himself about Fena and the way he isn't particularly interested in anyone other than Fena."
Shitan, meanwhile, is a character who is a lot more laid-back than his counterparts, he's a suave ladies man with a wicked sharp wit and aim.
Reacting to Shitan being called a charming character Sakurai admitted he was "of exactly the same opinion," and said of the Samurai: "He seems very calm, composed, and mature, but he's actually very charming. I really love the scenes where he's messing around with his friends. I really love him.
"I was interested in the sorrow in his eyes and expression. The beauty of his gestures and action scenes stole my heart as well."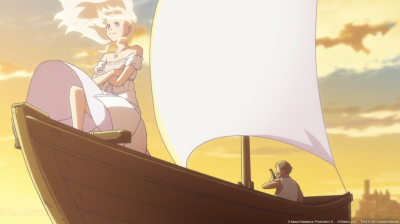 The challenges of their roles
Seto went on to describe what she found most difficult about the character, saying: "She has a habit of talking really fast without pausing when she's trying to explain what she's thinking or when she's trying to hide her embarrassment around Yukimaru.
"Staying aware of fitting that nicely within the timing of the animation while acting was a little difficult."
Suzuki faced a similar difficulties with Yukimura, saying it was a challenge "trying to load the edges of his words with the emotions he keeps hidden, while also keeping him calm, composed, and someone who doesn't show his feelings."
But the voice actor claimed it was an aspect of his character that was "both difficult and what made him so rewarding to play."
Sakurai felt differently to his co-stars, claiming "There weren't any hardships in particular [playing Shitan]."
The actor said that he knew from his audition that Fena: Pirate Princess would be "magnificent" because director Nakazawa was "dreaming big" with its storyline.
He added: "The joy and fun of helping him take shape won out over everything. I wish I could have spent more time with [him]."
The finale of Fena: Pirate Princess is set to air on both Crunchyroll and Adult Swim on Saturday, October 23.