Fences Erected Outside Canada Parliament as Police Crack Down on Protesters
The Canadian Parliament and Freedom Convoy protesters are both preparing for the worst as crackdowns against demonstrators get underway.
Workers at the Parliament were seen erecting fences outside of the building Thursday. More police officers were also seen throughout the area, the Associated Press reported. The increase in preparations comes a day after Ottawa police began issuing leaflets to protesters with an ultimatum: leave immediately or be arrested.
"The Ottawa Police Service wants to inform you that under provincial and federal legislation, you will face severe penalties if you do not cease further unlawful activity and remove your vehicle and/or property immediately from all unlawful protest sites," wrote the police department in a news release directed at protesters.
Among these potential penalties are vehicle seizure, driver's license suspension, and arrest on charges of mischief.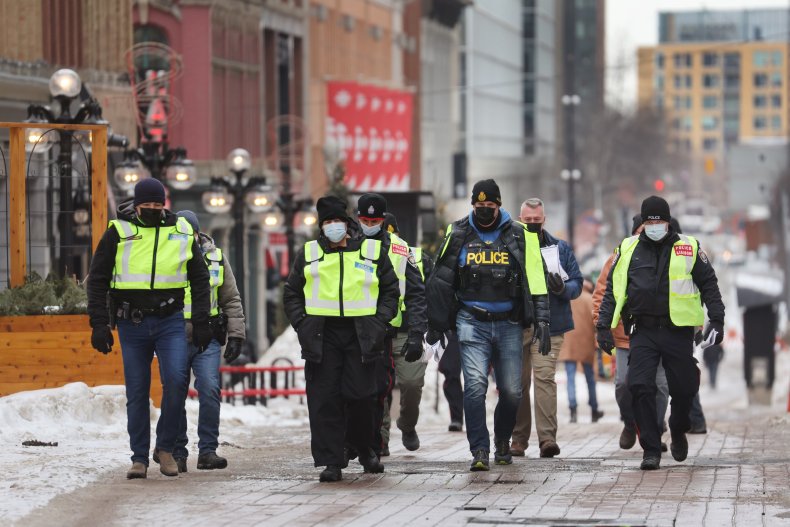 The crackdowns come two days after Ottawa Police Chief Peter Sloly resigned from his position. He received criticism for his handling of the protests and was subsequently replaced by interim chief Steve Bell, who issued a separate statement Wednesday vowing to end the protests.
"Over the last few days we have developed strategies to deal with all possible scenarios," he said in the statement. "We will be focused on public safety, demonstrator safety and officer safety. All of our plans and actions will be lawful and in line with the Charter.
"Demonstrators must leave the unlawful protest site. Officers are already going truck to truck to advise them of this demand," he continued. "We want them to do this peacefully and immediately and we are facilitating the departure of anyone who wants to leave."
Despite these warnings, however, some protesters are vowing to stay put. While coronavirus restrictions and mandates have been an overarching factor in the nationwide protests, demonstrators are now advocating for what CBC News calls "the dissolution of the elected federal government" by forcing them to repeal mandates.
"We want the mandates over for the whole the country. End the mandates," said protest leader Pat King on Thursday morning.
In a previous Facebook video, King warned fellow protesters that the crackdowns would begin.
"It's going down," he said in the video, according to the AP. "Truckers, get up. Get on your radios. Get on your horns. One long blast. Let's go, guys."
Newsweek has reached out to the Ottawa Police Department to confirm the installation of fences around the Canadian Parliament but has not received a response.
Update 2/17/2022 at 9:30 a.m. EST: This story has been updated to include more information on the ongoing Ottawa trucker protests.