Uber Driver Arrested in NYC Fentanyl Bust Where Drugs Were Stamped with 'Uber' Brand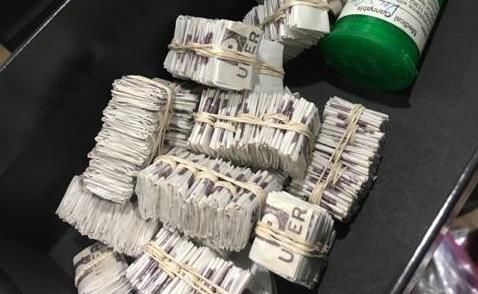 A New York City drug operation sold a deadly mixture of fentanyl and heroin in plastic baggies stamped with the brand name "Uber"—and when federal agents busted the ring they arrested an actual Uber driver who was allegedly part of the conspiracy, the Drug Enforcement Agency announced Monday.
A team of investigators from the DEA and the city's special narcotics prosecutor were watching an Upper West Side building across from Central Park as part of an ongoing investigation about 3:35 p.m. Friday when they saw a man leave the building. David Rodriguez, who was carrying two boxes and a white shopping bag, got into a black Honda Accord driven by Uber driver Richard Rodriquez and the pair drove less than a mile before they were pulled over and the car was searched—with the investigators finding packages holding a combination of fentanyl and heroin, according to a DEA press release.
The investigators stopped two men who left the Upper West Side apartment about 90 minutes later—Jesus Perez-Cabral and Johnny Beltrez. The investigators allege Perez-Cabral was part of a drug trafficking organization, and the 19-year-old admitted he had gun and drugs inside his apartment, the DEA said.
After obtaining a search warrant, the investigators found two large ziplock bags full of more than six pounds of a fentanyl and heroin mixture in a hall closet, a loaded .25-caliber pistol wedged between two couch cushions and "1,100 individual dose glassine envelopes that had been filled with powder and stamped with the brand name 'UBER,'" the DEA press release stated. Other items associated with a drug packaging mill were found, including rubber bands, gloves, masks and stamps used to brand drug baggies with names like "Obsession," "Walking Dead," Guns & Roses" and—coincidentally—"Uber."
"Fentanyl is the deadliest street drug to ever hit this country," said James Hunt, special agent in charge of the DEA's New York office, in a statement. "This seizure alone contains enough potency to kill half of the population of New York City, if laboratory analysis proves it is all fentanyl. "
The street value of the drugs seized is estimated to be about $3 million, but that figure could be millions of dollars higher depending on the ration of fentanyl to heroin. Fentanyl is 50 times stronger than heroin and is driving a spike in fatal overdoses in New York City and across the U.S.
The four men arrested Friday were arraigned the next day and charged with criminal possession of a controlled substance and conspiracy. David Rodriguez faced a $200,000 bail, with smaller amounts for Perez-Cabral and Beltrez, but Richard Rodriguez—the Uber driver—had his bail set at just $1,000.
"These individuals are alleged to be transporting close to 20 pounds of the highly addictive drugs of fentanyl and heroin, valued in the millions, through our city streets," said Angel Melendez, special agent in charge of Homeland Security investigations in New York, in a statement. "It is a tragedy that with fatal overdoses at an all-time high, there is no shortage of demand for these opioids."
This isn't the first time drug dealers and Uber have appeared in the same bust. Dealers disguised themselves as Uber drivers—complete with fake logos and stickers—so they won't look suspicious while waiting for buyers in the Bronx and Manhattan, the New York Post reported earlier this year.