Three Arrested After Police Seize Enough Fentanyl to Kill the Entire Population of Ohio 'Many Times Over'
The seizure of a house in Dayton, Ohio, discovered enough fentanyl to wage "chemical warfare," authorities warned, amid the growing scourge of the opioid.
A drug bust at the property netted more than 40 pounds of the drug as well as 53 ounces of suspected methamphetamine, 18 ounces of suspected heroin, three firearms and over $30,000 in cash.
Shamar Davis, 31, Anthony Franklin, 30 and Grady Jackson, 37, all of Dayton, were arrested following a joint operation between the Miami Valley Bulk Smuggling Task Force, the FBI and Montgomery County Sheriff's Office, WHIO TV reported.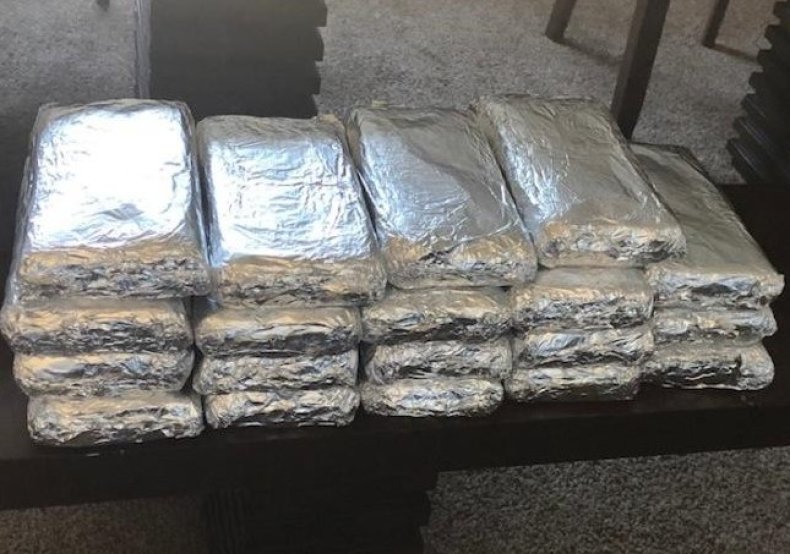 The three men were charged with possession with intent to distribute 400 or more grams of fentanyl. Police have accused them of being part of a huge narcotics trafficking operation.
Homeland Security Investigation [HSI] special agent Vance Callender said: "Twenty kilograms of fentanyl is enough to kill the entire population of Ohio, many times over.
"As this significant seizure makes clear, HSI and our partners are united in our resolve to protect our communities and our country from the deadly scourge of drug trafficking," he added, according to WLWT.
Joseph Deters from the FBI's Cincinnati Division said the seizure shows the impact of the area's opioid crisis.
"This multi-million dollar fentanyl seizure clearly shows the enormity of the opioid problem in this area. Law enforcement will continue to work aggressively to address the illegal drug supply, but there is also a continuing need to address demand as well."
Meanwhile, Ohio Attorney General Dave Yost said: "The quantity of fentanyl in this case amounts to chemical warfare and a weapon of mass destruction.
"I applaud the work of our task force and our law enforcement partners—this is an enormous amount of deadly drugs that will no longer be on our streets."
The Centers for Disease Control and Prevention says that fentanyl can be up to 100 times more potent than morphine and many times more potent than heroin.
In a report this month, it said fentanyl is the most commonly identified drug in fatal overdoses. In 2017, it was linked to nearly two-fifths of all drug overdose deaths, up from less than a third the previous year, according to CNN.
In September, the Chinese government rejected claims by U.S. authorities that it was the main source of fentanyl to the country. That month authorities seized enough of the synthetic drug to kill 14 million people, which CBS reported was linked to a vendor in Shanghai.
But China's National Narcotics Control Commission insists it is working hard to curb the synthetic opioid and dismissed the blame leveled at Beijing by President Donald Trump.