Fentanyl: The Opioid Epidemic That's Killing America | Opinion
The number of bodies piling up in Florida's 4th District morgue was so large last year, the medical examiner's office ran out of room. In Cook County Illinois, medical officials responded to 74 overdoses in 72 hours.
While these stories are disturbing, they're not unusual. Florida and Illinois are part of a growing trend; overdoses in the U.S. increased an average ten percent in 2017, while a few states saw even higher increases. In New Jersey, overdoses increased by 27 percent. According to preliminary estimates recently released from the Centers for Disease Control, drug overdoses killed more than 72,000 Americans last year, the highest number on record.
The Trump Administration has called for a "global call to action" in advance of the UN General Assembly later this month. To address this national epidemic successfully, America needs a global ally.
While opioid overdoses are driving the increase in deaths, prescription drugs are no longer the primary cause. Instead "synthetic" opioids like fentanyl and its chemical siblings, so-called fentanyl "analogues," are fueling the death spiral. It was fentanyl that filled the Florida morgue to capacity and fentanyl-laced heroin that overwhelmed Cook County's first responders.
Fentanyl, and the chemical components needed to manufacture it, often enter the country illegally. It is the strongest opioid available for human use. It is 50 times more potent than pure heroin and 80 to 100 times more powerful than morphine. It is often mixed with heroin or other drugs and is known to be so toxic, federal guidelines have been established to protect first responders who might handle the drug.
Last October, President Trump declared the overdose epidemic a public health emergency. The House recently passed more than 50 opioid-related bills. Before the end of his second term, President Obama had set aside nearly a billion dollars to help the hardest hit communities establish prevention and treatment centers.
As former legislators, we support our government's efforts to address the nation's growing opioid problem. While decreasing American demand is the ultimate answer, disrupting supply is the immediate challenge. This challenge requires a sustained and long term global effort with partners like the UN's Office of Drugs and Crime (UNODC) and the World Health Organization (WHO).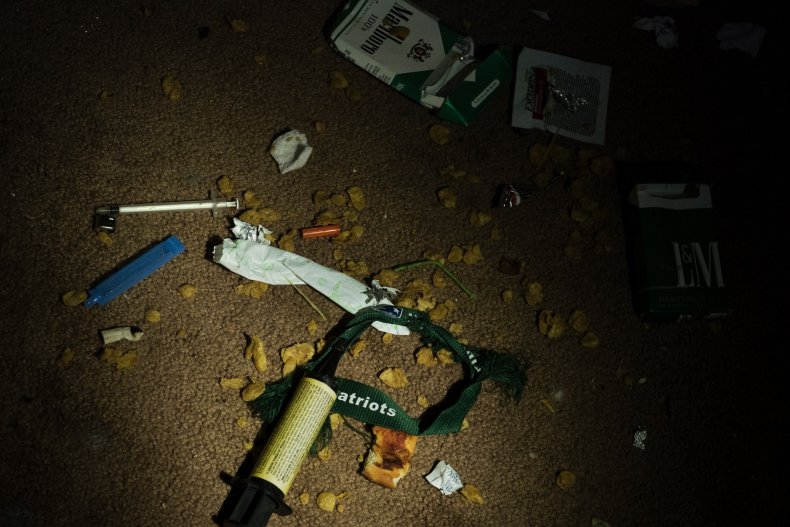 UNODC's recently published "World Drug Report, 2018" makes clear why fentanyl has flooded the market: Fentanyl is relatively easy to make and obtain. "Synthesis does not require sophisticated laboratory skills," the report notes, "which facilitates small-scale manufacturing by minor drug trafficking organizations."
The Drug Enforcement Agency says that while some fentanyl is manufactured within the U.S., much of the supply is imported from China and Mexico. This past April, the Senate released an investigation showing that international suppliers used the U.S. Postal Service to ship fentanyl, or the chemicals needed to make fentanyl, to dealers in the U.S. A bill before the Senate would tighten the loopholes that allowed U.S. Postal Service to unwittingly aid the international illicit drug trade.
Meanwhile the World Health Organization is helping track the drug supply that enters the country through other means. Following WHO's recommendations, the Commission on Narcotic Drugs recently "scheduled" six analogues of fentanyl to the international control list. One of those chemicals is carfentanil, a veterinary drug used to sedate large animals that is increasingly being mixed with heroin and illicit opioids. Carfentanil is so toxic—a few granules can be lethal—it has the potential to be used as a chemical weapon.
The UN Office of Drugs and Crime's Container Control Program trains countries to prevent the movement of illicit goods at seaports in thirteen regions throughout the world. Since its inception in 2004, the CCP has seized more than 200 tons of cocaine and "significant seizures" of precursor chemicals.
Smuggling methods, consumption patterns, even the chemical composition of illicit opioids are evolving constantly. The UN's Global SMART Update is published twice a year and is specifically dedicated to the "emerging patterns and trends of the global synthetic drug situation." Early warning and trend analysis allows U.S. authorities to better understand the scene playing out on American streets.
Americans have faced several opioid crises before, as far back as the Civil War. None are as devastating as the epidemic we face now. The increasingly complex nature of illicit drug production, the myriad ways in which fentanyl and its counterparts are being mixed with other drugs, requires a coordinated and comprehensive response. The UN's international analysis, combined with operational activities to prevent trafficking and its emphasis on international coordination, make it an invaluable ally in America's fight against illegal opioids.
If we're to prevent the nightmare scenes from Florida and Illinois from repeating across the nation, we'll need to draw on the support of the UN agencies on the front lines.
Former Representative Ander Crenshaw (R-Fl) represented Florida's 4 th District in the US Congress from 2001-2017. Senator Mark Kirk (R-Il) represented Illinois from 2010 through 2016, and as a U.S. Representative the decade prior. Both were recently named Arthur H. Vandenberg Distinguished Fellows at the United Nations Foundation, where they advise on foreign policy and national security challenges.
The views expressed in this article are the authors' own.