A PhD student study focusing on the environmental impact of animal carcasses filmed a feral cat eating an entire kangaroo, to the surprise of the students holding the study, according to ABC News Australia.
Emma Spencer, a student at the University of Sydney, set up a range of cameras in the outback alongside a range of animal carcasses to study the progress of their impact upon the area at the Bush Heritage Australia's Ethabuka Reserve, which stands several hundred miles south of the foot of Mount Isa. She was surprised by what her cameras managed to catch.
"We've had this one [cat] come in and pretty much take out an entire 30-kilogram kangaroo, eating it all over a number of days," Ms Spencer said.
"He certainly benefited from that one carcass."
"Cats up there, if they come across a carcass it's a free meal," she said. "There might be very little competition for that carcass. They did come in [to] a few other carcasses but, in general, in environments like this, what you'll see is the birds coming in to break down the carcasses."
Spencer had expected to encounter a lot of dingo activity in the area, but didn't get many bites.
"We did get them visiting quite a few carcasses, but in general we didn't actually see them feeding off the carcasses."
Spencer wasn't sure why they didn't engage with the carcasses but it's possible they were chasing other packs of kangaroos in the area. "Maybe [the carcasses] were too smelly or maybe the [wild dogs] were just full of food."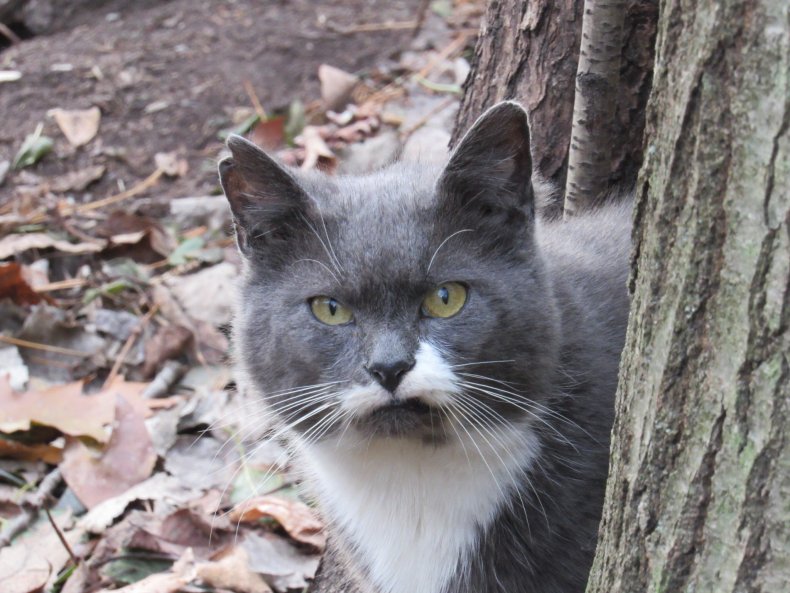 The feral cat feedings were a notable anomaly in her research, which up to that point had showed that the local populace of wedge-tailed eagles were the ones responsible for the majority of the area's scavenging.
University of Adelaide ecologist John Read told ABC news that environmental impacts, specifically a tough drought in New South Wales and South Australia, might have driven the cats to become scavengers, which is not within their normal natures.
"This drought is biting into their main food supply, which is rodents, small birds, and reptiles," Read said.
"So the cats that are out there are turning to scavenging, which is not their normal behavior," he noted.
Dr. Read said that he'd done a similar study in the area that generally agrees with Spencer's study 15 years before; eagles, crows and ravens were the area's main scavengers.
"I assume this is an unusual response to the lack of alternate food."