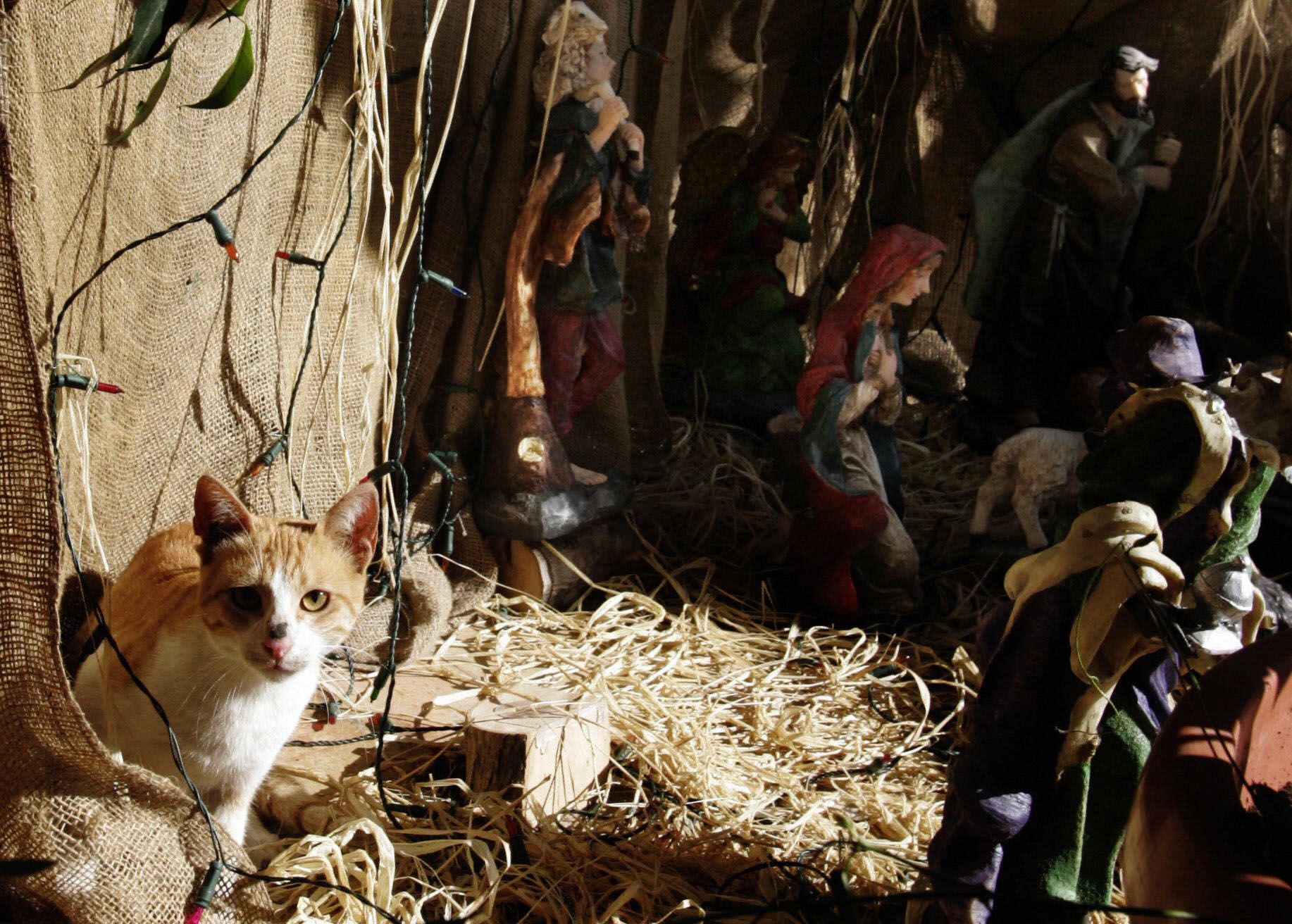 Mary and Joseph, draped in cerulean and Pepto Bismol-pink robes, crouch adoringly around Bandit. Several Wise Men (the plastic, big box-bought, garden variety kind of holy folk), donkeys and a holy lamb of God surround the baby Jesus's parents, also bowing their heads in deference to the lazy gray tabby that lays sprawled on the hay bale.
On a quiet residential street of Red Hook, a Brooklyn neighborhood where the aforementioned (and now viral) manger has been set up every year for the last five years in an empty lot, the infant savior is mostly MIA.
Even when he does make his appearance on Christmas Day, Bandit and several other ferals ("Bandit's Sister," Blue Eyes" and some four more unnamed cats) push him to the ground with their snow-soaked paws, so they can once again cuddle.
"I think they're going to get a court order to get him out of their spot," jokes Annette Amendola, a devout Catholic who, along with members of her family, annually installs the cat-attracting nativity scene.
The manger wasn't built with cats in mind. The feral feline colony has long congregated on the block because the Amendolas and their neighbors feed them five times a day.
Once installed, for the cats the manger simply became a covered, dry extension of the dining domain that's allowed them to grow "fatter and fatter" over the years. When it's not the Christmas season, the Amendolas still keep the tiny shack of a stable elsewhere on their lot as a hideout for the cats.
Though this catty nativity scene may be dismissed by some as kitsch, it speaks to the unsteady relationship between cats and Christianity throughout history.
One legend has it that a tabby lulled to sleep a cold and crying baby Jesus right after his birth. Mary then petted the cat in thanks, leaving her initial on its forehead – explaining the "M" pattern on most tabbies' faces.
A different take on this same tale says the tabby "killed a poisonous serpent sent by Satan to bite Jesus in his crib." In the Middle Ages, however, the animals revered by European pagans were often killed on sight due to their alleged association with the devil. Supposed links between cats and the dark arts led to many other mass abuses, such as burnings and tossings.
At a VFW hall across the street from the manger, where the stagnant air sours with liquor and smoke, the cats are perceived more positively and given a Christian spin – even among those that aren't feline friends.
Carlos Mendez, 49, explains over his rum and coke that he's "allergic to cats." "I gotta deal with them when I see my ex, but that's it," he said.
He nonetheless appreciates their presence at the Red Hook Bethlehem. "Cats were considered guardians," he said. "They were worshipped by the Egyptians. It looks like they're just watching over him."
Amendola concludes that "they're keeping it warm for baby Jesus" and, as such, promises to put up the display "as long as God gives me the strength."