Feral Pigs Found Digging Near Graves in a New Zealand Cemetery
Nelson, New Zealand has a major porcine problem. Multiple times a week, a troupe of wild pigs has been invading the local Marsden Valley Cemetery to dig up the earth around the headstones, according to stuff.co.nz.
While the headstones themselves haven't sustained any damage, the desecration of the surrounding area has some Nelson residents concerned, including Francis Day.
"I think we owe it to the people who are there, people who have paid a lot of money to purchase a plot, [to find a solution]," Day, who serves as the director of Marsden House Funeral Services, said.​ "They at least deserve the respect to have the place they rest kept nicely and left in dignity."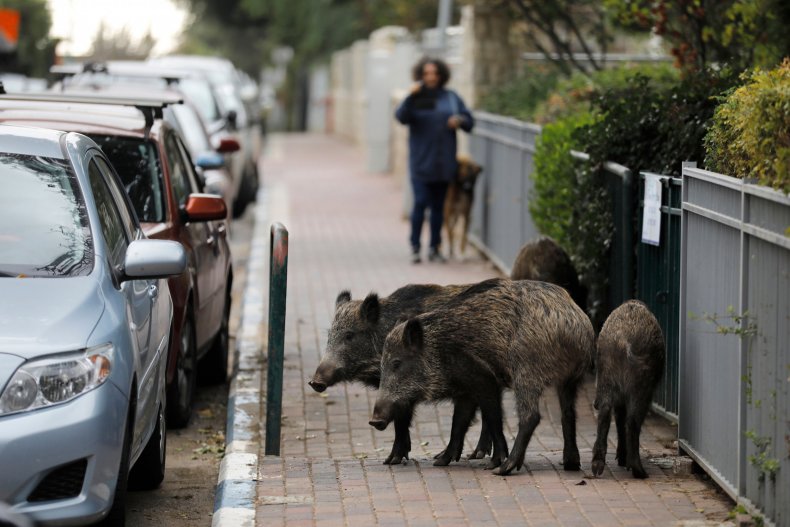 One of the dearly departed who has been victimized is John Coombs's late wife, who died 13 years ago. Last weekend, the elderly Coombs headed over to the cemetery to visit her grave. When he arrived, he was surprised to see that the lawn was in disarray.
"I just couldn't make out what it was and there was another person up there and he said to me, 'wild pigs'," Coombs told stuff.co.nz, marveling at the extent of the destruction. "Goodness me, they really cut it up."
While the person told Coombs that deer and rabbits are also to blame for the damage, security camera footage reveals that the pigs are the primary aggressors. Several have been making a habit of taking trips to the cemetery around midnight, Nelson City Council member Andrew White, the group manager of community services, told stuff.co.nz.
He added that that the city council is taking the problem very seriously; it has even allotted $80,000 for the construction of a three-mile fence around the cemetery. The fence is expected to be completed by the end of June.
"We are very conscious of the importance of these graves to family, friends and whānau [a Māori term meaning "extended family"], as well as the importance of the area to local residents," White said.
The city council has also considered more drastic methods of safeguarding the headstones. In 2018, the culling of pest animals was approved in the region. However, the ruling was met with controversy.
"The council is currently taking a very cautious approach to culling in that area, as it is residential and there is a related risk to safety," White said.
While White did not venture a guess as to the purpose of the pigs' excavations, the animals are known to have an appetite that doesn't discriminate.