#Feralhogs Trends on Twitter as Man's Defense of Assault Weapons Goes Viral
After the mass shootings in El Paso and Dayton, a lighter strand in the Second Amendment debate emerged when one Twitter user pondered how he would be able to deal with feral hogs on his property if restrictions were placed on assault weapons.
William McNabb, who describes himself on Twitter as a Christian and a libertarian, expressed what he felt as a "legit question for rural Americans," in a tweet that has been widely shared.
"How do I kill the 30-50 feral hogs that run into my yard within 3-5 mins while my small kids play?" the man from Arkansas wrote, in a tweet which quickly sparked the trending hashtag #Feralhogs."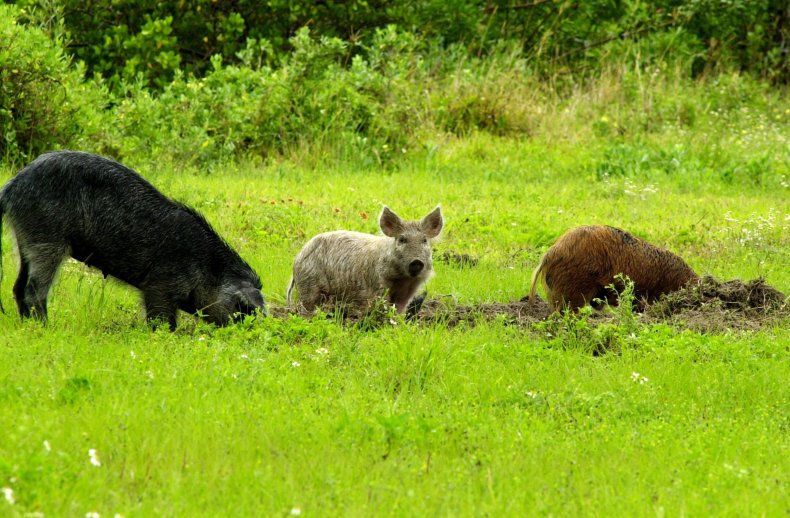 People made light of his concerns, with one person tweeting: "First the bears attacked our schools, driving our children into the fields. It was all a trap. The 30-50 feral hogs were waiting."
Pierre Menard tweeted: "Thinking about the emotional toll of regularly using a machine gun to kill 30-50 feral hogs that illegally enter your property within 3-5 minutes of seeing your children."
Meanwhile, Beth McColl wrote: "Sorry boss can't come in. 30-50 feral hogs came running into my yard again. yeah. about 3-5 mins. where my children play. yeah. see you tomorrow."
Matthew Gertz tweeted: "The 47 in AK-47 stands for the number of feral hogs it kills per minute," adding "this is canon now."
Despite McNabb being mocked, the Missouri Conservationist Magazine stated in December 2018 that the animals cause an estimated $1.5 billion in damage throughout the country each year, adding that the figure is a decade old and today's figure is likely to be much higher because the feral hog population has since grown.
Evan Wood, an editor for Missouri Life magazine, told The Guardian: "They live in groups (called sounders) of up to 60 hogs. They are very harmful for farmers because when they eat, they upturn the ground to get things out."
However Wood did say that the chances of successfully shooting a group of them at once would be "pretty much nil."
"So the ones that survive often scatter, and because of how quickly they can breed, that creates more groups and impacts new land. Plus a lot of times they'll end up coming back," he told The Guardian.
Meanwhile the country's police chiefs urged Republicans in Congress to take action and help pass the Bipartisan Background Checks Act, which would require background checks on all arms purchases and close loopholes for purchases at gun shows.
The Major Cities Chiefs Association (MCCA) said in a statement: "The lives of the people we serve and the brave men and women we lead are being cut short by our nation's failure to act," according to Shareblue.com.
The graphic below, provided by Statista, illustrates which U.S. states have bans on assault rifles and high capacity magazines.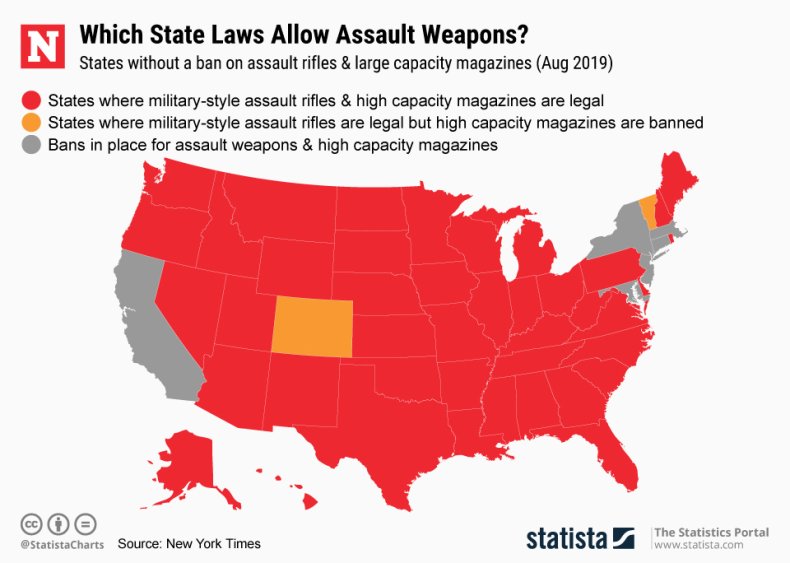 This article was updated to include an infographic.