Who Is Ferdinand Marcos Jr. and Where Does He Stand on U.S. Relations?
Ferdinand Marcos Jr. is hoping to become the next president of the Philippines, with the country's citizens taking to the polls on Monday May 9 to cast their votes.
Marcos Jr.—who is more commonly known by his boyhood nickname of "Bongbong," or "BBM"—is the 64-year-old son of former Philippines dictator Ferdinand Marcos and his shoe-loving wife Imelda Marcos.
The couple looted billions from state funds and enforced numerous human rights abuses during more than 20 years in power, and Marcos Jr. was 28 when the family fled the country in 1986 after a peaceful People's Power revolution. The world was stunned when revolutionaries stormed the Presidential palace and revealed the excesses of the family's home, including infamous footage of a room filled with 3,000 pairs of Imelda Marcos's designer shoes.
Before Marcos' brutal rule came to an end, his son had been groomed for a political career of his own. In the mid-1970s, Marcos Jr. attended the U.K.'s prestigious Oxford University and studied for a degree in philosophy, politics, and economics but failed to graduate after twice failing his final exams, according to the BBC. He was brought home to the Philippines where he held a variety of political posts before the revolution.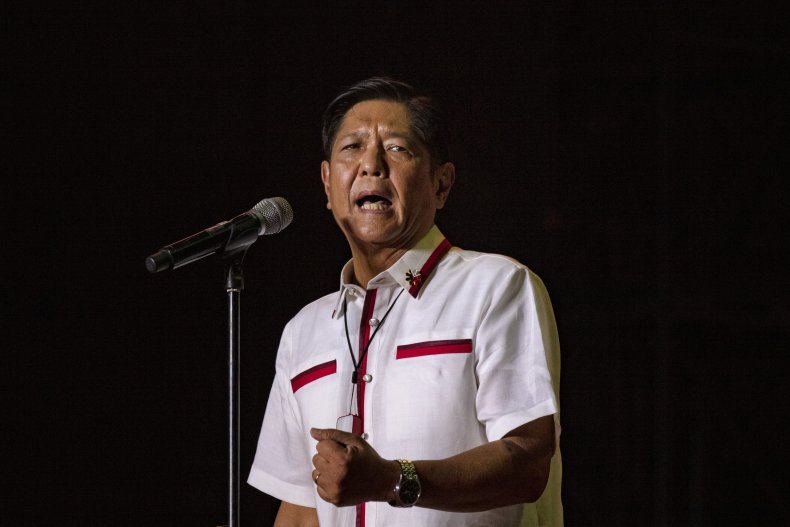 The Marcos family, which some reports say had looted up to $10 billion from the Philippines, moved to Hawaii during their exile, but a couple of years after Marcos Sr. died in 1989 they returned home. A string of international legal cases were brought—with varying degrees of success—against the family by those seeking justice or the recovery of the looted funds from the poverty-stricken country. The family has always denied using state funds for personal use.
Since Marcos Jr.'s return to his home country, he has held a number of political positions, including serving as a governor and congressman in the family's regional stronghold of Ilocos Norte. In 2010, he made the jump into national politics when he was elected as senator.
He is now running for president with Sara Duterte as his would-be vice president running mate, who is herself the daughter of the current president Rodrigo Duterte. Their campaign brings together the children of two political dynasties. Critics aghast at Marcos Jr.'s bid to lead the country tried to prevent his presidential campaign using a tax conviction, but ultimately failed to stop him from running. He is widely expected to win the presidential election.
What Has He Said About His Father's Dictatorship?
Marcos Jr. has been trying to rehabilitate his father's name and reputation for decades, according to some analysts. Campaigns attempting to paint Marcos Sr.'s time in power as a golden age for the country have flooded social media, despite the fact the economy was brought to its knees during his rule. Marcos Jr. recently told CNN Philippines that his father was a "political genius" and his mother was a "supreme politician."
When it comes to his own policies, Marcos Jr. has been tight-lipped. Critics have accused him of hyping up crowds with pop songs and platitudes rather than providing details of his plans for the country if he wins the presidency.
Analysts told the Financial Times that they expect him to continue pursuing pro-growth policies similar to those implemented under current president Duterte. But Marcos Jr. and his running mate have said little either way. Jon Morales, associate director with Southeast Asian government affairs consultancy Vriens & Partners, told the newspaper: "They have been very quiet about any policy statements because they are so far in the lead. But most believe they will leave the wheels of the economy to competent people." However, Morales predicted the country would see "specific sectors being parceled out almost as gifts" which would stifle competition in some parts of the economy.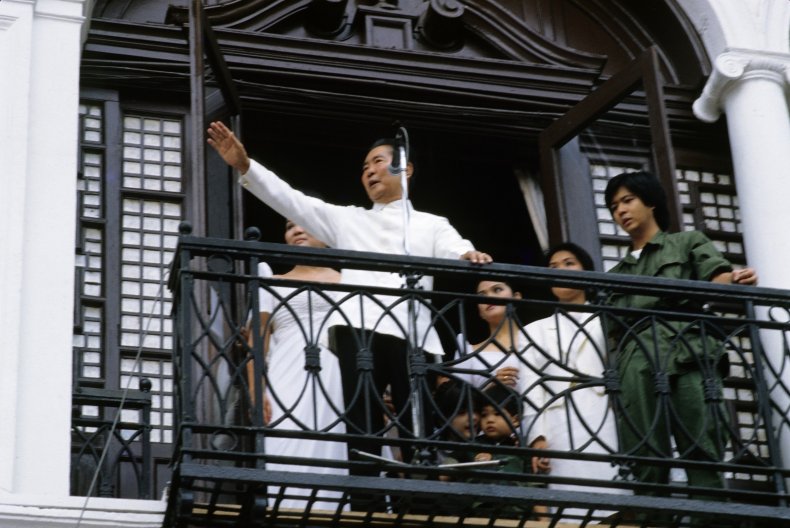 Where Does He Stand on the U.S. and China?
Traditionally, the Philippines has been a U.S. ally, but President Duterte has been moving increasingly closer to China since his election in 2016. At a talk with business leaders that year in Beijing he even said to applause: "I announce my separation from the United States."
Marcos Jr. must now decide how he wants to walk the line between the U.S. and China. During a virtual forum in March, he insisted the Philippines shared a "special relationship" with America. He added: "Military deals are advantageous to both countries." But political analysts wonder if Marcos Jr. will want to risk Beijing's wrath by returning to closer ties with Washington.
Another issue that may complicate his relationship with the U.S. is the fact that he has an eye-watering fine to pay there. In 2011, a U.S. District Court in Hawaii fined him and his mother $353.6 million for failing to provide information on assets in connection with a 1995 human rights class action suit against Marcos Sr. The fine remains unpaid, which could prove awkward when it comes to presidential visits to the U.S. should he be elected.
Will He Win the Philippines Election?
Marcos Jr. and his running mate Duterte appear to be streets ahead of their nearest rivals, incumbent Vice President Leni Robredo and her running mate Senator Kiko Pangilinan. The most recent poll from Pulse Asia—a Philippines opinion polling company—revealed Marcos enjoyed 56 percent of voters' support, more than double Robredo's showing of 23 percent.
Newsweek has reached out to Marcos Jr. for further comment.