Al Sharpton Calls for a 'Movement' as Ferguson Buries Slain Teenager Michael Brown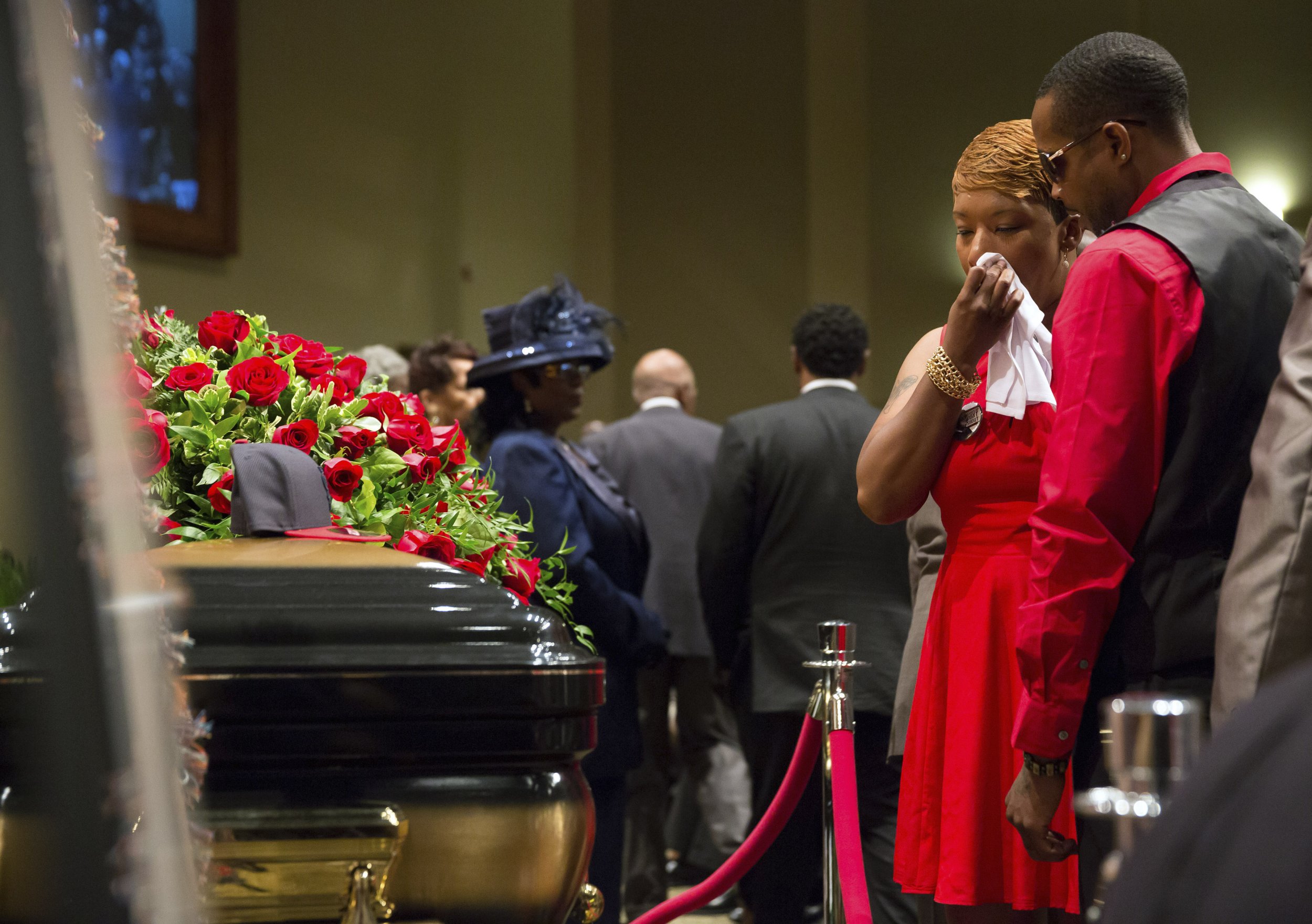 Michael Brown was laid to rest today, more than two weeks after he was shot dead by police on Aug. 9 in Ferguson, Missouri. The Rev. Al Sharpton delivered the eulogy for the 18-year-old Brown during a two-and-a-half hour service at the Friendly Temple Missionary Baptist Church in St. Louis, Missouri. Attendees spilled out of the main church, which seats 2,500, into four overflow areas.
Sharpton called for Brown's death to become a springboard for political action. "We can't have a fit, we've got to have a movement," Sharpton said. "A fit you get mad and run out for a couple of nights, a movement means we've got to be here for the long haul, and turn our chance into change," he said, "our demonstration into legislation."
To that end, the preacher called on Congress to enact legislation to create more regulations on police behavior and for authorities to conduct a fair, impartial investigation. "Those that are compromised will not be believed," he said.
Sharpton had particularly harsh words for police. "How do you think we look," he asked the congregation, "when young people marched non-violently, asking for the land of the free and the home of the brave to hear their cry, and you put snipers on the roof and pointed guns at them?"
"How do you think we look when the world can see you can't come up with a police report, but you can find a video," he asked, in reference to the fact that the Ferguson police department did not file an incident report for the shooting of Michael Brown, but did produce a video of Brown allegedly robbing a convenience store.
"We're not anti-police," he said. "We respect police, but those police that are wrong need to be dealt with, just like those in our community that are wrong need to be dealt with."
Sharpton also criticized those who engaged in riots and looting after Brown's death. "Michael Brown does not want to be remembered for a riot," Sharpton said. "He wants to be remembered as the one that made America deal with how we're going to police in the United States." He further encouraged the community to work to enact political change, rather than "sitting around having ghetto pity parties."
Finally, Sharpton did not spare his fellow preachers, some of whom he accused of using Brown's death to shine the spotlight of national media attention on themselves.
Director Spike Lee, rapper Snoop Lion, two representatives of the White House, and various lawmakers were in attendance.
Brown was scheduled to be buried at St. Peter's Cemetery in St. Louis County later on Monday.