Ferguson Fire Update, Map: California Blaze Grows to 22,000 Acres, Only 7 Percent Contained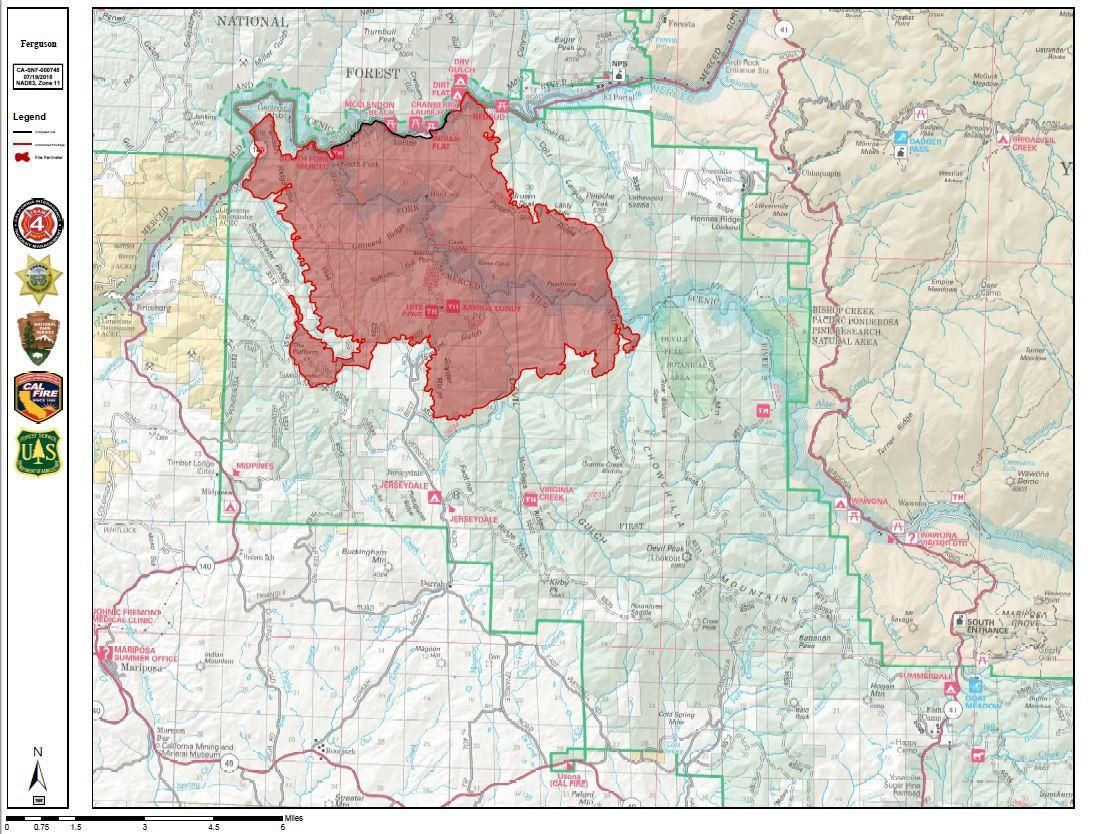 The Ferguson fire burning in California is getting closer and closer to the edge of Yosemite National Park. The fire grew to more than 22,000 acres by Friday morning with roughly 7 percent containment, according to the latest update from the California Department of Forestry and Fire Protection.
Despite the fire covering so much ground, there were no structures damaged at all, let alone destroyed, as of Thursday evening. However, there were still mandatory evacuations ordered for some areas near the fire.
The areas in which there were mandatory evacuations ordered were Savage's Trading Post, Sweetwater Ridge, Jerseydale/Mariposa Pines, Incline Road from Foresta Bridge to the last BLM campground, El Portal Trailer Court and Cedar Lodge/Indian Flat Campground, according to authorities.
There were evacuation advisories for other areas where the fire could possibly spread. An advisory simply means that residents there should be ready to evacuate should conditions change and the area be threatened.
Those advisories were issued for Yosemite West, Lush Meadows Community and Ponderosa Basin Community among other areas. A full list of the advisories is available on the Incident Information System.
A map of the fire shows how far it has spread and the land where the flames are currently active.
One firefighter died over the weekend while bulldozing during the fire after his bulldozer fell down a ravine. Another firefighter was injured Tuesday afternoon while fighting the flames.
There are more than 2,700 personnel working to contain the flames that were threatening to continue to spread. The fire was burning across a rough terrain of brush and timber that made it difficult for the firefighters to move around and to create ways to contain the fire. Weather was a concern as well because, though thunderstorms were in the forecast, they could bring strong winds that could spread the fire instead of rain that would have the potential to suppress it.
The fire started July 13, but the cause of the fire is currently unknown. Several other large fires that have burned across the country in the past several months were suspected to have been started by people. A man was charged with starting the Spring Creek Fire in Colorado in early July, while three people were charged with starting the High Chateau Fire.