Ferguson Fire Update: Wildfire Threatening Yosemite Grows to 33,743 Acres, Only 13 Percent Contained
The Ferguson Fire in Awahanee, California, continued to expand this week, injuring several firefighters and prompting new evacuation orders. The wildfire has burned 33,743 acres and is just 13 percent contained.
The fire, which ignited on July 13 on the Sierra National Forest, has not destroyed or damaged any homes, Cal Fire reported on Monday. However, at least one nonresidential building was destroyed and 3,400 other structures remain threatened.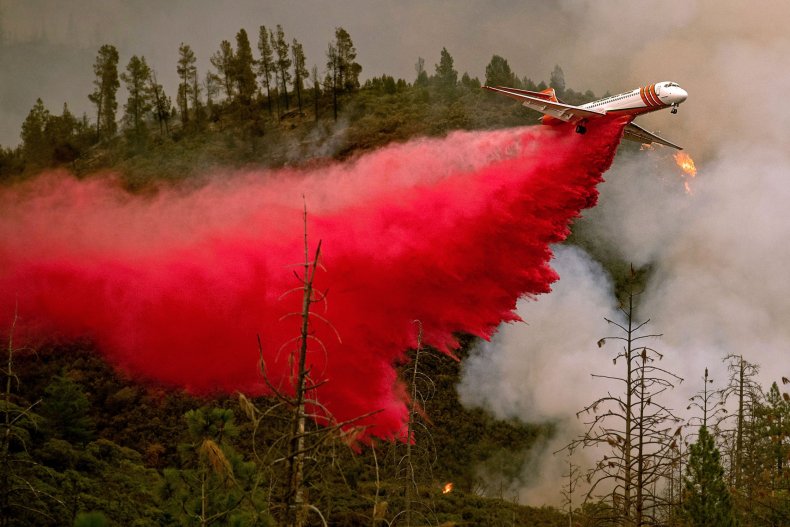 Cal Fire said that fire managers are using both heavy equipment and hand crews to improve roads and build lines in the Montgomery Gulch area. Firefighters are working to establish containment lines throughout the fire area.
"The major priority for the fires is to keep the fire as small as possible. With how the weather is going to do today and the topography we are dealing with they are allocating resources for those areas keeping life safety in mind," Ferguson Fire information officer Christian Linnemann told KFSN.
More than 3,000 fire personnel are working to contain the fire, including 199 engines, 46 water tenders, 16 helicopters, 66 crew and 43 dozers.
Officials have issued mandatory evacuations for El Portal Trailer Court, Incline Road from Clearing House to the last BLM campground, Jerseydale/Mariposa Pines, Cedar Lodge/Indian Flat Campground, Savage's Trading Post, Sweetwater Ridge, Rancheria Flat—Government Housing, Old El Portal, Yosemite View Lodge, Foresta, Yosemite West and Old Yosemite Road. An evacuation center has been established at New Life Christian Fellowship at 5089 Cole Road, Mariposa, California.
Highway 140 has been closed from 1.9 miles east of Midpines to the Cedar Lodge area, Cal Fire said. Motorists are urged to use an alternative route. Despite the Ferguson Fire inching its way closer, Yosemite National Park remains open.
Cal Fire confirmed that one person has died and six others have been injured in the fire. Heavy equipment operator Braden Varney died on July 14 when his bulldozer rolled over as he was cutting fire lines in the fire, KFSN reported. Two firefighters were reportedly injured over the weekend and all those injured are expected to make a full recovery.
Temperatures are supposed to reach nearly 100 degrees this week, according to USA Today.
"Weather forecasts are calling for hotter and drier are throughout the week as conditions align for critical and extreme fire weather in the coming days," fire managers said on Monday.
The 11-day-old fire could possibly reach the burn scar left by the Rim Fire in 2013. The Rim Fire, which burned more than 400 square miles, left terrain that is less likely to burn as intensely, USA Today reported.