Ferguson Protesters Burn Flag Blocks From the White House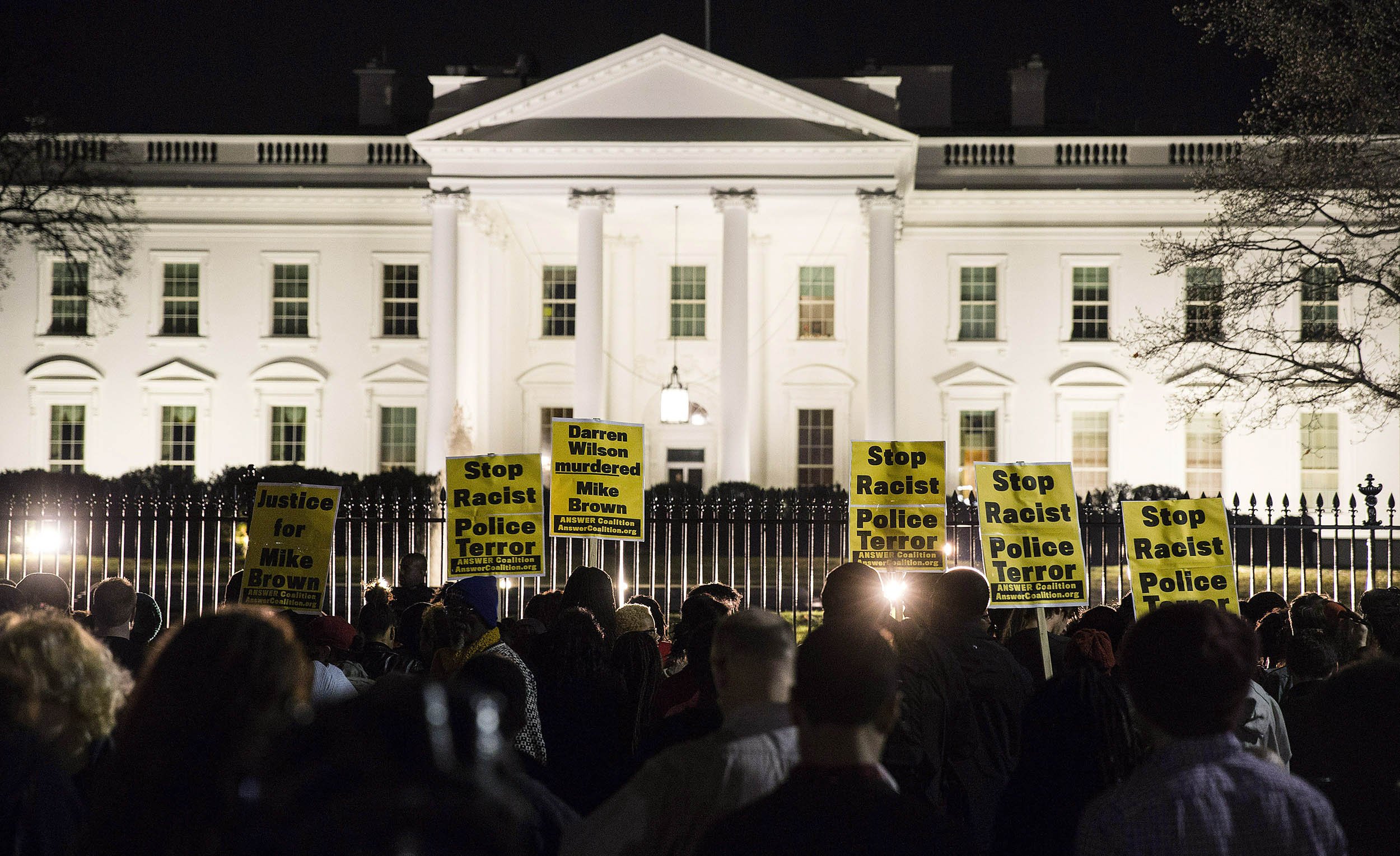 By the time the protesters reached the National Portrait Gallery building in Washington, D.C., Tuesday night, Janessa Robinson was fed up with keeping her cool. When an American flag that someone had been carrying went up in flames, Robinson joined in the circle around it. Eight blocks from the White House, as most people sat on the museum steps and sang the civil rights anthem "We Shall Overcome," Robinson and a small group shouted until they became hoarse.
"People care more about that flag than they care about us," said Robinson, 24, who is black. "America doesn't want me. Why would I want that flag?"
The rally was the culmination of a day of protests in D.C. and elsewhere around the country following the news that Ferguson, Missouri, police officer Darren Wilson would not be indicted in the fatal shooting of teenager Michael Brown. Eugene Puryear, an organizer of the D.C. rally, said he was unaware that a flag was burned and that the possibility of flag burning had not come up in planning the event. The D.C. Ferguson Movement, which Puryear is involved with, organized what it called "28 Hours for Mike Brown," beginning with a "die-in" outside the White House late Monday night, during which protesters lay in a heap on the ground.
Organizers estimated that between 500 and 1,000 people attended Tuesday night's rally, which began at 7 p.m. at Mount Vernon Square near D.C.'s Chinatown.
Puryear gave the first speech of the night, standing on a wooden bench. "This is not any sort of anomaly," he told the crowd, referring to the Ferguson shooting. "If anyone inflicted that kind of situation to white Americans, it would be considered terrorism or genocide."
Next to him was the Pan-African flag, featuring red, black and green horizontal stripes and sometimes referred to as the Black Liberation Flag. It had made news earlier in the day when one was raised at Howard University in D.C. "This is a system that is not broken. It is a system that is made not to work for us," Puryear told the crowd.
Among the protesters was former Ferguson resident Maka Taylor, 36, who moved to D.C. in 2008. (She was not involved in the flag burning.) Her daughters, 4-year-old twins, joined her in what she said was their first protest. "I was really, really hurt," Taylor said about watching the at times violent protests unfold in Ferguson Monday night. "Nobody wants anything bad to happen, but if we look back at history, good things come out of bad times." Taylor said Ferguson locals refer to the spot where Brown died as "ground zero."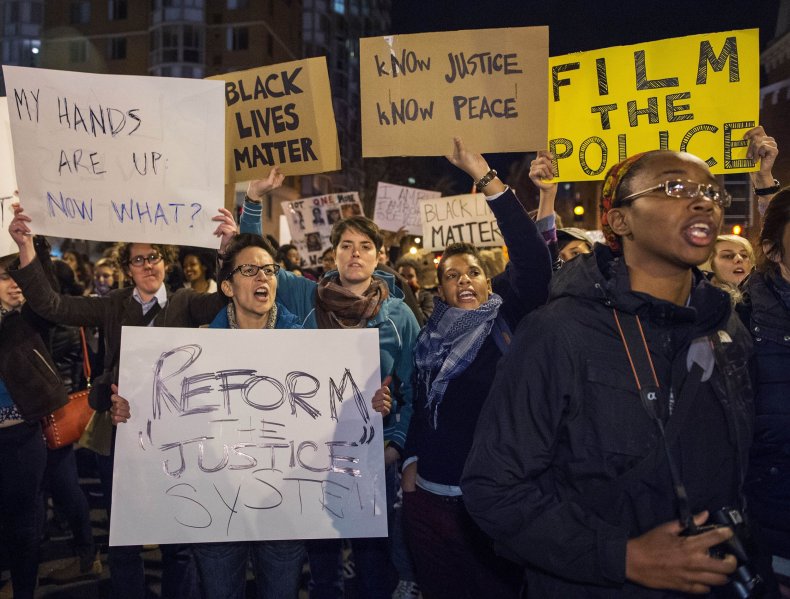 Brown's death has sparked a nationwide debate about racial inequality and the tense relationship between the police and marginalized communities.
Activists in D.C. spoke Tuesday night about the prevalence of police "jump outs," which they said involve police in unmarked vehicles swarming upon members of the black community. Addressing the crowd, Seema Sadanandan of the American Civil Liberties Union said, "You need to take out your cellphones, take out your video cameras, and you need to start videotaping the police. We need to create a culture of observation." The ACLU has said "jump outs" are not codified police procedures and began in the 1980s.
Tensions flared when the group passed a Wal-Mart on First and H streets. The superstore chain was the site of looting in Ferguson in August, and talk of protesting a store had come up earlier in the night. When the march arrived there, 50 or so people rushed through the doors before employees stopped more from entering. Protesters banged on the glass, and it appeared that someone had smeared red paint on a window.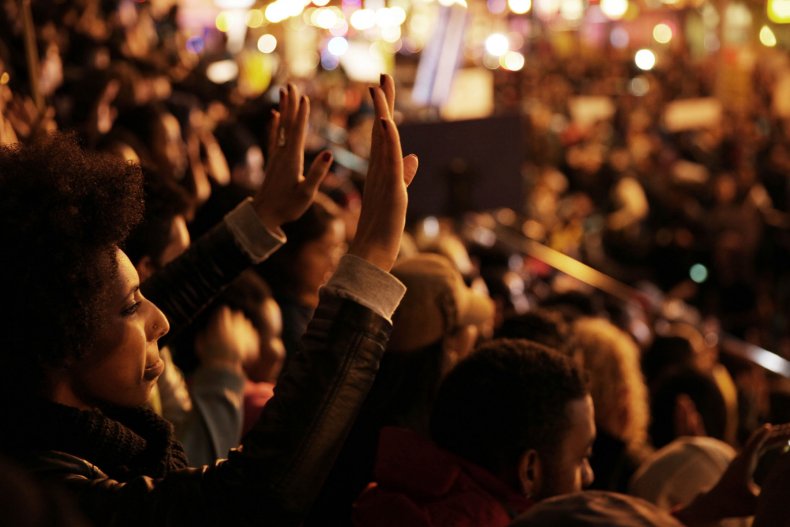 Before the rally, people had exchanged information on Facebook about what to do "if and when" police used tear gas. But the police presence was minimal, aside from escorting marchers and blocking traffic. A Metropolitan Police Department public information officer said police made no arrests at the protest and described the event as "peaceful." The police declined to provide crowd estimates or the number of police officers present Tuesday night.
Last night people protested in cities around the country, including New York, Los Angeles, Seattle and Ann Arbor, Michigan.
More than 100 people have been arrested in ongoing demonstrations in Ferguson since Monday's grand jury announcement, with 2,000 National Guard troops joining police to try stave off incidences of rioting and arson.
This article has been updated to clarify Maka Taylor's role in the protest.