Ferguson Protests Reignite Over Police Shooting of Black Teen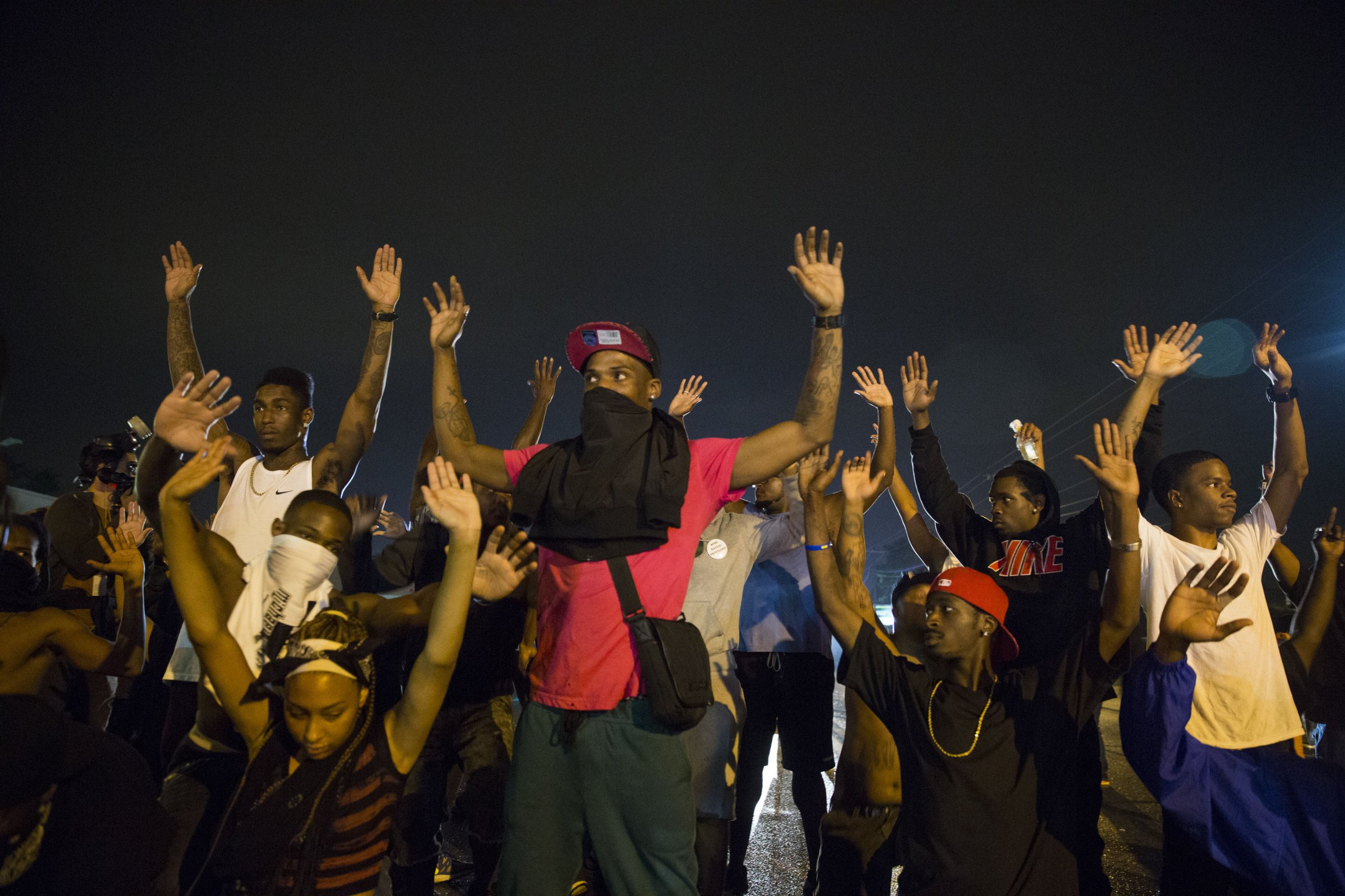 After another night of racially charged protests and looting in Ferguson, Missouri, over the shooting of an unarmed black teenager by a white police officer, Governor Jay Nixonwas meeting with local and state law enforcement on Saturday to craft a plan aimed at quelling further violence.
"It was a rough time last night. There was a lot of looting and there were a lot of people arming themselves in their storefront to guard their businesses," said Al Nothum, a spokesman for the Missouri Highway Patrol.
The governor put Highway Patrol Captain Ron Johnson in charge of security on Thursday after several nights of violent clashes between protesters and local police forces in the aftermath of the Aug. 9 shooting of 18-year-old Michael Brown.
Tensions temporarily cooled on Thursday night but on Friday evening protesters again swarmed through a residential and retail district in the small town outside St. Louis that has become a virtual war zone, pitting mostly black protesters against mostly white police forces.
The unrest erupted after Ferguson police officer Darren Wilson, 28, shot and killed Brown shortly after noon last Saturday as Brown and a friend walked down a street that runs through an apartment complex where Brown's grandmother lives.
For days, Brown's family and supporters have demanded the name of the officer, which police repeatedly refused to release. That changed on Friday when Ferguson Police Chief Tom Jacksonidentified Wilson as the officer involved.
But rather than appease the protesters, Jackson added to the outrage when he announced that Brown had been a suspect in the robbery of a convenience store at the time he was shot, a move that supporters of Brown's family called a "smear" campaign.
Friday night's looting started at the same store where Brown was accused of taking cigars, officials said.
Jackson was later forced to acknowledge in a news conference that when Wilson shot Brown, the officer did not know the teen was a suspect in the robbery. The shooting happened after the officer told Brown and a friend to move out of a street they were walking along when the officer drove by. There was no connection between the shooting and the alleged robbery, Jackson said.
Attorney Ben Crump, who is representing Brown's family, said in a statement issued on Friday that the family was "beyond outraged" at the police attempts to "assassinate the character of their son, following such a brutal assassination of his person in broad daylight."
Civil rights activist the Rev. Al Sharpton said he would lead a rally with Brown's family in Ferguson on Sunday.
"There's nothing more contemptible and offensive to the people of this country than for law enforcement to try to smear a dead man or dead child that can't speak for themselves," Sharpton said on Saturday morning at a weekly rally he holds in New York City that is broadcast on the Internet.
Other law enforcement agencies criticized the Ferguson police department for trying to make the alleged robbery an issue connected to the shooting and for releasing a video from inside the store that shows Brown violently shoving a store clerk before he walks out the door.
"We had no involvement whatsoever in releasing that video," said Brian Schellman, a spokesman for the St. Louis County Police Department, which is leading the local investigation into the Brown shooting.
Neither the governor's office nor the state highway patrol were involved in the decision either, said Scott Holste, a spokesman for Governor Nixon.
CONFUSION OVER KILLING
The police version of Brown's shooting differs markedly from witness accounts, including that of the friend who was walking with Brown at the time, Dorian Johnson, 22.
In the police version, after Wilson asked Brown to move out of the road onto a sidewalk, Brown reached into the patrol car and struggled with Wilson for the officer's service gun. Wilson, who sustained a facial injury, then shot Brown a number of times.
Johnson and at least one other witness have said that the officer reached out through his car window to grab at Brown and that the teenager was trying to get away from the officer when he was shot. Brown held up his hands in a sign of surrender but the officer got out of his patrol car and shot Brown several times, they said.
Police have acknowledged that Brown's body was more than 30 feet away (9 meters) from the police car when he collapsed and died and that multiple shell casings were found at the scene.
FBI agents were at the scene of the shooting on Saturday interviewing area residents, and civil rights activist Jesse Jackson also visited the site, leading a prayer near a make-shift memorial to Brown just a few feet from where he died.