Fernandina Tortoise Thought to Be Extinct Found Alive on Galapagos Island During Animal Planet Shoot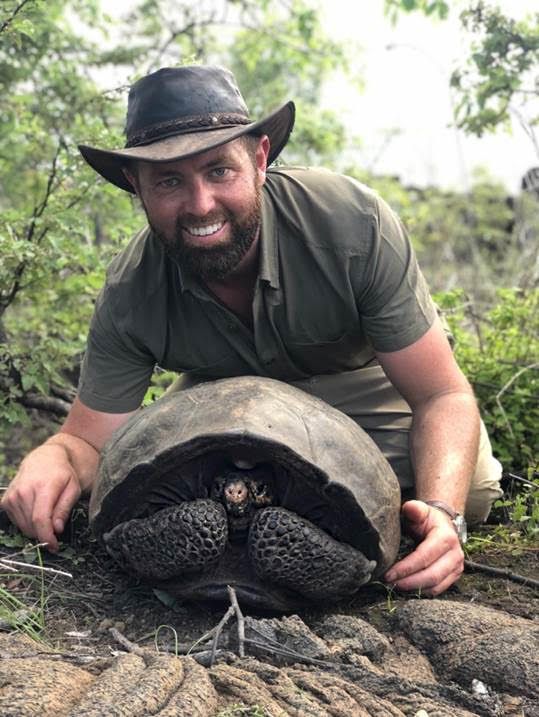 The Galapagos Islands are known to be the home of a unique set of species including rare and long-living tortoises. The Galapagos Tortoise and the Giant Tortoise are some of the most well-known species from the islands but others existed over centuries and some have even made it to the 21st century.
Up until recently, it was believed that the Fernandina Tortoise, one of those unique species, had gone extinct on the island more than 100 years ago. But on February 17, one of the tortoises was found alive on one of the islands in the archipelago.
While filming an episode of Extinct or Alive for Animal Planet, the show's host Forrest Galante, was trekking on a remote island in search of the tortoise. Galante had others with him searching for the turtle for two days before they happened upon it on a remote volcanic island, according to Animal Planet.
While on their trek the group found the tortoise scat and identified it positively as belonging to the Fernandina. They knew they were close after finding the scat and found the bedding area soon after. They found it under brush hiding from the hot sun, according to Animal Planet.
When they found it, the tortoise was healthy but underweight. The turtle was taken to the Fausto Llerena Tortoise Breeding Center where it could be cared for. There's no known suitable male for the female turtle to mate with but researchers are hoping the discovery will lead to searchers that may result in the discovery of one.
"A huge celebration ensued as all parties involved were able to positively identify the animal in question as an older female C.Phantasticus based on shell morphology and facial characteristics," said a release.
The whole discovery will likely be shown in an episode of Extinct or Alive later in 2019, according to Animal Planet. Though a female of the species has never been seen before, a team of turtle biologists used photos and videos of the tortoise to confirm features like its back and face matched what they believed to be the features of the Fernandina.
"Pending genetic confirmation, this is almost undoubtedly the lost Fernandina Giant Tortoise," said the Turtle Conservancy's Anders Rhodin.
Both the Turtle Conservancy and Global Wildlife Conservation are matching up to $100,000 in donations made to the Global Wildlife Conservation fund here to help fund more research and further searches.