How Ferran Adrià Took elBulli From Great Restaurant to Culinary Innovation Lab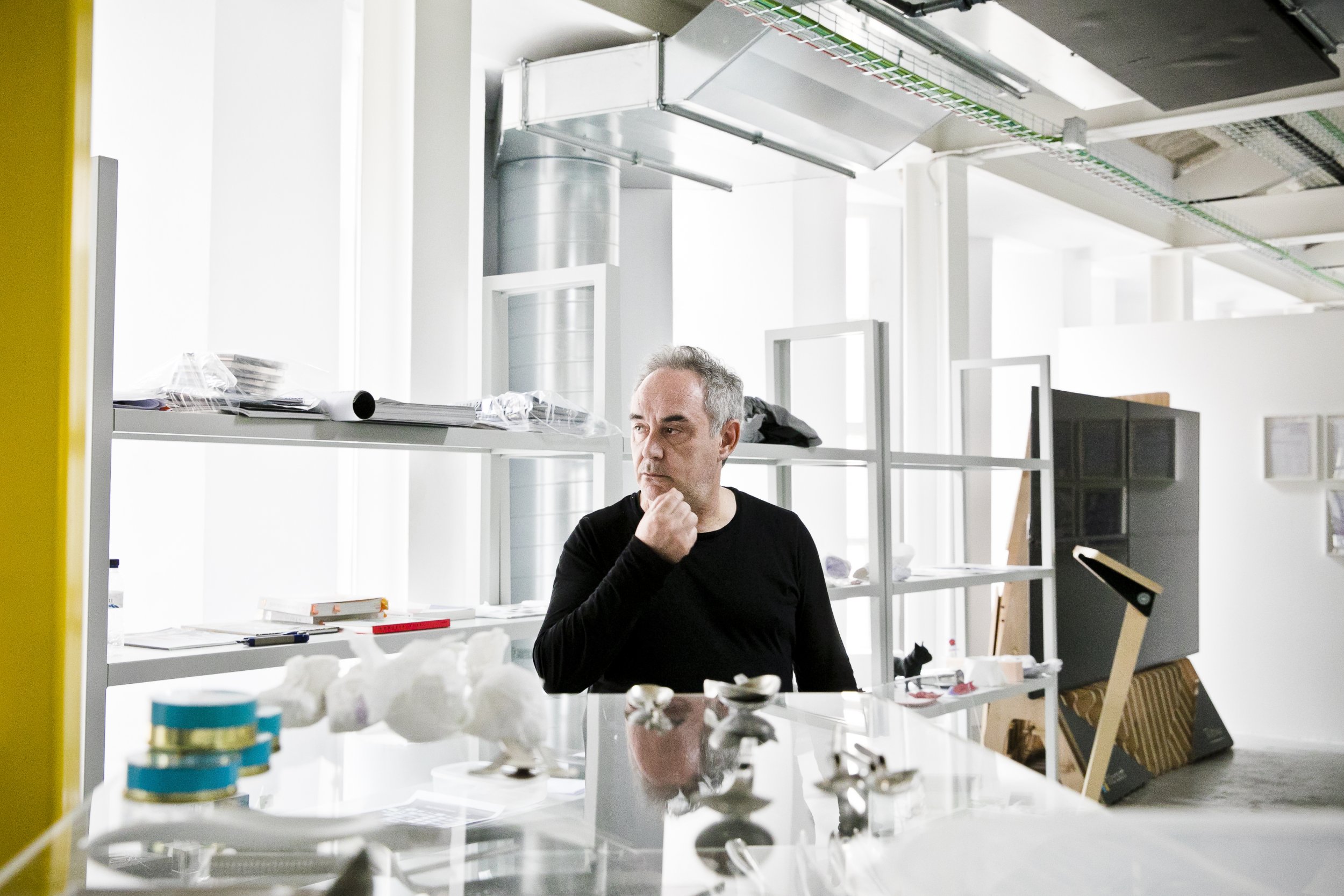 The great chef—perhaps the greatest of all time—stands at the kitchen pass, his hair still an unruly halo, his gaze as intense as ever. Outside the kitchen, the pale March sun still sets the Spanish Mediterranean to sparkling; the ancient pines still hold their ground against the tramontane winds that blow south across the Pyrenees from France and down the headland of the Cap de Norfeu to the cove at Cala Montjoi. But inside there is no longer a team of 45 cooks working behind the chef in silent precision over their tasks, no fragile spherified olives being gently coaxed onto spoons or coconut milk "dinosaur eggs" trailing liquid nitrogen smoke on their way out to delighted diners. Instead, there is only rubble. Making himself an espresso from the one piece of equipment not covered in plastic and a thick layer of dust, the chef notices my expression. "You're emotional because you're thinking about what it was," he says. "But I'm thinking about what it's about to become."
Ferran Adrià has been thinking about what elBulli will become for a long while now. When he decided in 2009 to close the restaurant that many consider the most influential of our time, in order to reopen it as a kind of culinary think tank, he could not have imagined the obstacles to come. It's only now, three years late and a little battered, that his vision is finally becoming reality.
"It's not about gastronomy," Adrià says, as he steps outside to observe the construction that is transforming his former restaurant into elBulli 1846, a research lab and exhibition space. (The name derives from the number of recipes that the restaurant elBulli developed between 1983 and 2011.) It's been months since he last visited his restaurant, which—if you count its origins as a mini-golf refreshment stand—has stood on this alluring corner of the Catalan coast since the 1960s. Now he's pleased that, in his absence, the walls for what will one day be "the brainstorming room" have gone up. "It's about innovation in general. Gastronomy is just the platform we're using to explore innovation."
As an innovation lab, elBulli 1846 will host projects that, more than simply generating new ideas, are intended to improve the efficiency of the creative process. "Part of what we want to do is to better understand how creativity works," Adrià says in his trademark staccato English. "Is it better to work alone or in teams? For long periods at a time or in short bursts? There is more to creativity than me waking up and saying, 'Ooh, I have an idea.'"
Those projects will be conducted by interdisciplinary teams composed of a changing roster of experts from the worlds of not only cuisine but also arts, psychology, communications and design—the "most creative of the creative," as Adrià puts it. And just like the restaurant elBulli, which counts leading chefs René Redzepi, Andoni Aduriz and Massimo Bottura among its alumni, the lab will measure itself by the quality of the people who come out of it. "If every five years, two or three really world-class leaders in their field emerge from their time here, that'll be our success."
Although Adrià emphasizes that elBulli 1846 is not a "place for pleasure; it's a place for work," it will also be open to the public as an exhibition space, where, he concedes, for the ticket price of 15 euros ($16), people will likely enjoy themselves. And about 20 times a year, the site will host "experiences," mostly for donors but occasionally by lottery for the public. What's an experience? "Maybe it'll be a chance to try some of the things that the lab has been working on," he says. "Maybe it'll be about Dalí, and you'll start at the [Dalí] museum in Sitges, then come up here by boat and have snacks on the beach, and then sail up the coast to [Dali's house in] Port Lligat. We've got 200 ideas for experiences. They could be anything."
Anything, that is, except a restaurant. Although the experiences may include meals, ordinary visitors will not be able to purchase food. "Not even a hot dog stand. The expectations would be too high. We'd be back where we were before."
In those words lurk echoes of the pressures that led Adrià and his late partner, Juli Soler, to close the restaurant. At the time, speculation about their motives included everything from financial ruin to physical exhaustion, but in truth, the decision sprang from the sense that the demands of running a restaurant were preventing elBulli from fully giving itself over to what Adrià now saw as its—as his—true mission. "I never loved running a kitchen or thrived on the adrenaline of it," he says. "What I thrived on was the creativity. But a restaurant is about artisanal reproduction—you have to do something over and over. And when you reproduce something, the excitement of the creative moment gets lost."
By the time of elBulli's farewell party, Adrià and Soler had the plans and startup funds in place to launch a foundation—slated to open in 2014—that would allow them to pursue that excitement full time. It didn't take long, however, for the obstacles to emerge. The original blueprints didn't dedicate enough space to house elBulli's extensive archive. A second set of plans provoked the ire of environmentalists, who presented a petition before parliament charging that Adrià would be using protected land (elBulli is located within a national park) "for his own personal gain."
The frustrations were compounded by personal losses. Both his parents and his mother-in-law died in the intervening years; Soler died in 2015. "There have definitely been moments," he says, "when I didn't know if we could continue."
But the delays have allowed Adrià and his team to fill in the details of a plan that, if less architecturally ambitious, is also less vague in its goals. And the brushes with mortality have induced him to think more in terms of legacy. "Almost nothing survives more than 100 years. We're thinking in terms of 50. I'll be here for as long as I live—me, Albert, Luis," the 54-year-old says, referring to his brother and fellow chef Albert Adrià and elBulli's former manager, Luís García. "We'll be walking around here with our canes. But in 50 years, after we're gone, it will become a museum."
First, though, elBulli 1846 has to open. Though the projected date is still over a year away, Adrià has come to Cala Montjoi to meet with the students from the Barcelona design school charged with designing the outdoor spaces. ("The exhibition starts right here in the parking lot," he instructs them. "Your job is to come up with a landscape that can act as a container for any crazy thing we might want to do in the future.") He has also gathered for the first time his entire permanent team at the site, including Soler's daughter Rita (she'll be overseeing the experiences), so that they might start thinking about how the interior spaces should be arranged and outfitted. As they make their way gingerly across the torn-up floor of what was once the auxiliary kitchen, where staff meals were prepared, Adrià reminds them of what lies ahead. "We closed as a restaurant because we couldn't go any further. Here," he says, "there are no limits."