Viral Video Shows Boat Passengers Screaming as Huge Ferry Almost Smashes Into Them at 'Double' Speed, Causing One to Fall Into Water
Tourists in Ibiza were terrified on Tuesday afternoon when a large ferry approached their pleasure boat off the coast of the Spanish island.
A viral video shows passengers screaming as the 500-foot Bahama Mama ferry narrowly misses the much smaller Kontiki II. One panicked passenger jumped off the pleasure boat and fell into the Balearic Sea.
The near-miss took place at about 12.38 p.m. local time in the Es Freus strait, between Ibiza and neighboring island Formentera, according to the Balearia shipping company, which operates the Bahama Mama.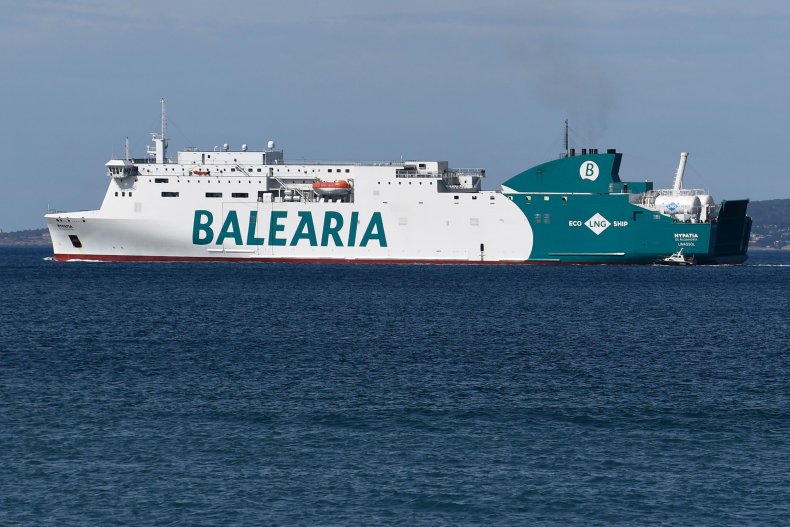 The Kontiki II, operated by Aquabus, ships passengers from Ibiza to Formentera and back every day. The Bahama Mama travels from Palma to Ibiza to Denia.
The viral video, recorded from the Kontiki II boat on a cellphone, shows the 1,000 person-capacity ferry blow its foghorn several times in warning after its crew spotted the smaller ship.
Passengers on the upper deck of the budget pleasure boat are shown screaming as the large vessel approaches. The video then cuts to one passenger floating in the waters near the Kontiki II.
The Kontiki II captain told the Bahama Mama the passenger had jumped from the boat, but claimed the situation was under control, according to Spanish newspaper La Vanguardia.
One copy of the footage, posted to Youtube on Wednesday, has already reached almost 25,000 views as of 4.30 a.m. ET Friday. A second video shows the incident from aboard the Bahama Mama.
An Aquabus spokesperson said the Bahama Mama had "doubled its speed" as the two ships approached the port, La Vanguardia reported. But a Balearia spokesperson said the crew had switched off their engines after spotting the smaller vessel.
Although the Aquabus spokesperson said the company will "reserve the right to judge who is in the wrong," the Kontiki II captain has been fired, according to English-language Spanish outlet The Olive Press.
"Clients should not have to [go through] a situation like the one that occurred [Tuesday]," the Aquabus spokesperson continued, adding that the incident caused "no material or personal damage."
Officials have opened an investigation into the near-miss. Per the Press, Maritime captain of Ibiza and Formentera, Luis Gascón, said: "The situation must be investigated, to determine which side has acted correctly."
"The risk was huge for both the small ship and the big one in a complicated environment like Es Freus, a place with a lot of traffic and little room," he added.