A Festival in 'Hell': What Happens When You Try to Run a Refugee Camp Like a Music Show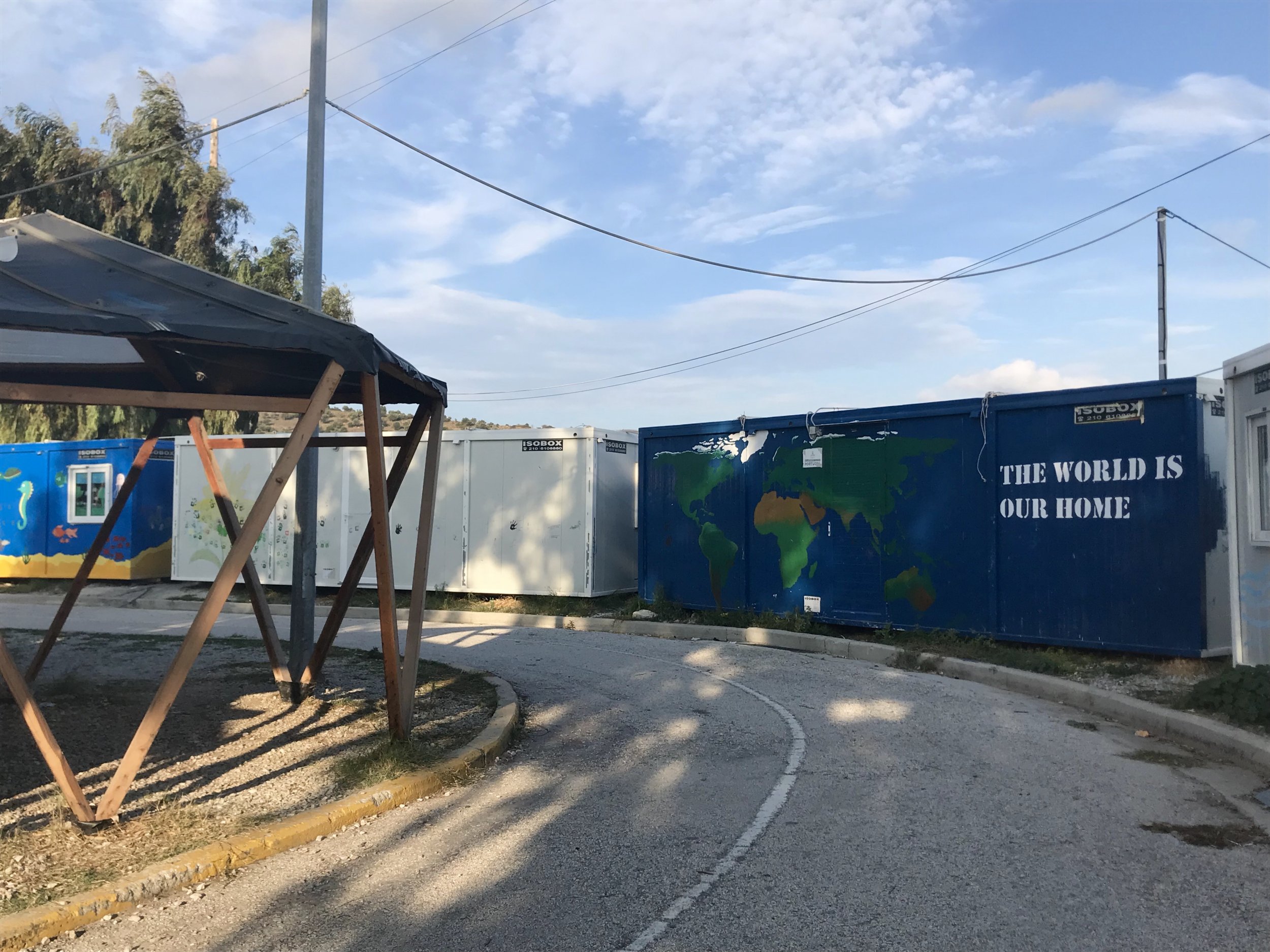 Greece's notorious Moria refugee camp made headlines around the world over its widely condemned living conditions, with more than 6,000 refugees and migrants struggling with overcrowding, poor sanitation, limited medical care and few safety measures.
Despite housing thousands of men, women and children fleeing war-torn countries and political and economic instability, Moria has been repeatedly denounced as an unsuitable place for humans to live.
But 3 miles away, organizers at Kara Tepe, a smaller refugee camp housing roughly 1,250 of the most vulnerable refugee families to arrive on Greece's Lesbos island, are determined to do things differently—and are drawing inspiration from an unlikely source: European music festivals.
'From Camp to Campus'
"Imagine holding a refugee camp in the same way you would host a music festival," Adil Izemrane, who founded Movement on the Ground, a nonprofit organization working to improve conditions at the Kara Tepe refugee camp, told Newsweek in October.
While Izemrane acknowledged there were obvious differences between a festival—a typically joyous attraction that people pay to attend—and a refugee camp, where vulnerable people fleeing their home countries are forced to live, he said that the point of his approach was to try to create a "sense of community and dignity and humanity for people residing at Kara Tepe."
When you think about it, Izemrane said, "there is a similar dynamic," in terms of needing to provide nourishment, sanitation services, medical aid, activities and "crowd control" for a large and diverse group of people.
Only a few years ago, Izemrane was busy building a lucrative real estate career in the Netherlands before a single image stopped him in his tracks. It was the same photo that would move millions around the world: that of 3-year-old Syrian refugee Alan Kurdi's lifeless body washed up on the shore of a Turkish beach after he had drowned on the treacherous journey to Greece.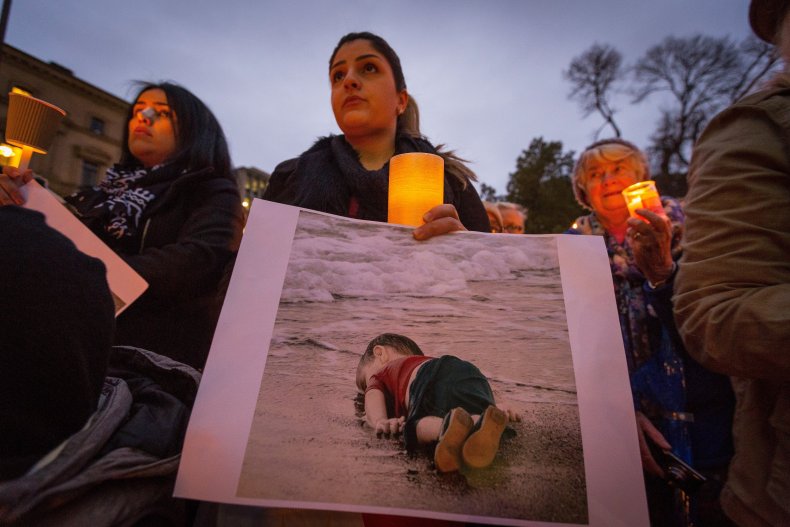 "I saw that picture, and I just had to cry. How could that happen?" Izemrane said. "Then I found out he had been on his way to Lesbos and that he wasn't the first one to drown."
Izemrane said he felt compelled to make his way to Lesbos, also known locally as Lesvos, where he knew thousands of refugees and migrants were arriving each month, to help out any way he could.
That impetus eventually landed him at Kara Tepe, where he has worked for the past two-and-a-half years to bring what he calls his festival-inspired "camp to campus" approach to life on the grounds, even bringing in organizers of one of Amsterdam's biggest musical gatherings, the Loveland Festival, for guidance.
After receiving a call from the Movement on the Ground founder, Loveland founder Marnix Bal, a friend of Izemrane's, flew a small team of people to Lesbos to help the organization with the logistics of transforming Kara Tepe. The first initiative for the two organizations was to bring solar power to the camp and provide electricity there for the first time.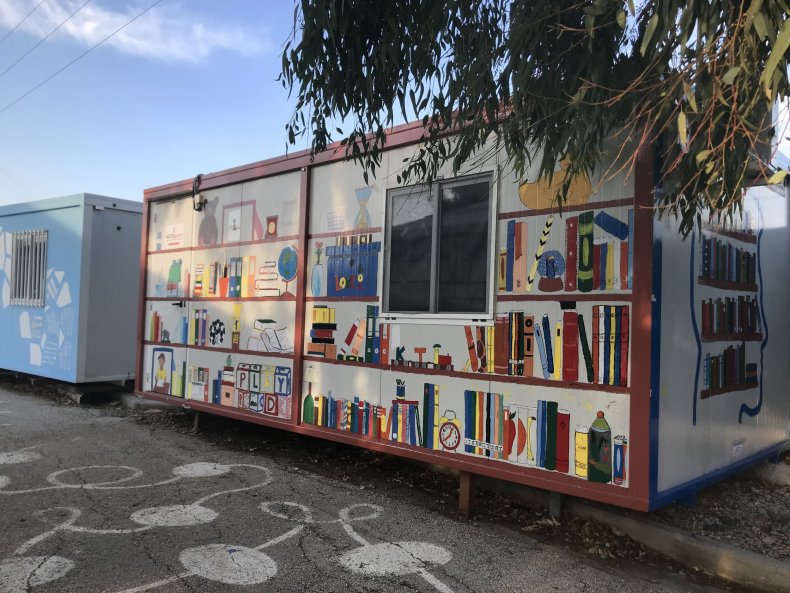 "When we came to Kara Tepe, there was no electricity or power for people," Izemrane said. "They were living in dark plastic tents, so the first thing we did was implement solar so everyone could have electricity in their tents."
Since then, tents at the site have been upgraded to caravans, while Movement on the Ground has continued to work to improve conditions across the board.
And at first glance, the differences between Moria and Kara Tepe are striking: Instead of children playing with cardboard boxes on concrete, at Kara Tepe several brightly painted portable classrooms offer English lessons, computer classes, music sessions and recreational activities.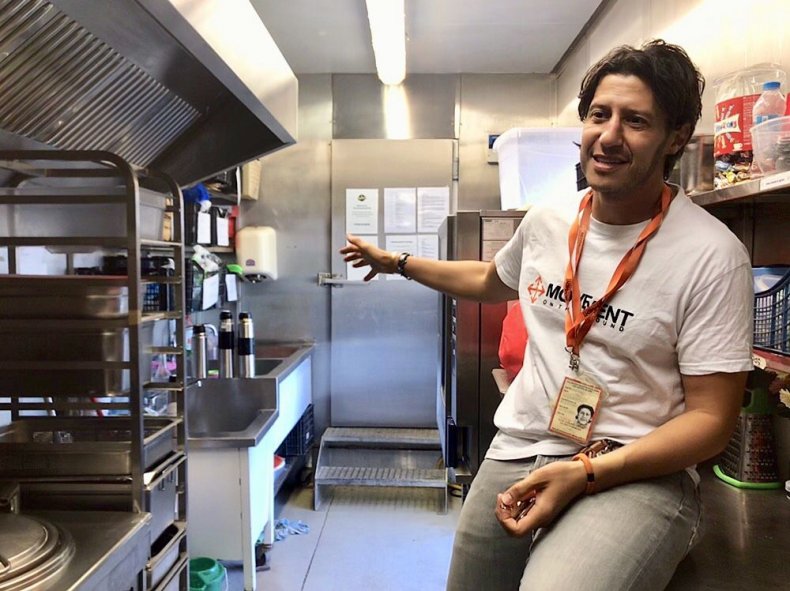 In place of a long and crowded food line, where fights were known to break out at Moria, residents at Kara Tepe have breakfast, usually an assortment of fruit, vegetables and bread delivered to their door, while a giant repurposed festival food truck stocked with cooking utensils and spices sits at the center of the camp next to a vegetable garden where refugees and migrants can learn how to grow crops.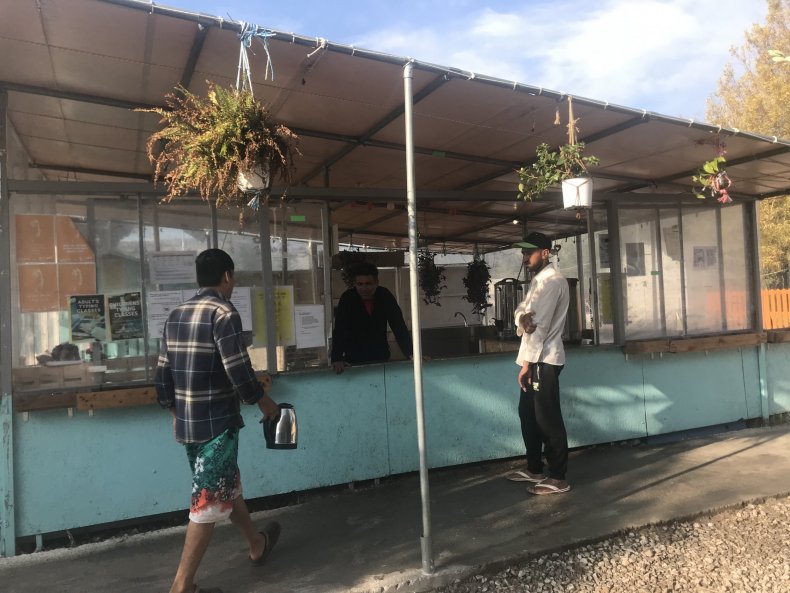 And while people living at Moria have set up makeshift businesses, running small cafés and clothing shops out of their tents to make money, Kara Tepe has an on-site café and a clothing "shop," where residents can pick out donated garments at no cost, with both posts being managed by migrants and refugees who volunteer to do the work.
Unlike those living at Moria, however, those working at Kara Tepe do not get paid for their labor. Asked whether residents at Kara Tepe are receiving compensation, Izemrane said they currently receive "benefits," such as meals out and items they would typically be required to buy in exchange for volunteering for shifts at the café and clothing shop.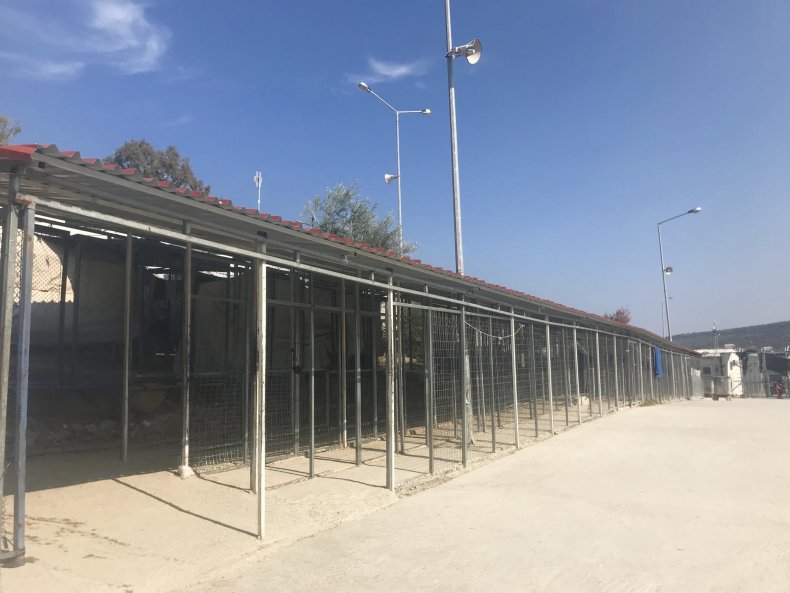 Izemrane said he hoped to bring a "revenue model" to the camp soon, floating the possibility of developing a type of cryptocurrency in which refugees staying at Kara Tepe could "earn volunteer credits" that they could use to buy clothing and other items.
Izemrane also said that his organization had been working to help refugees and migrants make some money by doing online jobs using the camp's computers, with Izemrane proudly showing off a photo of one resident who recently earned his first payment of 80 euros (about $90).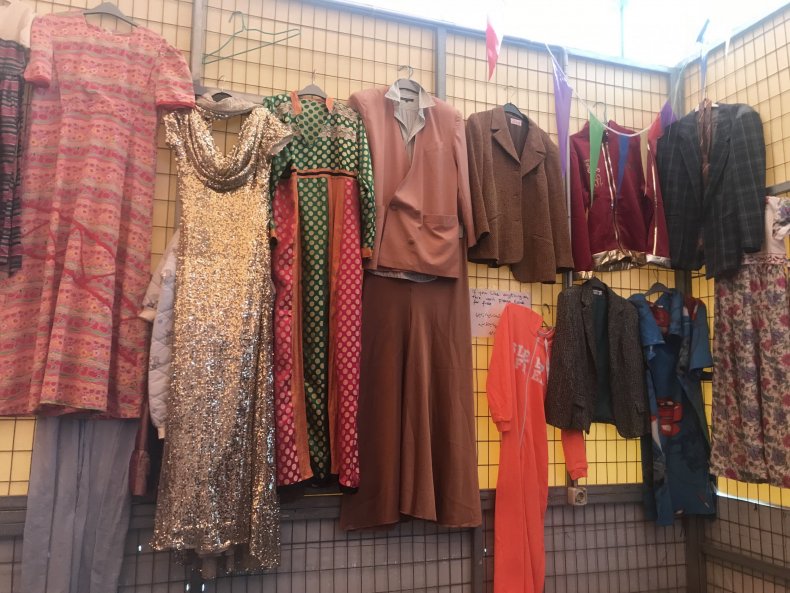 'Women Feel Safer'
Another important aspect of Kara Tepe, Izemrane said, was that "women feel safer" there.
At Moria, safety was a major concern, particularly for women and children living at the camp and an overflow site beside it, known as "the Olive Grove," where hundreds of families live in an unprotected area.
In October, Newsweek reported a rise in reported incidents of sexual assault at the camp, observed by the nonprofit Médecins Sans Frontières, while women living at Moria and the Olive Grove described spending nights lying awake in fear for their safety and that of their children.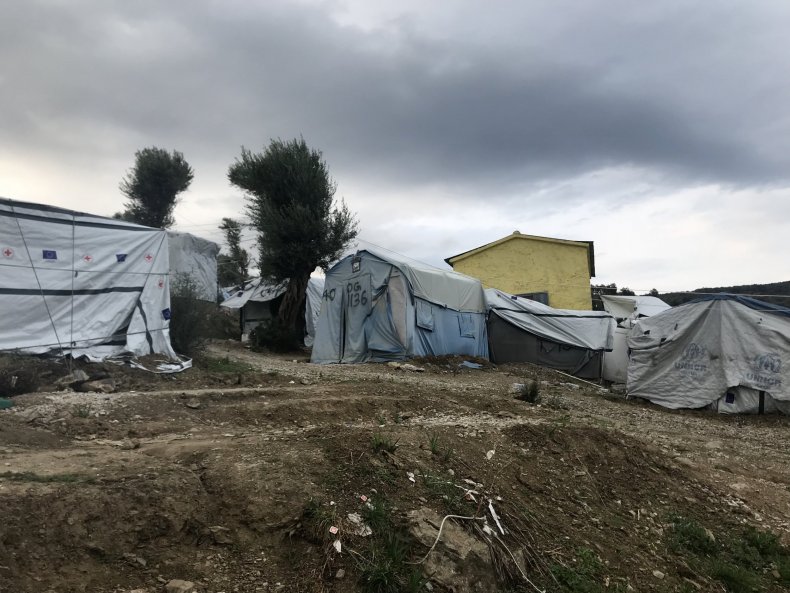 Whereas women and children said they were too frightened to even make the journey to the limited portable toilets available at Moria, Izemrane said that at Kara Tepe, immediate safety is not something he believes migrants and refugees should have to worry about.
"I've heard stories of [sexual assault] having happened in Moria, but here it is definitely not happening," Izemrane said.
"We also have enough facilities here. We have enough toilets," he said. "I've never seen anyone having to queue up for the toilet."
'What Can I Tell You?'
While refugees and migrants staying at Kara Tepe said they felt safer and better off at the smaller refugee camp, they still faced difficulties there, including inadequate heating for the fast-approaching winter months, few employment opportunities and limited access to medical and mental health support.
Rasha, a 29-year-old Afghan mother of three, with another on the way, told Newsweek she was transferred to Kara Tepe after pleading to be moved out of Moria over fears for the safety of her children.
While she said she and her family felt safer at the smaller camp, memories of Moria continue to haunt the mother, her young children and husband.
"What can I tell you about Moria? When we arrived at Moria, it was [worse] than Afghanistan. My experience was better than in Moria," said Rasha, who requested that her full identity be withheld over fears of persecution. "I came with many hopes, but I couldn't catch any hopes here."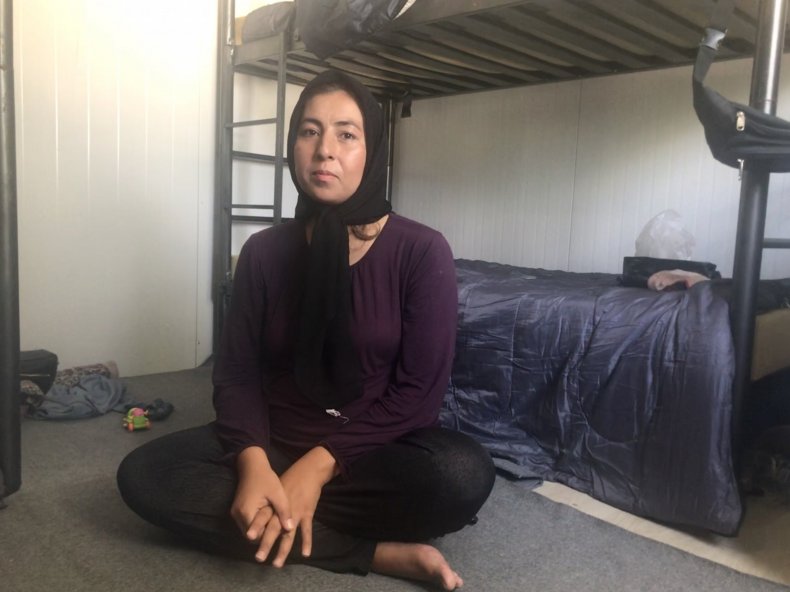 "The only thing I understood was that maybe we would die here, but we couldn't see any hope," she said.
Rasha said her children were left traumatized by fights that would break out at Moria among those living there.
"During the fighting, the only thing that I can say is that our children got some bad memories, and I'm sure that they have mental health problems now," she said. "They were watching people fighting each other, with knives, with weapons."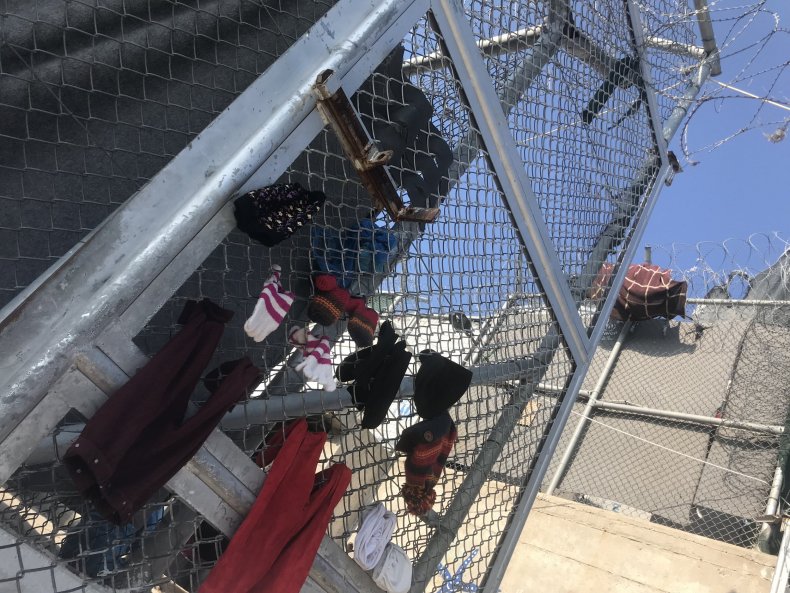 At Kara Tepe, the 29-year-old said she refused to let her family leave the camp's grounds, still shaken by her days at Moria.
"I never go out of camp, and I don't let my children go out of the camp because we are afraid," she said.
'It's Not a Five-Star Hotel'
Reza Adib, a 37-year-old Afghan journalist who fled his home country with his family over fears of persecution, told Newsweek that while his family felt "happier" at Kara Tepe, particularly when "the only other option is Moria... that doesn't mean that Kara Tepe is good."
"It is not a five-star hotel, yeah?" he said, adding that a lack of a robust education, medical assistance and quality food, outside of the breakfast meals that are served, make living at Kara Tepe difficult for his family, when he thinks of the life they left behind.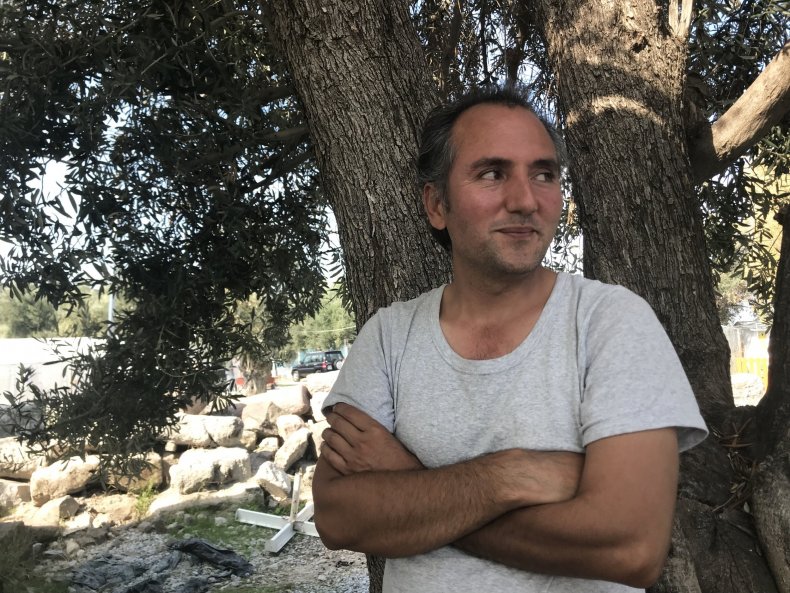 Adib, whose family was transferred from Moria to Kara Tepe, said his family also lived in fear of being forced to return to Moria, with the journalist saying that camp staff had threatened to make him go back after he demanded that its managers take action against a man who he said physically assaulted his son.
The journalist said that instead of helping his family, camp staff instead blamed his child for getting involved in a "fight" and warned him that both parties could be sent back to Moria, a place he believes is worse than "hell."
"I am sure that hell is better than Moria," he said. "One hundred percent, I am sure of it.
"Everyone who is living here is satisfied to be here because there is not another option, but it doesn't mean that here is good," Adib said of Kara Tepe.
At the end of the day, whether he is at Kara Tepe or Moria, the journalist said, "the fact is I lost everything that I had."
'I See the Change'
While Izemrane acknowledged that there were shortcomings at Kara Tepe, he said it took time to bring about the kind of changes his organization hoped to see at both the smaller camp and Moria.
But he said that he believed his organization's efforts to create a sense of community at Kara Tepe had had a positive impact on the refugees and migrants who arrived at the camp in search of refuge.
"I've been here for two and a half years, and I see the change from the beginning of Kara Tepe and seeing how it affects people's well-being," Izemrane said.
Read more: Refugees with heart conditions, diabetes are being denied medication, told to 'drink water' instead
"You give color and you get a smile. You give gray, you get dullness," he said. "I see the children being happy, the people being grateful and that's something that we have created together."
The Movement on the Ground founder is also working to gradually bring his organization's services to Moria and the adjacent Olive Grove, with the organization providing education and food services to men living at Olive Grove, while running a sports program for unaccompanied children and teenagers at Moria.
Izemrane said that after months of running the sports program, Moria's camp management had already noticed a positive change among teenage boys staying at the camp, with reports of both self-harm and "mischief" going down since the program started.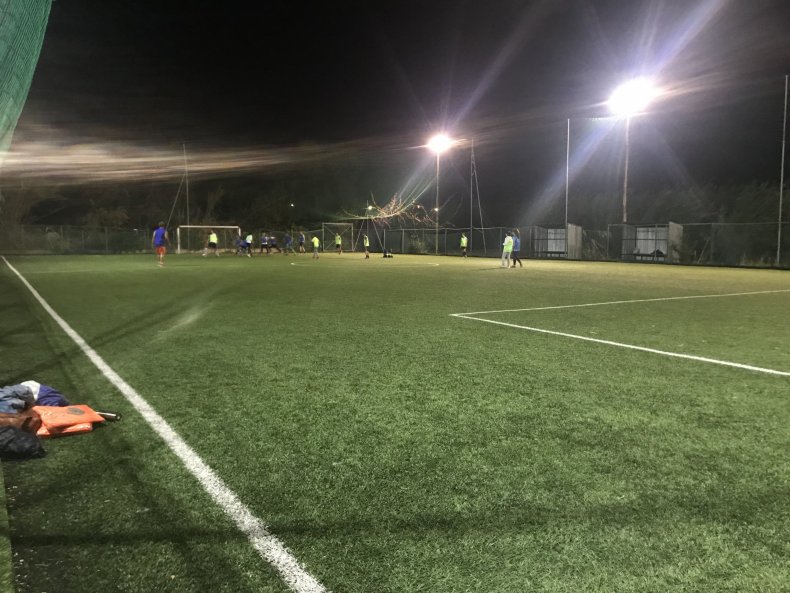 "On a daily basis, we now have around 300 children joining the sports program," Izemrane said.
"Before we started the program, there were sticks flying around. You couldn't walk without a stone being thrown at you," he said. "They were looking for mayhem looking for mischief because they were full of frustration from being in an environment that wasn't meeting their needs."
Izemrane acknowledged that refugee camps like Moria were never meant to be long-term solutions for sheltering refugees and migrants. But in the meantime, with more than 6,000 people currently living on the grounds, more than three times the camp's capacity, he believes that organizers, nonprofits and government bodies that oversee the management of such sites need to start focusing more on the well-being of those who are forced to spend their days and nights there.
At the end of the day, he said his festival-inspired "camp-to-campus" approach was rooted in a belief that "every refugee deserved an environment of safety, dignity and humanity.
"It's astonishing to see that people who have lost everything in war end up in refugee camps that sometimes can be even more depressing," Izemrane said. "Why are we putting people who have lost everything and who need a healing environment in even more depressing, deprived and inhumane conditions?"