Few Democrats Who Supported Barr Worried They Made 'Big Mistake' in Voting For AG: 'I Have Buyer's Remorse'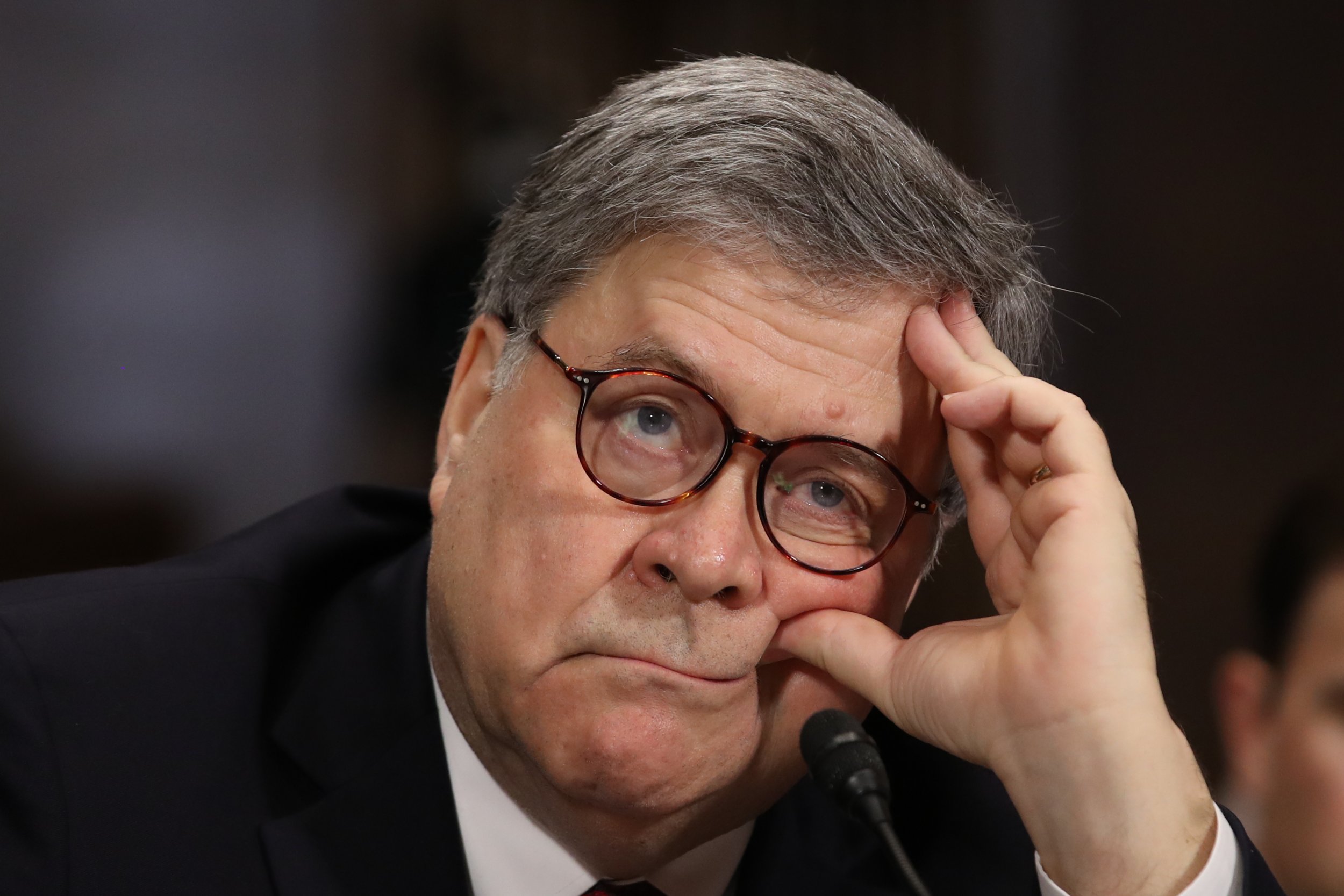 After reports emerged this week of special counsel Robert Mueller's letter to William Barr complaining about his summary of the Russia report, two of the three moderate Senate Democrats who voted for the attorney general's appointment have expressed worries that they may have made an error in judgement.
After Barr was confirmed by the Senate on February 14, following a vote of 54-45, he was sworn in later that day as the 85th U.S. attorney general. Just three Democrats, Sens. Doug Jones (D-Ala.), Joe Manchin (D-W.Va.) and Kyrsten Sinema (D-AZ), voted for his confirmation, and most of them are now experiencing some regret following reports that Mueller believed Barr misrepresented the context of his Russia report.
Jones told Politico on Wednesday that the latest Barr revelations has left him "greatly, greatly disappointed." "I also thought he would bring this institutional stability to the Department of Justice — and not be the president's personal lawyer. And he seems like he is moving and has moved toward a less independent role," the Alabama senator, who's up for reelection next year, said. "That bothers me for the 12 remaining investigations out there."
Although Jones noted that he won't explicitly express total regret over his decision to support Barr just yet, he admits he's "getting close to that."
"I haven't said that yet. But it sure is so disappointing. I'm getting close. You might want to check tomorrow," he added.
Manchin echoed Jones' sentiments in light of Mueller's letter, saying if the special counsel's letter turned out to be accurate, then he "would have made a big mistake," in voting for the attorney general. "Absolutely, I have buyer's remorse," the West Virginia senator told Politico.
"It's troubling, absolutely. The difference between the interpretation between what Mueller really meant and what he intended. And he thought he didn't present it properly. And Barr said he basically did represent properly," Manchin added. "We've got to get that cleared up. And I would encourage my friend Lindsey Graham to bring Mueller in as quickly as possible."
Although Sinema, the third Democrat who backed Barr's confirmation, has not publicly commented on her decision to vote for Barr in February, her aide told the publication that she is set to meet with the attorney general to discuss issues with his summary of Mueller's report.
Barr defended his handling of Mueller's report during his testimony at a Senate Judiciary Committee hearing on Wednesday, where numerous Democrats accused him of deceiving the American people with his summary which they claim misrepresented the special counsel's report.
The hearing comes after the New York Times and the Washington Post dropped reports on Tuesday afternoon revealing the existence of a letter sent by Mueller to Barr in late March, where the special counsel said: "The summary letter the Department sent to Congress and released to the public late in the afternoon of March 24 did not fully capture the context, nature, and substance of this office's work and conclusions."
"There is now public confusion about critical aspects of the results of our investigation," Mueller added. "This threatens to undermine a central purpose for which the Department appointed the Special Counsel: to assure full public confidence in the outcome of the investigations."
Delivered nearly 48 hours after Mueller's report was finalized, Barr's four-page summary held that the special counsel's investigation "did not find that the Trump campaign or anyone associated with it conspired or coordinated with Russia in its efforts to influence the 2016 presidential election." On the issue of whether Trump obstructed justice, Barr said Mueller's report neither exonerates nor indicts the president.
Almost one month later, the release of Mueller's 448-page report, with redactions painted a more damning picture for Trump. Mueller declined to charge the president with obstruction but listed at least 12 instances where he could have committed the crime. The special counsel's report also set out ample evidence of wrongdoing by Trump and his inner circle.