It was a particularly disruptive day in the classroom in October 2019 when substitute teacher Kennon Raines stepped outside, took a breath and remembered saying to herself "Enough is enough."
Having taught as a substitute in the Los Angeles Unified School District since 1998, Raines had already planned on retiring that coming June. After a particularly stressful day with some unruly students, she decided any further benefits she might reap by staying an additional seven months weren't worth it.
"The miracle of my life was that group of children," said Raines, noting their disruptive behavior that day solidified in her the realization it was time to step away. "When the pandemic hit and everyone was stuck trying to get through to EDD [Employment Development Department] for unemployment benefits, I was collecting retirement going 'Thank you God, thank you God.'"
That was pre-pandemic time. Now, LAUSD schools and those in districts across the nation are facing serious substitute shortages with serious reasons behind the scarcity.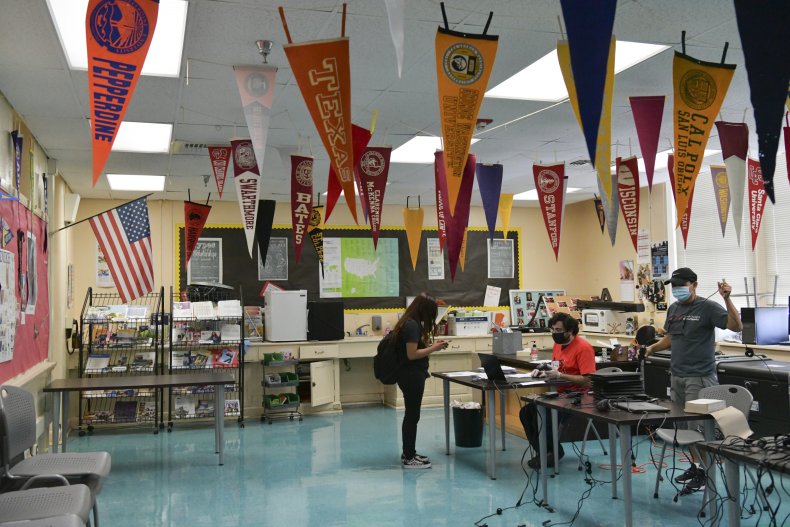 "The reason there's a shortage is because most people—they couldn't get work during the lockdown, the conditions are horrible and anyone who could retire did retire," said Raines, summing it up in a nutshell.
"Yes, there is a huge lack of substitutes," Cheryl Ortega, director of bi-lingual education for the United Teachers Los Angeles told Newsweek. "So many regular teachers are out, either tested positive for the virus or ill or are compromised, that they've used up the entire substitute pool in those places."
Ortega, who is also a retired teacher and a current substitute, also contributed the substitute shortage to putting greater stress on full-time teachers.
While she said many teacher-credentialed personnel who have jobs other than instructing students have now been called to work in classrooms, teachers themselves are being forced to cover classrooms during what would normally be their planning period. Because of that, these teachers are forced to take work home to plan their next day's class curriculum.
"Secondary teachers are complaining they don't have their conference period," said Ortega. Her fellow UTLA board member Francisco Martinez reiterated that point.
"Right now, the biggest thing with not having enough substitutes is that they use the teachers they already have to cover the classroom so those teachers lose their planning period and have to do a lot more at home," said Martinez. "The shortage is impacting everything."
Martinez also cited as a major hurdle the fact that many substitute teachers don't qualify for health benefits.
"They're acquired based on the work they did the previous year," explained Martinez. "For instance, in order to qualify for health for the following year, you have to work at least 100 days this year. So when the pandemic hit, a lot of subs didn't have enough hours. They didn't want to go to work because they were not covered."
Martinez also noted the process and time it takes to become a substitute in the LASD as contributing to the substitute shortage. Besides needing to have a baccalaureate degree, the district still requires some training.
"The problem is that before you can be a sub, it's a process, it takes time. There are procedures to make sure they get the right people in place," said Martinez. "I don't think they have lowered the bar in any way because of the need for subs."
Meanwhile, long-time substitute teacher Greg Russell noted the constant policy changes that have gone on inside LAUSD schools since the pandemic began—changes that are also challenging to keep up with and may even cause further frustration.
"When we came back this January, employees were allowed to use cloth masks, now they're requiring us to use surgical style masks," said Russell. "Then students 12 and older were being required to be vaccinated but now that's pushed until August 2022. Then there's weekly testing for everybody, but they're saying they're going to get rid of it if you're vaccinated and not having any symptoms."
Still, said Russell, despite the pandemic, a lot of how substitutes succeed depends on the teacher they are replacing.
"You can be in a great school and replacing a bad teacher or in a bad school replacing a great teacher," said Russell, noting that classes that have been more skillfully taught with more disciplined students usually bode well for a substitute teacher coming in cold.
Yet all the different challenges compounded by additional strains from the pandemic have led to another main reason for a lack of substitutes—the fact that many teachers have sped up their retirement.
"I have heard that up to one-fifth of teachers working this year plan to retire this coming June," said Ortega, noting that's an educated estimate. "My guess is that teachers who would have worked another year or two have made decisions to speed up their retirement.
"If retiring a year early means a little less in benefit, it's worth doing it because of heath," she said.
That's how Raines felt. Despite the fact she wasn't a full-time teacher, she considered herself such when it came to how much she cared about her kids and their education.
"There were so many days where I was subbing, the children were so sweet, and I thought 'I should pay you for teaching them,'" she recalled. "But nobody is holding anyone accountable for behavior anymore."
Raines recalled being reprimanded by principals after a parent complained for what she said was simply rightly disciplining or guiding a student and trying to teach rudimentary skills. She also cited the challenges involved in different teaching strategies, from common core to mainstreaming.
"There are so many extremes of hideous agendas from charter schools to vouchers to public schools...everybody has a different agenda they all talk about...no one wants to take accountability," said Raines. "It's called the school of covering my a**."
"People keep putting Band-Aids on things instead of addressing the issues," she added. "And substitutes are the most dis-enfranchised and expendable."
Raines noted that while LAUSD pays substitute teachers well compared to most of the country, the challenges often don't match the return in investment.
"Making $60 a day to go through hell and back, just for a thankless job and you're expected to serve all society's problems in the classrooms," she said about other area school districts and the role in general. "LAUSD had the best pay and benefits and it's miracle I made it to earn my lifetime benefits."
"I was just trying to swim above water and keep people with me," said Raines.