Few At Trump's Texas Energy Event Seen Wearing Masks, Social Distancing
Video posted to social media shows that President Donald Trump's speech in Texas was attended by a crowd who largely refused to wear masks or maintain social distancing in a tightly packed area.
Trump delivered a speech on "restoring energy dominance" during an event at the Double Eagle Energy oil rig in Midland, Texas on Wednesday.
Video posted to Twitter shortly after the event by The Hill appears to show very few of the attendees wearing face coverings despite the recent spike in COVID-19 cases in Texas. There also seemed to be little physical distancing observed at the event, with attendees appearing to stand only inches apart in some cases.
Trump recently promoted wearing masks to limit the spread of the virus, calling it "patriotic" on Twitter last week. However, he has only rarely worn a mask in public and did not appear to wear one on Wednesday, in apparent defiance of Texas Governor Greg Abbott's mandate.
Trump has also continued to question medical experts who say the widespread wearing of masks could halt the spread of the virus.
The preventative health measure has remained a somewhat unusual partisan political issue, with many Republicans and Trump supporters still refusing to wear them.
Rep. Louie Gohmert (R-Texas), who had repeatedly refused to wear a mask, tested positive for the virus on Wednesday, shortly before he had been expected to join Trump on his visit to Texas.
Gohmert claimed during an interview with Fox affiliate KETK that he "might have put some germs or some of the virus onto the mask and breathed it in," contracting COVID-19 on one of the rare occasions he did wear a mask rather than the numerous times he refused to wear one.
House Speaker Nancy Pelosi (D-Calif.) announced that she would soon require masks be worn on the House floor. A recommendation to wear masks had been in place but not enforced.
Pelosi previously mandated masks be worn in committee hearings after Rep. Tom Rice (R-S.C.), who also insisted masks were not needed, contracted the virus along with his family last month.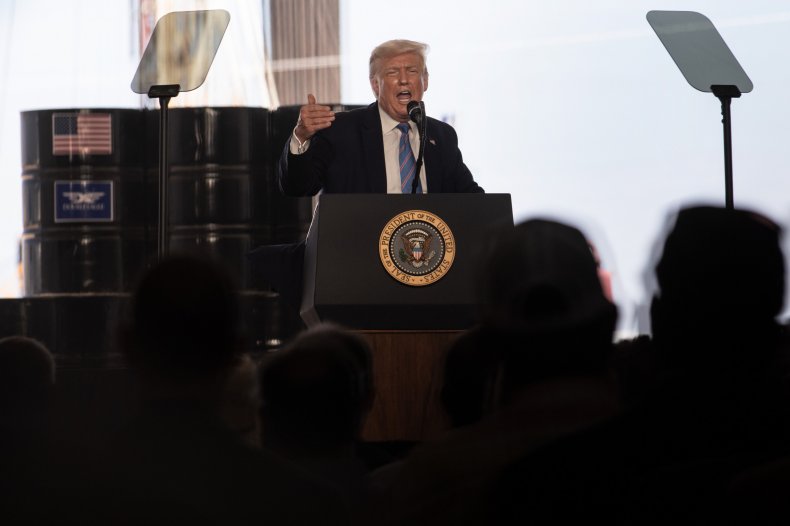 Trump's Texas speech, given at an official event paid for by U.S. taxpayers and not a political rally, was largely political in nature. The president touted his administration's policies and repeatedly bashed his political rivals, while claiming that "zealots, radicals and extremists" want to destroy the U.S. energy industry and "make America subservient to foreign producers."
Trump insisted that a continuance of his energy policies, which critics have blasted for rolling back environmental regulations, would mean the country would continue to enjoy "the cleanest air and cleanest water anywhere."
The president also took the opportunity to directly attack his rival in November's presidential election, former Vice President Joe Biden, along with unspecified "far-left politicians."
"I don't think Biden is going to do too well in Texas," Trump said. "If these far-left politicians ever get into power, they will demolish not only your industry, but the entire U.S. economy."
The White House declined comment for this story when contacted by Newsweek.