Fewer Americans Now Worried About COVID-19 as Mandates Lessen: Poll
Fewer Americans consider COVID-19 to be a substantial threat with mandates across the country lessening, a new poll found.
A survey conducted by the Associated Press and the NORC Center for Public Affairs Research found that only 24 percent of people are either "extremely" or "very" worried about contracting COVID-19. The percentage is 12 points lower than in December and January. About 34 percent of people are somewhat worried about contracting the virus.
The fear that COVID-19 is a direct threat to the United States is also falling. According to the poll, 48 percent of respondents say that they are "extremely or very concerned" that the spread of COVID-19 is dangerous to the U.S. population, a sharp decline from the 65 percent of Americans who said the same thing in July of 2021.
While many are no longer worrying about the severity of COVID-19, the majority of Americans appear to still support mask mandates. According to the poll, about 50 percent of Americans either strongly or somewhat favor requiring the usage of face masks when outside of their home. The majority of these answers come from those who are vaccinated and lean Democratic, with 57 percent and 77 percent of those groups contributing to that overall percentage.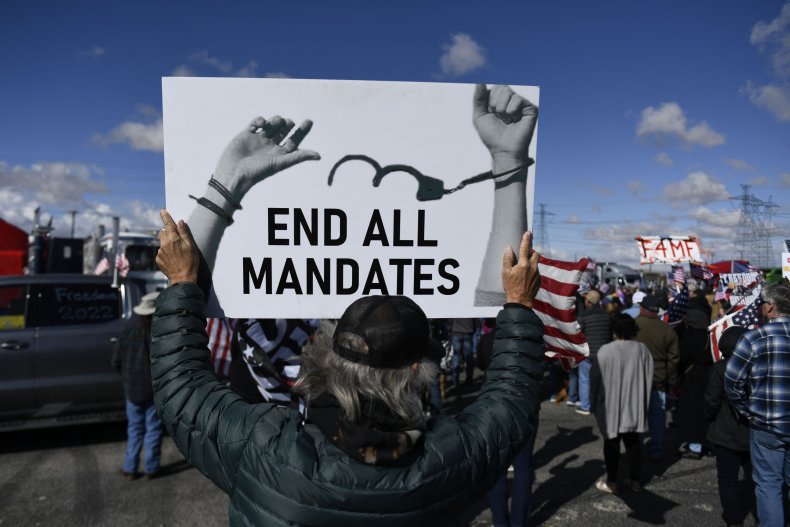 Given the length of the COVID-19 pandemic and the lowering of infections throughout the country, experts said it is no surprise that people are tired of mandates. However, they also caution against completely forgoing all preventive measures.
"I think it's reasonable and appropriate for people to live their lives a little more as the risk of infection goes down but to do it in a way that recognizes that, at some point, we're going to have another wave," epidemiologist Dr. David Dowdy said, "and we're going to need to be willing to buckle down just a little bit in the future."
It is not just health experts that are encouraging relaxation and due diligence in equal measure. Computer engineer Dave Pitts told AP that he thinks a bigger strain of COVID-19 is quickly approaching.
"I think we're in a better position now, but I think the minute spring break hits, we're going to see something worse show up," he said. "I think humanity's too dumb to be free of this just yet."
The AP-NORC poll was conducted among 1,289 U.S. adults from February 18 to 21. The margin of sampling error for every participant is plus or minus 3.7 percentage points.
Update 2/28/22, 11:35 a.m. ET: This story has been updated with more information from the poll.