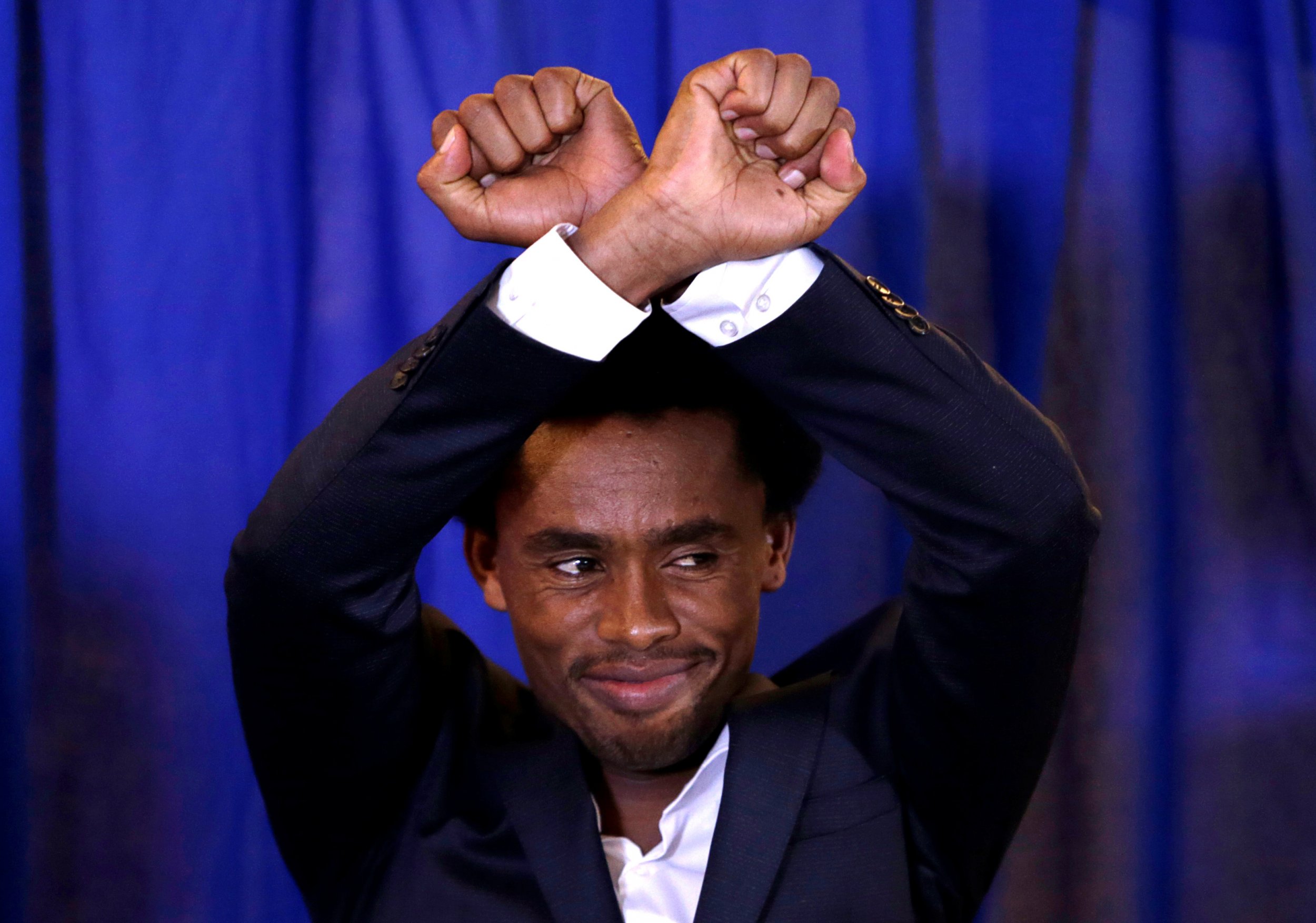 An Ethiopian athlete who protested against his government's crackdown on protests among the Oromo ethnic group has been reunited with his family in the U.S. after six months of separation.
Feyisa Lilesa relocated to the United States after the Rio 2016 Olympics, where he won a silver medal in the men's marathon. When crossing the finish line, Lilesa crossed his arms above his head in a symbol of solidarity with Oromo protesters.
Protests broke out in the Oromia region of Ethiopia in November 2015 in response to plans to expand the territory of the capital, Addis Ababa, which activists said would have resulted in Oromo farmers being evicted from their land.
The demonstrations morphed into more general anti-government protests, which were exacerbated by the response of the security forces. Hundreds of protesters were killed in clashes and thousands detained, particularly after Ethiopian Prime Minister Hailemariam Desalegn imposed a six-month, nationwide state of emergency in October 2016.
Lilesa's family had remained in Ethiopia following his protest at the Olympics and the athlete expressed fears about their safety. But he was reunited with his wife and two children at Miami International Airport on Tuesday, the AP reported.
"The biggest gift is us seeing each other again," Lilesa told the AP through a translator. The athlete has obtained a special skills visa—which allows immigrants with "extraordinary ability in the sciences, arts, education, business or athletics" to remain in the United States—and was able to obtain visas for his family through an attorney.
Lilesa and his family will settle in Flagstaff, Arizona, where the runner has been living.
The ongoing protests have taken their toll on Ethiopia's economy, which has been one of the fastest-growing in Africa in recent years. The Horn of Africa country drew in $1.2 billion in foreign direct investment in the second 2016—a fifth less than the same period a year earlier—Fitsum Arega, the head of the Ethiopian Investment Commission, said in an interview with Bloomberg.
Arega added that the government was likely to miss its annual target of $3.5 billion in foreign direct investment.