Amazon Offers 'FFXIV' Black Fat Chocobo DLC for Free During Game Purchase Promotion: Here's How To Get It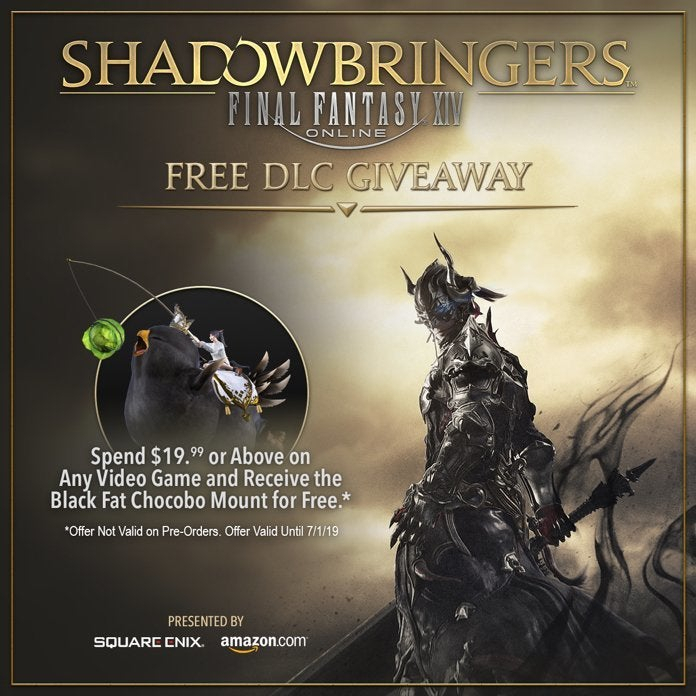 Final Fantasy XIV's Shadowbringer expansion releases July 2 and to get players excited about the upcoming DLC the company has run a variety of promos, including offering the earlier Heavensward expansion free of charge. The company's latest promotion, however, comes in partnership with Amazon. From Sunday, June 16, 2019, through Monday, July 1, 2019, Amazon is offering a free FFXIV Black Fat Chocobo DLC with the Black Fat Chocobo Mount, free to any customers who make a gaming purchase of $19.99 or more.
Customers who make qualifying purchases will receive a code for the free DLC which they will enter and redeem on the Mog Station. While many players are choosing to purchase a FFXIV 60-day time card which cost $29.99, the purchase doesn't have to be Final Fantasy related.
If you're hoping to cash in on Amazon's promotion and grab the coveted Black Fat Chocobo Mount, we've put together a list of instructions for how to get and redeem the code.
How to Get the Free FFXIV Black Fat Chocobo DLC on Amazon
(This page contains affiliate links to products. We may receive a commission for purchases made through these links.)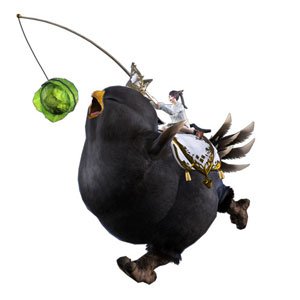 FFXIV Black Fat Chocobo Mount
Square Enix
Have a U.S. Based Amazon Account - the main restriction that has players bummed is that this promotion is only available on the U.S. Amazon store. This means you must visit the Amazon.com site. The offer won't be available on Amazon.ca, Amazon.eu, etc.
Make a qualifying purchase from Amazon.com - As mentioned, nearly any gaming purchase qualifies as long as it is a gaming product or digital content sold by Amazon.com or Amazon Digital Services LLC. For example, a Gamestop Gift Card purchase on Amazon won't qualify, but this Xbox Wireless Controller will. It's pretty easy to check if an item qualifies or not. Just click on the item of interest. If it is an eligible purchase, you will see the words, "Black Fat Chocobo DLC - 1 Promotion Applies" show up on the right-hand side of the screen near the price.
Check Your Email - Once you've made a qualifying purchase, Amazon will send you an email with the Mog Station Code. If you aren't sure which email Amazon has on file for you, you may want to verify that before making the purchase.
How To Redeem FFXIV Fat Black Chocobo Code
Visit FFXIV Mog Station - Once you receive your code from Amazon, log into the FINAL FANTASY XIV: Mog Station, using your Square Enix account. IMPORTANT: The codes will only work on North America accounts. You must have a North American FFXIV service account to redeem the code.
Choose Your Account - Once logged in, select the "Your Account" option. If you have more than one account, be sure to select the one you want to redeem the code in as it will only be applied to a single character within a single account.
Enter Code - Once you've chosen the account you want to add the mount to, select "Enter Item Code," and follow any remaining on-screen instructions to redeem it.
That's it! While the Black Fat Chocobo promotion only lasts a limited amount of time—Sunday, June 16, 2019 at 12:00 a.m. (PT) through Monday, July 1, 2019 at 11:59 p.m. (PT)—once the code is received, it doesn't expire, so there's no rush to use it right away. According to Square Enix, players will receive their codes within two days of a qualifying purchase.
Final Fantasy XIV Shadowbringers releases July 2, 2019. You can pre-order the DLC for Playstation, Mac and PC, here.