'Final Fantasy XIV' Hatching-tide Egg Hunt Guide: Locations for Every Egg in the Easter Event
On Tuesday, Square Enix launched its annual Easter Egg Hunt event, Hatching-tide, in Final Fantasy XIV. The event is a limited-time offering running from April 9 - April 22. During the event, players are tasked with completing three puzzler quests that will lead players to finding hidden eggs in the game. By completing quests, players can unlock a set of handy dandy Spriggan armor. If you've started the 2019 FFXIV egg hunt, but you're having trouble locating each egg, we've put together a quick cheat guide to help you with each quest along with the exact location where each egg can be found.
Happy Hunting!
'Final Fantasy XIV' Hatching Tide Egg Locations: How To Find Every Egg in the 2019 Easter Event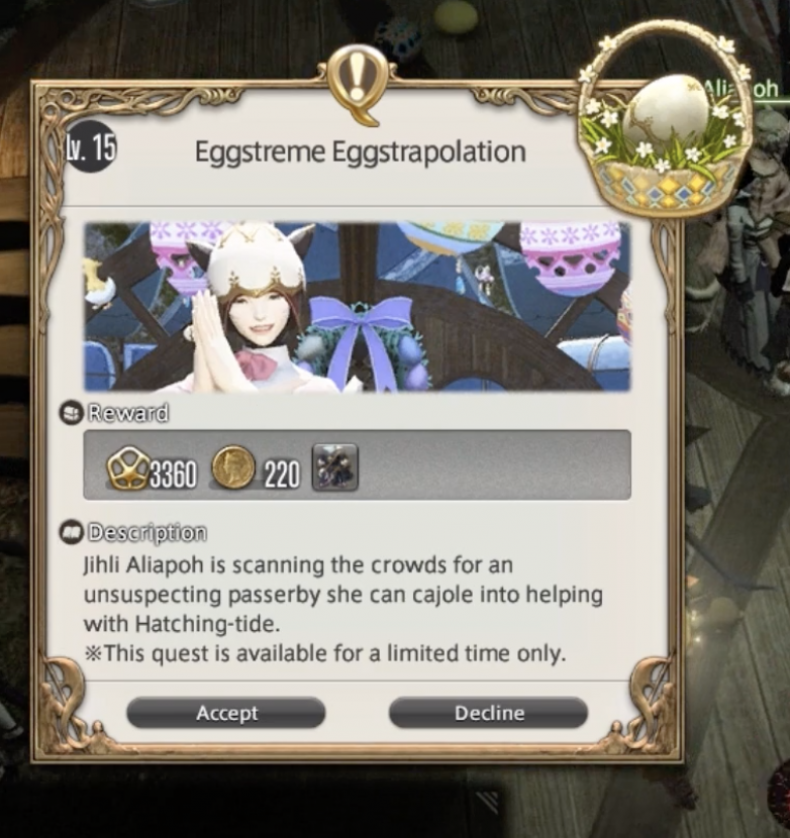 Quest 1: Eggstreme Eggstrapolation
This is the first quest of the FFXIV egg hunt event. To launch this quest, you need to head to Old Gridania (X: 10.2, Y: 9.4). There you'll meet your quest-giver Jihli Aliapoh.
Once there, Jihli Aliapoh will tell you her problem and ask you to find Nonotta at the Knot (X: 11, Y: 12). and have a conversation. Once you do, the next quest, " A Sheltered Eggsistence " will unlock.
You will also receive your first set of rewards: 3360 XP, 220 Coins and the Spriggan Jacket
Quest Story Overview
Jihli Aliapoh is the originator of the annual Hatching–tide festival. She's also prone to having visions. When you meet up with her, you'll discover she's had one of her prophetic dreams, in which she saw Riggy the spriggan hiding a beautifully decorated egg. Jihli is convinced that the events in her vision will have a direct impact the success of her festival and so she's planned to reenact exactly what she saw. She requests that Riggy and Nonotta hide the eggs for her. Unfortunately for you, this rascally pair has made the job of finding the eggs extraordinarily difficult as they've devised and map with a bunch of difficult-to-follow clues that are meant to lead you to each egg.
Quest 2: A Shelltered Eggsistence - Egg Location 1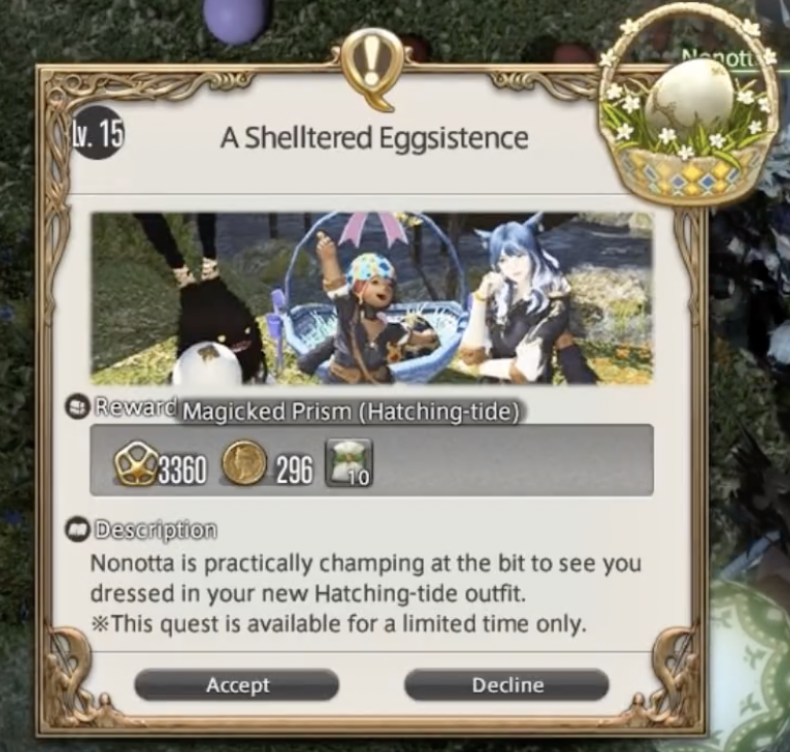 Once you've spoken to Nonotta, she'll clothe you in special event clothing and send you on your way. These are the steps you'll need to follow to complete this quest and locate the first egg.
Speak with the Three Spriggans - you'll find them somewhere in New Gridania. Once you've spoken to them, they'll give you more cryptic clues related to the numbers One, two and three.
Meet with Jihli Aliapoh - while there she'll try to decipher clues on your map, to no avail.
Get Password from Nonotta - shortly after your meeting with Jijli, Nonotta will divulge the secret password you need to find the hidden eggs. The passphrase is " Egg Hunt " . You'll enter those words into the chat anytime you think you're in the location where an egg can be found. These words will need to be typed when interacting with specific NPCs.
Egg Location 1: If you don't want to waste time trying to figure out which NPC is guarding your first egg, you can find it by visiting Mother Miounne at the Adventurers' Guild (X: 11, Y: 13)
Deliver Egg to Nonotta - after finding the egg, simply deliver it to Nonatta to unlock your next quest - Deus Eggs Machina.
You'll also receive the following quest rewards: 3360 XP,​ 296 Coins, 10 Magicked Prism
Quest 3: Deus Eggs Machina - Egg Location 2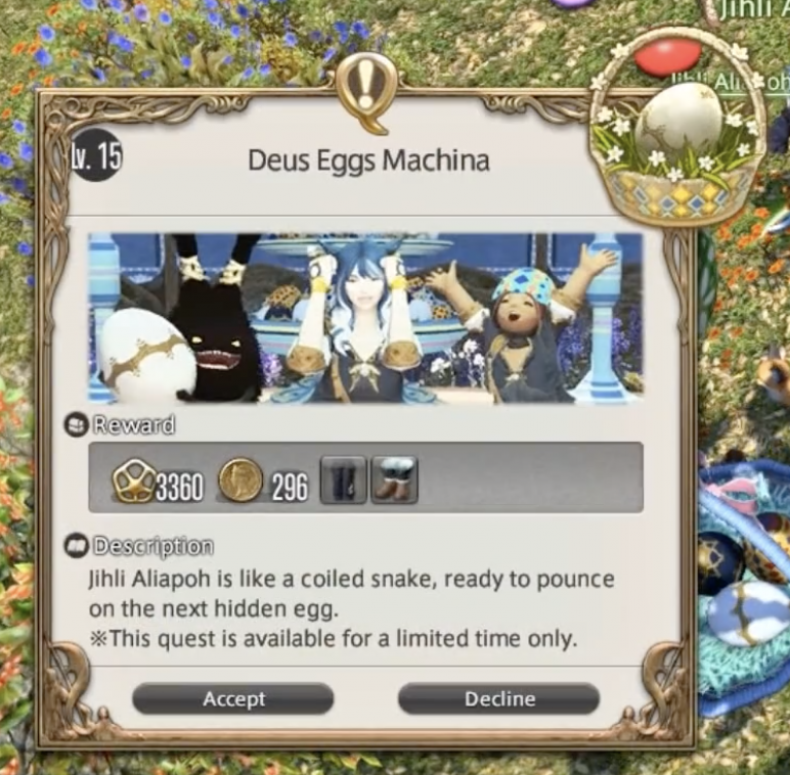 This quest is similar to the previous one but requires players to find and speak with five spriggans. They'll give another set of cryptic clues
Meet up with Jihli Aliapoh to discuss the new clues.
Once again, you'll need to find the correct NPC guarding the second egg and utter the passphrase "Egg Hunt" in the chat to find it.
Egg Location 2: If you're tired of rooting around for the right NPC, you can find the second egg by talking to Gabineaux in Central Shroud (X: 27, Y: 21)
Deliver egg to Nonotta - once you've got the egg, take it to Nonotta and Riggy at Mih Khetto's Amphitheatre .
Once the quest is complete, you'll receive the following rewards: 3360 XP,​ 296 Coins, Spriggan Bottoms, Spriggan Boots
What do you think of FFXIV's Hatching-Tide 2019 Egg Hunt event? Share your thoughts in the comments below.