Internet commenters were quick to applaud one husband who called out his parents for the way they treat his wife.
In a viral post published on Reddit's r/AmITheA**hole, the 29-year-old husband explained that he has a brother more than two decades younger than him, and that his wife (also 29 years old) once worked as his brother's babysitter. Titled "AITA for telling my parents to stop expecting my wife to babysit for them," the post has received over 8,000 votes and 98 percent upvotes.
Further explaining that he met his wife six years ago when she accepted the babysitting job to pay for her final college courses, the Redditor said that the couple waited for months after she stopped babysitting his younger brother to start dating. Now, after marrying and having two children together, he said that his parents still treat his wife like she is their 8-year-old's babysitter.
"If my brother needs help with something [my parents] ask her if she can do it," he wrote. "Like he says he's bored and wants to play, they ask her if she could play a board game with the kids while we stay in the kitchen talking."
"And I've told them that's f*****g ridiculous," he added.
During the pandemic, families across the country have reported having trouble finding child care and in some cases, rising childcare costs have forced families to utilize all resources at their disposal — including their families.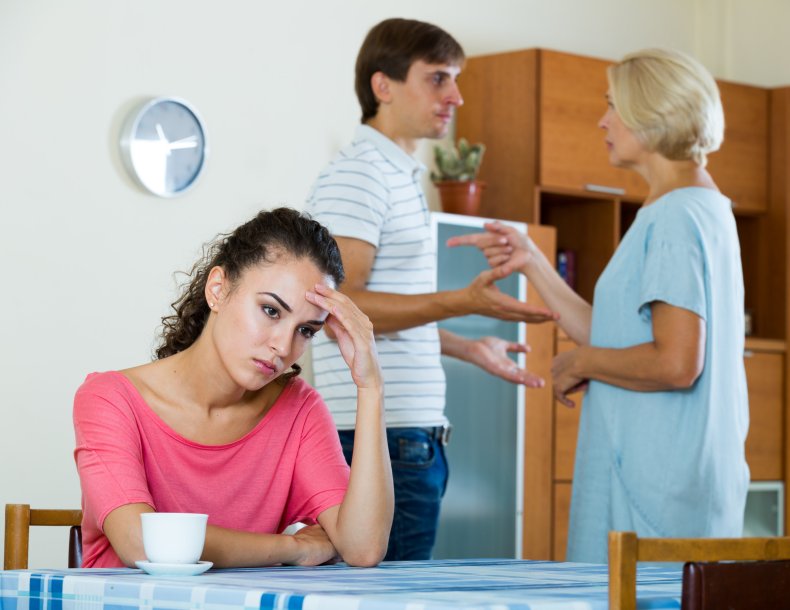 Although Child Trends reports that nearly 30 percent of infants and toddlers attend home-based child care providers, many parents relying on family for child care expect lower-cost, or free care for their children.
In an We Have Kids article detailing the value of paying for a babysitter, the parenting magazine included multiple stories of parents relying on family members for free childcare, and the rising tension that emerged as a result. We Have Kids writer Rosa Marchisella wrote that asking a family member to help with child care can sometimes be a reasonable request, but often causes blurred lines between relatives and babysitters.
"I am constantly appalled by how many people think they can use family for free child care services on a regular basis," Marchisella wrote.
BabyCenter, an online resource for pregnancy and parenting information, recommends parents who can afford to pay family members for child care do so. However, there are few recommendations for what to do when parents expect their daughter-in-law, who used to be their youngest son's babysitter, to resume her duties at any given moment.
In his original post, the Redditor said that his parents said their behavior is a result of old habits, but added that during a recent visit to their house, they immediately requested that his wife look after their son.
"They said they needed to leave in an hour for an appointment and asked if we could stay to watch my brother," the Redditor wrote.
After explaining that he had things to do and was unable to babysit his brother, the Redditor said his parents suggested that his wife stay and watch their son.
According to the original poster, that suggestion was the final straw.
"I told them to stop expecting her to be their babysitter when there are thousands of other people they can hire and they really pissed us off," he wrote. "Last thing I told them was we are done visiting until they can stop acting like my wife is still their babysitter."
Redditors responding to the viral post stood firmly on the original poster's side, and applauded the upset husband for standing up for his wife against his parents.
In the post's top comment, which has received over 10,000 votes, one Redditor assured the original poster that he is justified for snapping at his parents, and congratulated him for setting boundaries with them.
"[Not the a**hole]! You are laying down a boundary and good for you!," they commented. "It's hard sometimes but definitely clapping for you and so glad you're sticking up for your wife."
Redditor u/bamf1701 also lauded the original poster for his firm boundaries and said that his parents treatment of his wife is a clear sign of disrespect.
"This is a completely reasonable boundary to set...they've given the excuse 'it's habit' as to why they aren't doing what you asked them to do," they wrote. "They left you little choice but to go to something more extreme than simply asking them nicely."
"By ignoring your previous requests, they have shown you a lack of respect," they added.