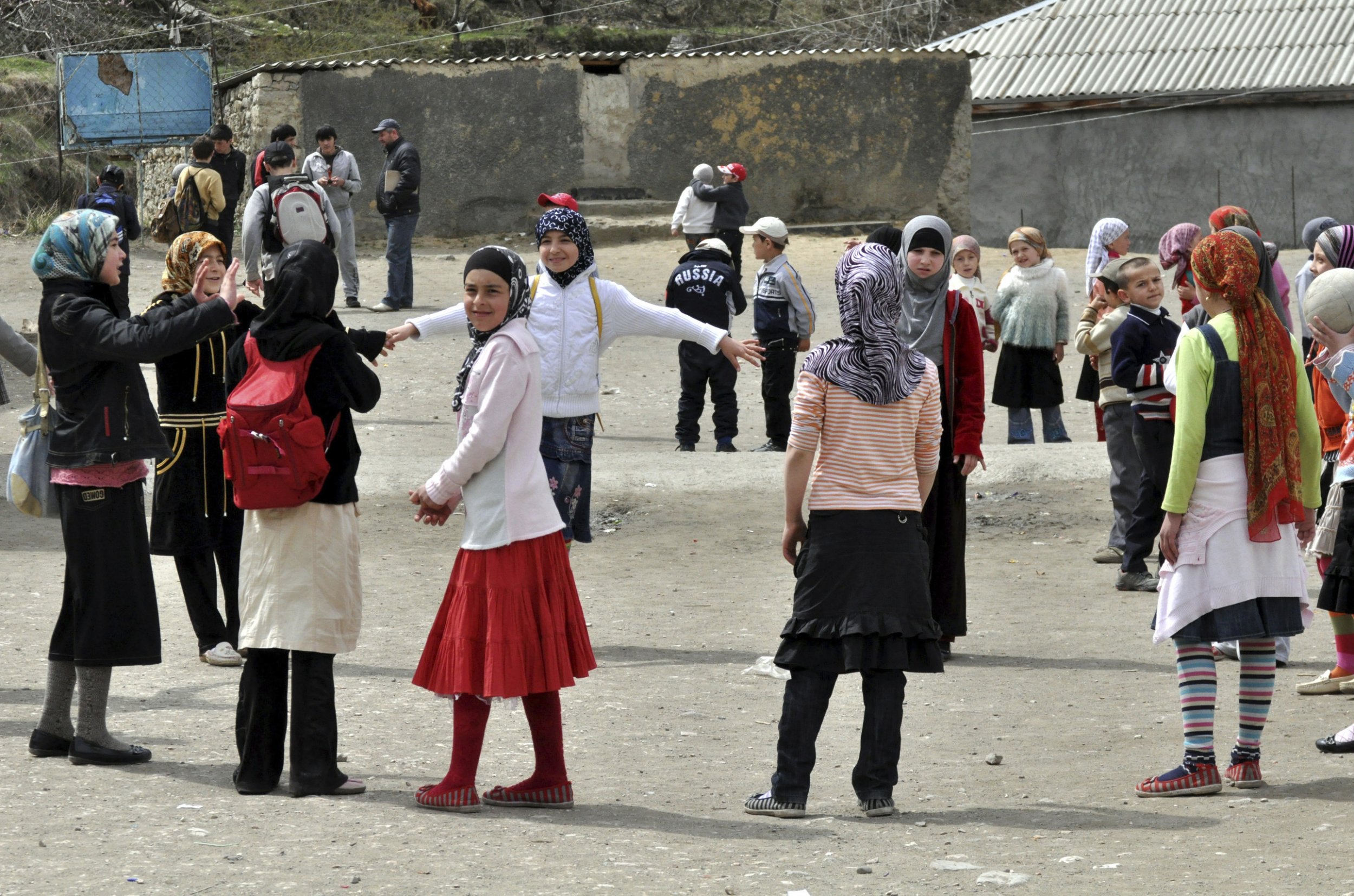 A new report on the practice of female genital mutilation (FGM) in Russia's Dagestan Republic has caused controversy in the country, with one Muslim cleric saying "all women" should undergo the practice.
The report, published Monday by the Russian Justice Initiative (RJI), a Moscow-based nongovernmental organization that monitors human rights abuses in the North and South Caucasus in Russia, says that tens of thousands of women and girls have undergone FGM in Dagestan since the 1970s. It's the first time a quantitative report has been published about the existence of FGM in the country.
"FGM can no longer be seen as a supposedly 'African' issue. It is a human rights violation which affects hundreds of millions of women and girls on all continents," Mary Wandia, FGM program manager at Equality Now, an international human rights organization, said in a statement emailed to Newsweek. The United Nations estimates that more than 200 million women and girls around the world have undergone FGM in their lifetime, and Equality Now says there has been an increase in awareness of FGM's prevalence in India, Singapore, Colombia, Yemen and Indonesia over the past few years.
Researchers from RJI spoke about FGM with dozens of women between 19 and 70 in mountainous regions in southeastern Dagestan, close to the Russian border with Georgia and Azerbaijan, earlier this year. The report found that "a large part of society is still not ready to admit the existence of this problem" of FGM.
"With the release of the report, it's caused a real furor in Russia," Vanessa Kogan, executive director of RJI, tells Newsweek.
One of the most controversial reactions came from Ismail Berdiyev, head of the North Caucasus Muslim Coordination Center, who endorsed FGM and said it does not contradict Islam. In a radio interview Monday, Berdiyev said FGM is a "purely Daghestani ritual" that is necessary "to limit the unnecessary energy" of women. Berdiyev spoke on the Govorit Moskva radio station, which didn't believe the RJI report when it was sent to it, says Kogan.
Berdiyev doubled-down on his comments on Wednesday and told Russian news outlet Interfax that "all women" should be circumcised to "reduce lechery." He later walked back his comments and said there is a "problem of depravity" among the world's women, "about which one has to do something."
"It's become this infamous quote now going around the Russian internet, that 'FGM is harmless and used to tamp down women's energy,'" says Kogan. "People were shocked. They had absolutely no idea this was a practice in modern-day Russia."
Kogan says her organization began looking into FGM in Dagestan after a journalist saw articles in local religious literature advocating for FGM. More than 90 percent of Dagestan's population is Muslim and follows the Shafi'i madhhab school of Sunni Islam, although FGM is a cultural, not religious, practice and is carried out by various religious groups throughout the world.
"It certainly is not an Islamic practice, and it's most likely more rooted in ethnic tradition and predates even the conversion to Islam by some of these communities," says Kogan. Religious opinion in the region is mixed: Some religious leaders openly promote FGM, while others oppose it and say it's harmful.
FGM has been practiced in Dagestan for a several decades, including during the Soviet era, but differs by ethnic group, according to the report. There is evidence that the Avars, one of largest ethnic groups in Dagestan, practiced FGM from the 1970s to 1990s, but they have recently given up the practice. Throughout Dagestan, girls are usually cut before they turn 3, and the procedure is "overwhelmingly" performed in the home by close female relatives using household items such as kitchen knives and scissors, says Kogan.
"The trend right now seems to be that while some communities have given up the practice, there are other communities that have started to practice it more recently," says Kogan. Of the 25 women interviewed for the report, all of them had undergone a form of genital cutting and some had performed it on others. The most widespread form of FGM in Dagestan is Type 4, defined by the World Health Organization as "all other harmful procedures to the female genitalia for nonmedical purposes," including pricking, piercing and cauterization.
Although Type 1—partial or total removal of the clitoris—and Type 2—removal of the clitoris and labia minora—are also performed in Dagestan, it's more common to make an incision in the labia and let the wound bleed out, leaving a scar to form.
"The overriding rationale, in general, is purity, is making sure she's pure, making sure she doesn't fool around too much," says Kogan. "It's to really tamp her sexuality so she'll eventually be faithful to her husband. They believe it decreases rates of divorce."
Little is known about FGM in Russia, including in the North Caucasus region, says Kogan. "It's still very much taboo. Those who may have heard about it are reluctant to talk about it. Others say, Well, it probably does exist, but there's no way to stop it, those communities are so isolated."
Government bodies have already responded to the report. Russia's public oversight commission said it will send the report to the prosecutor's office, while the president's council on human rights said it plans to take up the issue, says Kogan. In Dagestan, the local children's rights ombudsman said she was concerned and has condemned FGM.
"The first step is about rendering the issue less taboo than it is now and having it be a topic of public discussion," says Kogan. "That was the first goal, and that is starting to be achieved already. Then the real work lies ahead, in really trying to eradicate the practice."
The Russian Mission to the United Nations did not return Newsweek's request for comment.