'My Fiancé and I Are Stuck 3,400 Miles Apart Indefinitely'
About six years ago, I was an undergraduate student studying abroad for a semester in London. During my time there, I met my now fiancé, Daniel Smith.
After our very first date, I returned to campus to give my friends a full rundown of the evening—what Daniel wore, what he and I talked about, what we drank—a synopsis which ended in me saying to them, "I think I'm in love with him."
I knew Daniel was the one for me because, despite our inevitable "expiration date" at the end of the semester, he still wanted to keep seeing me. Why spend so much time with someone if you never plan to see them again?
My semester abroad drew to a close in May 2014, which meant that after only three months of dating Daniel, it was time for me to pack my bags and return to Connecticut.
Since then, Daniel and I have been in a long-distance relationship, flying back and forth every few months to see each other. Luckily, both of our jobs have always been flexible—I am a marketing and events professional and Daniel works for his family's business—so while the distance has never been ideal, we've always made it work.
After Daniel proposed in January 2019, we soon began filing for him to obtain a K-1 (fiancé) visa. With this visa, the foreign partner must fly to the U.S and marry their American fiancé or fiancée within 90 days of arrival.
For more than seven months, we worked to compile photos, text messages, boarding passes—anything to prove the validity of our relationship and our love. Almost a year and several thousand dollars later, Daniel and I were approved for the K-1 visa in November 2019. We were delighted, but what began as a smooth process swiftly went awry once the pandemic began and the lockdowns went into effect internationally.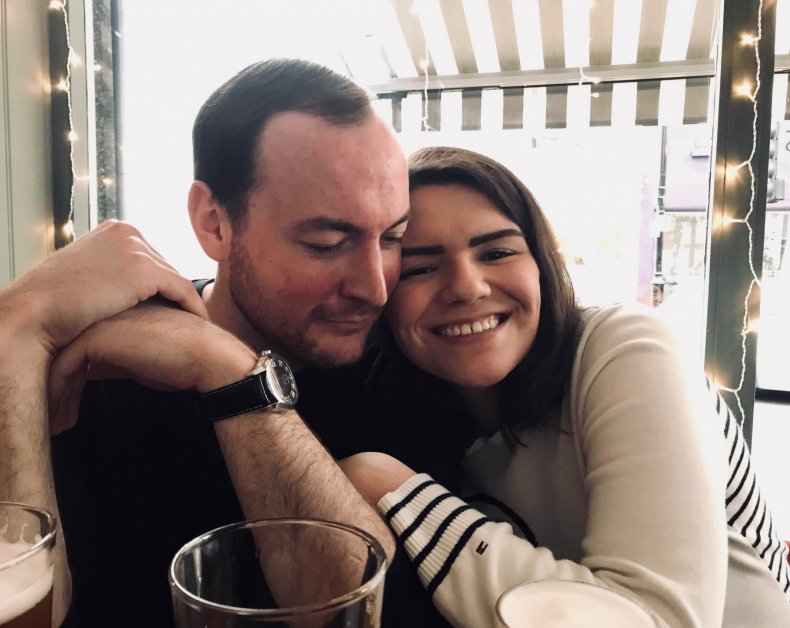 Daniel had a one-way ticket to the U.S. booked for March 23, so while he worked to tie up a few loose ends at home and pack his life into four suitcases, I began connecting with wedding venues throughout Connecticut to see who would take us on such short notice.
Luckily, we found a place that had an opening for June 14, which also happened to be my birthday. It seemed like everything was finally falling into place for us.
Distance is all that Daniel and I have ever known, but we were finally going to be together, on the same continent, in the same time zone, under the same roof—it was a beautiful thought. I was so looking forward to our relationship existing outside of my cell phone.
Then, on March 14, President Donald Trump issued the Presidential Proclamation 9996, which prevented all but a very limited number of people based in the U.K. from travelling to the U.S. It went into effect on March 16. When news about the travel ban broke, I quickly tried to get in touch with the airline to see what would be done about getting Daniel on a flight within the next 48 hours. But Daniel had been in Spain the weekend prior and he had not yet been in the U.K. for the mandatory 14-day quarantine period which was required then in order to travel to the U.S. At that time, the whole "travel through a non-banned country" thing wasn't really even a blip on our radar. Anyway, Daniel would've had to spend 14 days in that non-banned country, and during that time, his K-1 visa would've expired—it only valid until March 26.
We had been just nine days away from finally being together, and while there are exceptions built into the executive order for immediate family members of U.S. citizens to travel during the ban, no exceptions have been made for K-1 visa holders. As a result, we had no choice but to let Daniel's visa expire. The U.S. Embassy in London, like many embassies around the world, remains closed to K-1 visa processing, so we have no information on whether we can get Daniel's visa reissued, when that process can begin, or how long it will take.
While we hope that travel restrictions will be eased soon, the reality is that no one knows when things will return to normal. To think that we could be apart for several more months, even years, is crushing. It's easy to look back and think about what we could've done differently, but then again, we could've never predicted that a pandemic would interfere in the way that it has.
Daniel and I believe that fiancés are family. Throughout the entire pandemic, spouses, children, and family members of U.S. citizens have been able to travel to the States freely on their visas. Even those international students who are not U.S. citizens coming to the States to study are allowed to bring their dependents with them. But U.S. citizens are not allowed to do the same for their foreign fiancés. International athletes are allowed to travel freely, as if they are immune to COVID-19, while my loved one is not.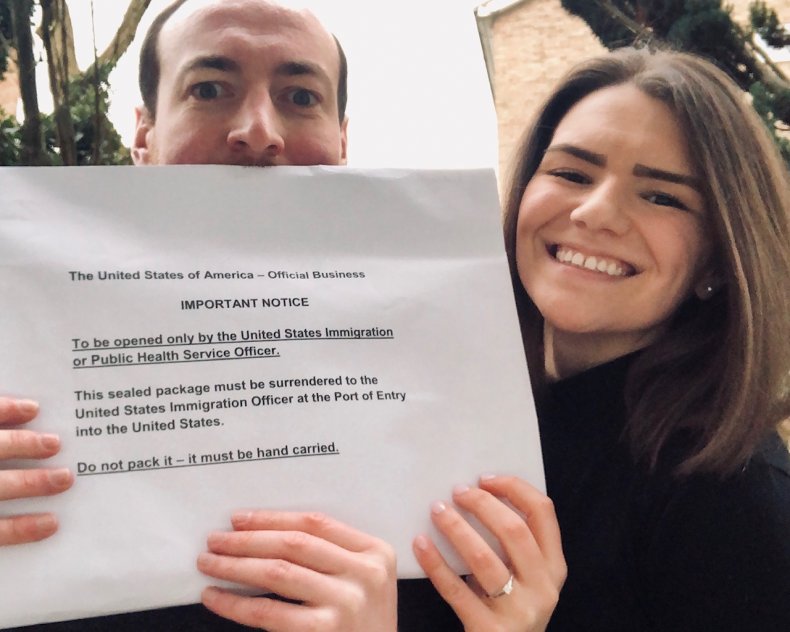 One of the very first pieces of paperwork we had to complete was the DS-160 form, which states that the K-1 visa falls into the "Immediate Relative & Family Sponsored" visa category. If this is the case, and if the State Department classifies K-1 visas in such a way, we cannot understand why the K-1 visa has been excluded from exemptions.
We believe its categorization should mean that my British fiancé may enter the U.S., yet Daniel cannot. K-1 visa holders are effectively being lumped in with tourists. But Daniel does not want to come here to go to bars or to sightsee, he wants to be with his fiancée and we want to become husband and wife.
While we may not know when we'll see each other again, we continually remind ourselves that this is not forever. Our friends and families joke that this will be "a great story to tell our kids someday," but I speak for Daniel and myself when I say that the past few months have held some of the darkest days of our relationship.
While most of the world faces quarantine with their loved ones, that notion seems like a beautiful fantasy to us.
Daniel and I may not be married yet, but the ring on my finger, the (now expired) visa in his passport, and all the evidence we provided to get that visa in the first place, should be proof enough that we have every intention to officially become family as soon as we can.
Of course, we are not asking for all borders to be free and open at this time; we do not want to see the COVID-19 pandemic getting worse than it is. But Daniel is willing to get tested. He will quarantine. He will provide his U.S. address and succumb to random checks if he has to. He will do whatever it takes. Countries such as Germany, France and Norway are already allowing unmarried couples to reunite, which has been dubbed a "sweetheart exemption", and have policies and procedures in place for long-distance couples to reunite safely.
There is a community of couples spread across the globe who are separated, like Daniel and I, and are trying to spread awareness about our movement using hashtags like #loveisnottourism on social media.
Daniel and I desperately want the government to hold the K-1 visa in the same esteem as those for an immediate family member and provide travel exemptions as such. There are thousands of couples like us who just want to be together.
Distance is not for the fearful; it's for the bold. When you opt to be in a long-distance relationship, you have no choice but to be strong. You have to be willing to be alone a lot, only to be with your partner a little.
At least before COVID-19, we were making that choice for ourselves rather than it being made for us. Now, although our love remains strong, our marriage and our life is on hold. I've always been a firm believer in everything happening for a reason, and while I struggle to understand what the reason is behind all of this, I know that for every day that goes by, Daniel and I are one day closer to being together.
Elizabeth Elliott is a marketing and events professional based in northeastern Connecticut.
All views expressed in this piece are the writer's own.