Fiancée of Fort Bliss Soldier Who Died on NYE Found Dead in Barracks
Nearly seven months after Private First Class Asia Graham was found dead at an Army barracks in Texas, her fiancée and fellow soldier Private Marriah Pouncy died after being found in similar circumstances at the same barracks.
Army authorities discovered Pouncy unresponsive in her barracks room at Fort Bliss on Monday before being pronounced dead by emergency medical personnel a short time later. Graham was also found unresponsive in her room at Fort Bliss before being pronounced dead on December 31, 2020.
Graham's mother told local ABC affiliate station KVIA-TV on Thursday that the women had been engaged to be married. It is unclear whether there was any other connection between the deaths, although the Army does not consider either death to be suspicious.
The Army said in a release obtained by Newsweek that the death of Pouncy, a native of Chinle, Arizona, was believed to be an "isolated incident" while stressing that "foul play is not suspected at this time and no threat is posed to the installation." Pouncy arrived at Fort Bliss in December 2019 after serving a short tour of duty in South Korea.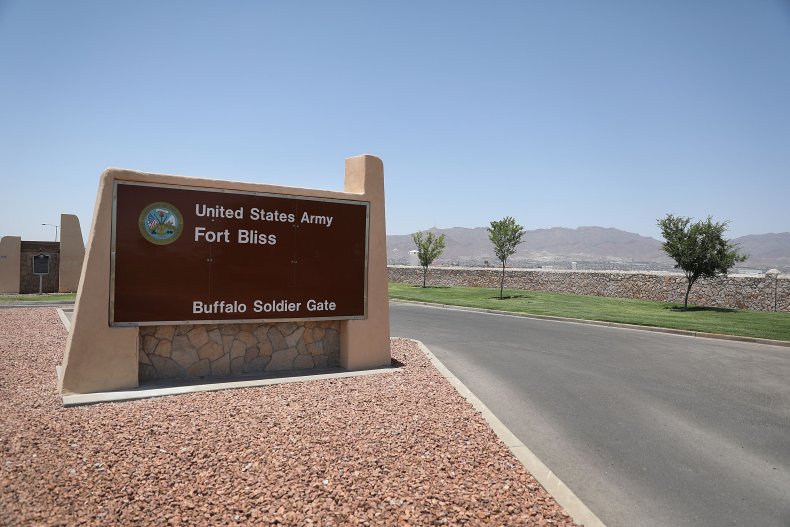 "Our deepest condolences go out to the family, friends, and fellow soldiers of Pvt. Marriah Pouncy," said Col. Geoffrey Whittenberg, the 1st Armored Division's Combat Aviation Brigade commander. "Pvt. Pouncy was a committed soldier, friend, and valued member of the Iron Eagle Team. Her loss is not just felt within our formation, but across the Army."
"We ask that during these challenging times that you continue to reach out to your fellow soldiers and families as we grieve the loss of our Iron Soldier," he added.
Although the Army also said that it did not suspect any foul play in Graham's case, the death drew extra attention earlier this year due to the court-martial of Private First Class Christian Alvarado. Last week, Alvarado was sentenced to serve more than 18 years in prison after being convicted of sexually assaulting Graham and another woman about one year before Graham's death.
Pouncy was listed as a witness at the trial but was not called to testify and did not appear in court during the verdict or sentencing hearings, according to local NBC affiliate station KTSM-TV. The outlet reported that the relationship between Graham and Pouncy was a topic of "extensive questioning and testimony" during the court-martial.
A military medical examiner recently found that Graham's death was caused by overdosing on a mixture of synthetic marijuana and fentanyl. Alvarado's defense team reportedly claimed during his trial that Graham was also involved in distributing drugs.
No further details about the circumstances surrounding Pouncy's death have been publicly released amid the ongoing investigation into its cause.