FIBA Basketball World Cup 2019: Latest Odds, Expert Predictions, First Round Schedule
Team USA's quest to become the first team in the history of the FIBA World Cup to win the tournament three times in a row is far from a straightforward affair.
The Americans have won the last two editions and aim to win a third consecutive title this year, something no team has ever achieved in the competition's 69-year long history.
Gregg Popovich's men open their campaign when they take on the Czech Republic on Saturday morning in Shanghai, before playing Turkey and Japan over the next four days.
Team USA is the bookmakers' favorite but lacks the star quality that had characterized it in recent tournaments.
James Harden, Anthony Davis, Damian Lillard, Kyle Lowry, CJ McCollum and Bradley Beal all withdrew earlier this month, before Kyle Kuzma was ruled out on Sunday with an ankle injury.
At the 2016 Olympics, Team USA had five All-Star guards on its roster, in the shape of Kyrie Irving, Klay Thompson, DeMar DeRozan and Jimmy Butler.
This year, in comparison, Kemba Walker is the only All-Star guard on the roster.
Walker is one of four Boston Celtics players in the team along with Jaylen Brown, Marcus Smart and Jayson Tatum.
It is the first time a franchise has had more than three players on Team USA roster, although Walker is yet to play for the Celtics having only signed for them in the offseason.
Here's what some experts expect from the FIBA World Cup.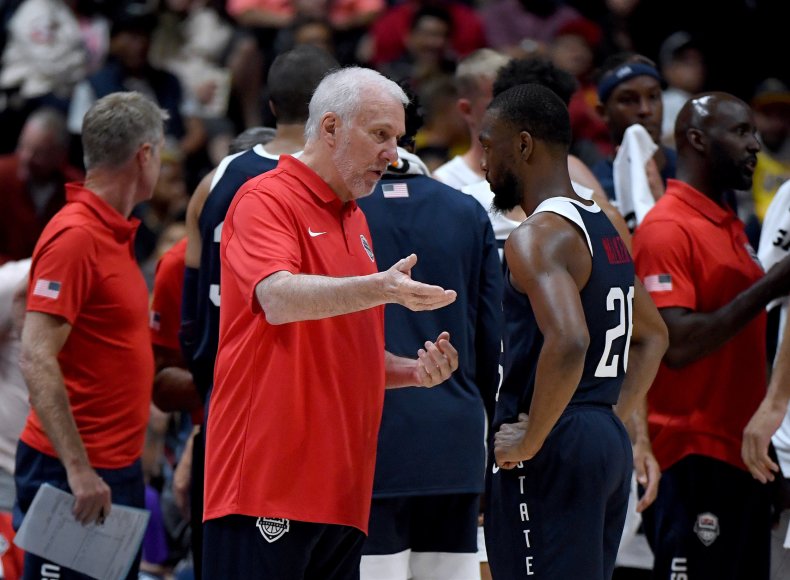 Dan Feldman—NBC Sports
For the first time in history, Team USA has four players from the same franchise on its roster—Boston Celtics' Kemba Walker, Jayson Tatum, Jaylen Brown and Marcus Smart
Feldman believes the Celtics could reap the benefits of the quartet playing together in China.
"USA Basketball seemingly never chose to have a third of its roster comprised by a single NBA team. This was born of necessity. Still, it's a cool opportunity for the Celtics to turn 2019 into a feel-good year."
Tom Ziller—SB Nation
Team USA is severely short of star quality compared to some of its previous iterations and Ziller suggests failing to win the gold medal would not be a disaster.
"There are a handful of teams that are capable of beating this version of Team USA. One of them will quite possibly do it," he wrote.
"That's no reason to panic. This is the version of Team USA that American basketball stars are willing to put together given all the circumstances—money, load management, scheduling. So it goes."
Brian Windhorst—ESPN
Despite the lack of superstars, Windhorst believes the U.S. are better prepared than in the past.
"In the past, the U.S. lost competitions because it didn't respect its opponents or was haphazard in preparation. That does not seem to be the case here," he wrote.
"It's no one person's 'fault' this is a team with the lightest star power since the Dream Team started. It's a combination of factors, from schedule changes to new rest procedures to injuries to trends."
Michael Shapiro—Sports Illustrated
Serbia is the bookmakers' second favorite to win the gold medal in China and Shapiro believes it is the best-equipped team to stop the U.S.
"The Serbian roster is fairly stocked with NBA talent," he wrote.
"Boban Marjanovic joins [Nikola] Jokic in the frontcourt, as does Nemanja Bjelica. Perhaps Bogdan Bogdanovic can catch fire with a slate of open jumpers created by Jokic and Teodosic. The team has no shortage of weapons. Serbia has a claim as the premier competition for Team USA."
Dan Devine—The Ringer
While the current edition of Team USA might lack the wow-factor of its predecessors, Devine argues it remains good enough to beat whoever it comes across in during the World Cup.
"This roster doesn't have to beat the ghosts of Teams USA past; it has to be able to beat the other 31 present-day teams competing in China. And despite Friday's loss [to Australia] the U.S. remains a strong favorite to do just that.
"This year's model lacks the megawatt names of its predecessors, but no other country in the field can boast legitimate NBA players at every spot on the roster."
Odds
Team USA is expected to defend the title it won five years ago.
According to Oddschecker, the U.S. are 11/20 favorite to make it three titles in a row, followed by Serbia and Spain at 9/2 and 19/1 respectively.
First round schedule (All times ET)
Saturday, August 31
Angola vs Serbia—3:30 a.m., ESPN+
Poland vs Venezuela—4 a.m., ESPN+
Russia vs Nigeria—4:30 a.m., ESPN+
Iran vs Puerto Rico—4:30 a.m., ESPN+
Philippines vs Italy—7:30 a.m., ESPN+
Ivory Coast vs China—8 a.m., ESPN+
Argentina vs South Korea—8:30 a.m., ESPN+
Spain vs Tunisia—8:30 a.m., ESPN+
Canada vs Australia—3:30 a.m., ESPN+
New Zealand vs Brazil—4 a.m., ESPN+
Turkey vs Japan—4:30 a.m., ESPN+
Dominican Republic vs Jordan—4:30 a.m., ESPN+
Senegal vs Lithuania—7:30 a.m., ESPN+
Greece vs Montenegro—8 a.m., ESPN+
U.S. vs Czech Republic—8:30 a.m., ESPN+
France vs Germany—8:30 a.m., ESPN+