Installation Artist Bruce Munro Illuminates California Wine Country in Waves of Color
It took 20 volunteers five weeks to install the 58,000 fiber-optic stemmed spheres used in 'Field of Light.'
Paso Robles, California, is known for its wineries, its thermal springs and an abundance of olive groves. But visitors are about to see the Central Coast town in a whole new light—literally: Starting May 19, some 58,800 stemmed spheres will bathe a 15-acre hillside off Highway 46 in shifting waves of color, as British artist Bruce Munro officially turns on his sprawling immersive installation, Field of Light.
His luminescent pastures have appeared in Mexico, the U.K. and Australia, but this iteration is his largest to date. And it serves as the launchpad for Sensorio, an interactive garden attraction being developed on 360 acres in Paso Robles.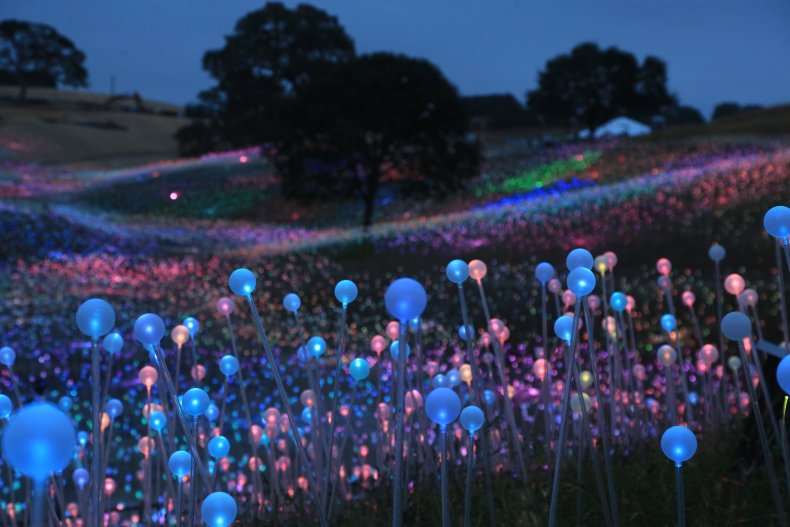 The vision for Munro's fiber-optic field of dreams came more than a quarter-century ago, in 1992, when he was visiting Uluru (Ayers Rock). "My wife and I were living in Sydney, and we decided to go," Munro, 59, tells Newsweek. "I was cynical—like, 'What can a rock do for you?'—-but I was blown away. There was so much power in the landscape."
Newsweek subscription offers >
That evening, as the sun set, the sandstone monolith shifted from ochre to deep orange and vermillion, and Munro began furiously jotting down ideas in his journal. "I was trying to figure out how to recreate that experience, that play of light and color."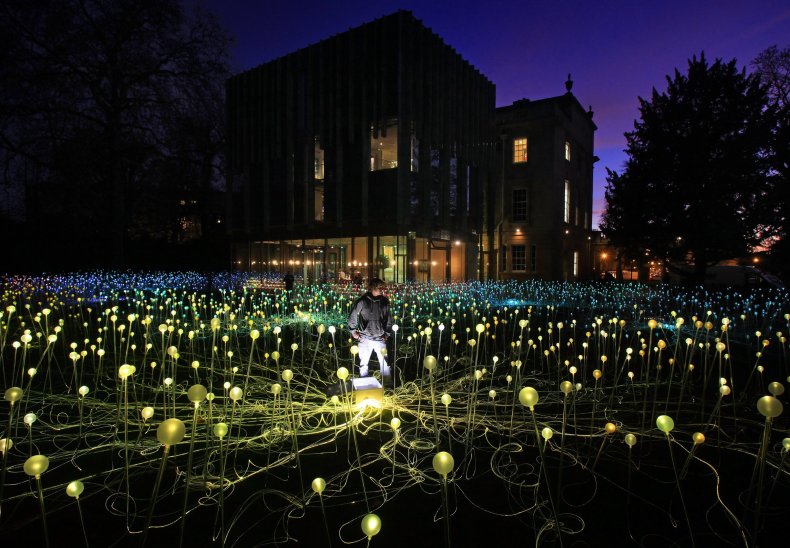 It was some years later, in the early 2000s, when he first created a prototype Field of LIght for London's Harvey Nichols department store. Since then, he's planted versions in a variety of locations, from a field near his studio in Wiltshire, England, to the Nicholas Conservatory in Rockford, Illinois.
But it wasn't until 2016 that Munro returned to Uluru to install his lights and bring his vision full circle. He met with representatives from the Anangu, the indigenous Australians who are the traditional stewards of Ayers Rock. "I said if there's a sense of not wanting it, I won't do it," Munro recalls. "But there was a trust, an honesty. I think they understood how Uluru changed my life."
Newsweek subscription offers >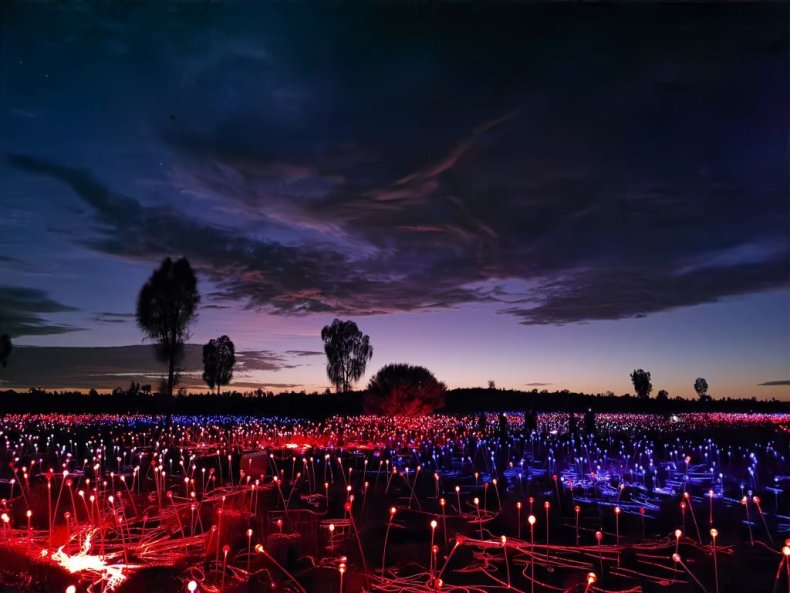 Sensorio's owners, Ken and Bobbi Hunter, were on vacation when they first encountered Field of Light at Uluru. "We were eating dinner and the sun went down," Ken tells Newsweek. "All of the sudden this glow started in the desert. As it got darker, the lights got more prominent."
By that point Ken had been working on Sensorio for eight or nine years. But coastal California's regulatory environment being what it is, their "playground for the mind" is only now coming to fruition. When it's fully completed in 2021, it will offer ornate fauna, water features and mazes—even a hotel and convention center. The inspiration was Butchart Gardens, a former limestone quarry outside Vancouver that was transformed into a group of monumental gardens in the 1920s. "I was really impressed by the idea of something that wasn't an in-your-face theme park, but just a thing of beauty," says Ken. "A garden that's entertaining, not educational like a botanical garden."
The Hunters say Field of Light is the perfect introduction to what they bill as as a "destination for entertainment, exploration, meditation, adventure and delight."
"We want to insert ourselves into the landscape without overwhelming it," says Bobbi. "And that's what Bruce does. It's a good 'Phase One.'"
Paso Robles translates to "the path of the oaks," and the surrounding canyons is home to some of the oldest oaks in Southern California. Trees that are 200, 300 years old, or older. "They're stately in their beauty," says Ken. "That's what attracted me to the landscape here."
Assembling Field of Light at Sensorio has taken 20 people working eight hours a day, five days a week for five weeks to complete. With such a large territory to cover, Munro let his volunteers determine where to place the solar-powered stalks. "It's like planting—improvising, not me dictating," he says. "I've learned that the more I try to control things the worse it is."
He did have one proviso, reveals Bobbi: "We said 'Hey, let's add music,' and Bruce was like, 'Ah, no.'"
Munro eschews assigning specific meaning to the installation. "It's not for an artist to decide how people should take their art," he says. "I want to let them experience it on their own terms." (You can, however, take a self-guided tour by downloading an app.)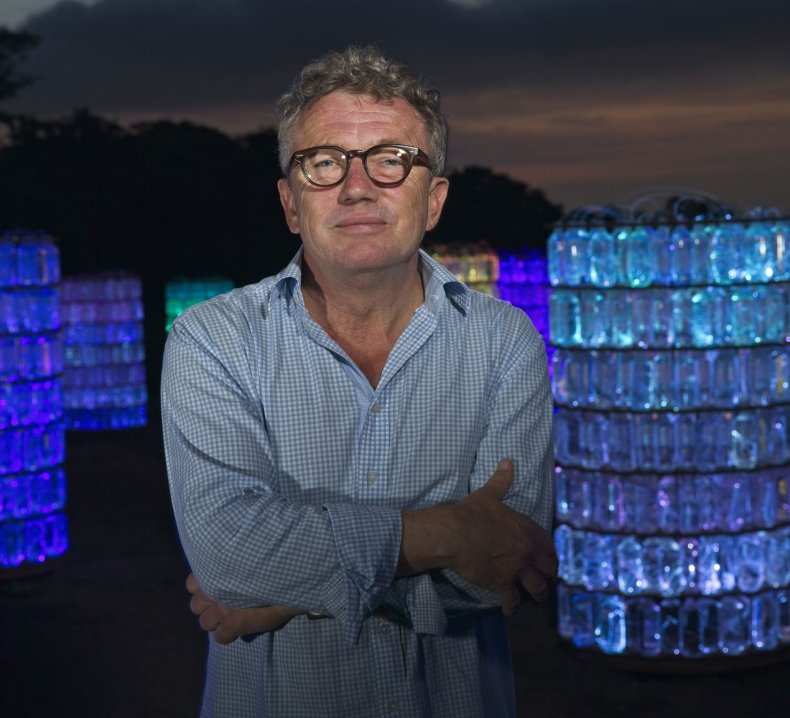 Instagrammable installations are all the rage these days, but Munro doesn't want his work to overshadow the natural environment. "It's important to balance things," he insists. "To have a light footprint on the landscape. If you do it right, people will notice what you've done, but they'll notice the beauty of nature, too. That's why I love installations—they're impermanent, like life is impermanent."
He dreams of seeing his fields on every continent, but not at the expense of their uniqueness.
"I've turned down a few requests," Munro says. "I'm protective [and] I don't want to over-commercialize it. If it's right, it's right."
Field of Light at Sensorio is on view Wednesdays through Sunday evenings from May 19, 2019, through January 2020.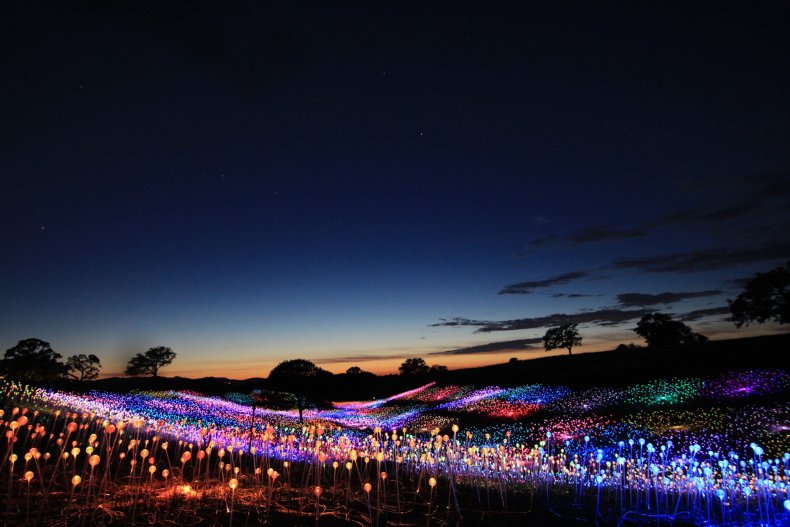 Installation Artist Bruce Munro Illuminates California Wine Country in Waves of Color | Culture