Where is James Alex Fields? Alleged Charlottesville Driver, Killer Facing Federal Hate Crime Charges
A year ago James Alex Fields was arrested for allegedly mowing down a crowd of protestors in Charlottesville, Virginia, setting off one of the most violent moments in the country's recent memory and further exposing racial tensions in America.
Today, the now 21-year-old Fields is facing two potential trials at the state and federal levels for murder, assault and a federal hate crime charge while the country reflects on the anniversary of mayhem in a typically sleepy college town.
Fields is accused of driving 550 miles to the "Unite the Right" rally on August 12 of last year and participating on the white nationalist side of the protests before using his Dodge Challenger to run down counter-protestors, resulting in numerous injuries and the death of 32-year-old Heather Heyer.
Fields was apprehended after the incident and charged in December of last year with first degree murder and assault charges. His trial at Charlottesville Circuit Court is scheduled to begin in November of this year, according to state court filings.
In June, federal prosecutors for the Western District of Virginia handed down 30 hate crime charges against Fields and described how after counter-protesters began walking up a hill Fields "rapidly accelerated through a stop sign and across a raised pedestrian mall, and drove directly into the crowd… [and] stopped only when it struck another vehicle near the intersection."
Last month, Fields pleaded not guilty to all the hate crime charges but his mental state has come under scrutiny. U.S. District Court in Charlottesville Judge Joel Hoppe reportedly asked Fields if he had ever received treatment for mental illness, according to The New York Times citing a court spokesperson.
Fields reportedly answered he was taking medication and he had been treated for depression, bipolar disorder, anxiety and A.D.H.D.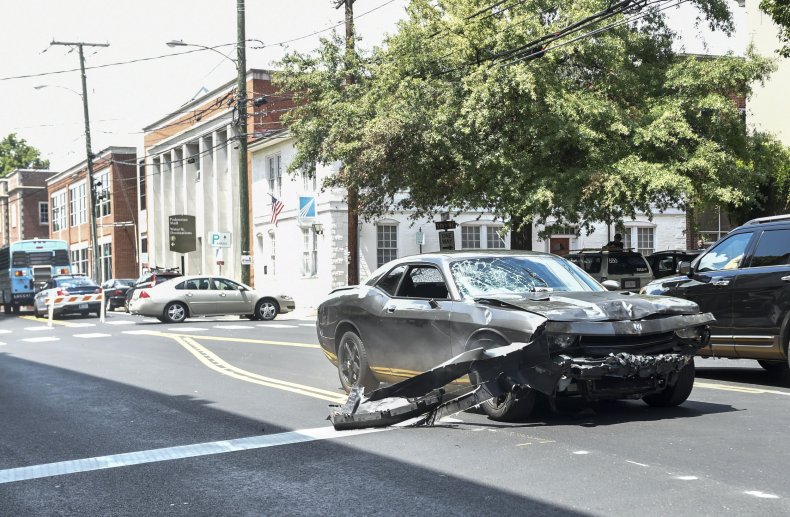 The violence led to mixed messages from President Donald Trump. He waited several days before publicly condemning the white supremacists involved in the protests, and also said "many sides" and "both sides" were to blame for the violence, statements widely panned by Republicans and Democrats alike.
In the year following the violence, the alt-right and white nationalist movements were pushed to the forefront of the public conscious and the nation grappled with whether or not to tear down statues honoring the Confederacy and its leaders. The Charlottesville rallies and protests were specifically sparked over an alt-right protest to the potential teardown of a statue of Confederate general Robert E. Lee.
The fallout still hovers over the state and Charlottesville. Virginia Governor Ralph Northam and the city each declared states of emergency on Wednesday ahead of the anniversary. A heavy security presence, which could include assistance from the Virginia National Guard, is expected around the city.
"I am urging Virginians to make alternative plans to engaging with planned demonstrations of hate, should those arise," Northam said. "Declaring this state of emergency in advance of the anniversary and the related planned events will help us ensure that the state and the city have all available resources to support emergency responders in case they are needed."
Correction: This story initially stated James Fields was an Ohio native. He is originally from Kentucky.