Fiery Explosions as Huge Russian Base in Ukraine Blitzed With Rocket Fire
Aerial footage shows fiery explosions taking place one after the other at a massive Russian military camp in Ukraine after it is targeted in a rocket blitz by Ukrainian forces.
Zenger News obtained the video from the Ukrainian Ground Forces (ZSU) on Sunday.
The ZSU said (in Ukrainian): "Assault troops and artillery of the Land Forces arranged a new 'Chornobaivka' for the occupiers.
"Units of Russian troops were again destroyed at the same place.
"We continue to perform combat missions and destroy the enemies of Ukraine!
"Together with the Land Forces, we are going to victory! Glory to Ukraine!"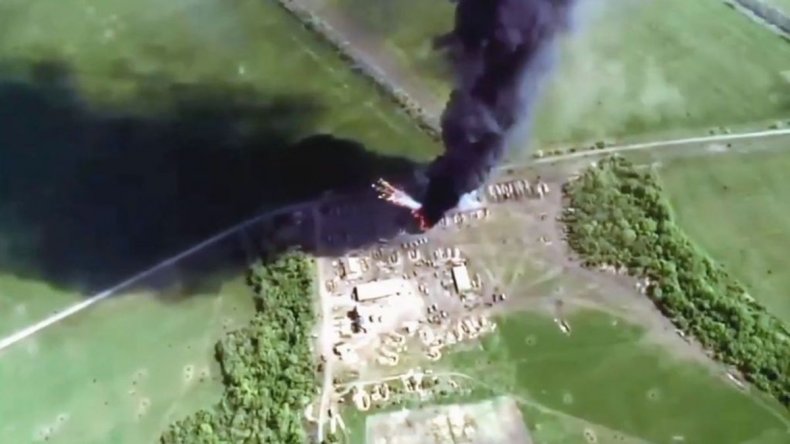 The ZSU did not specify where in Ukraine the strikes were carried out.
"Chornobaivka" refers to the village of the same name located in Ukraine's Kherson Oblast.
The village saw a total of 18 successful attacks on Russian positions by the Ukrainian Armed Forces following a bombing and takeover by the Russian Armed Forces of its airport.
The attacks reportedly resulted in the death of Russian generals Andrey Mordvichev on March 18 and Yakov Rezantsev on March 24.
Russian troops invaded Ukraine on February 24 in what the Kremlin is now calling a "special military operation" to "protect Donbass." Monday marks the 75th day of the campaign.
From February 24 to May 9, the total combat losses of Russian troops stand at around 25,650 personnel, according to the General Staff of the Armed Forces of Ukraine.
The Ukrainian military also claims that Russia has lost 1,145 tanks, 2,764 armored fighting vehicles, 513 artillery systems, 185 multiple launch rocket systems, 87 anti-aircraft systems, 199 warplanes, 158 helicopters, 1,970 motor vehicles and fuel tankers, 12 vessels, 377 tactical unmanned aerial vehicles, 41 units of special equipment and 94 cruise missiles.
The update comes as Russian President Vladimir Putin addresses a huge military parade in Red Square in Moscow on Victory Day.
The annual event commemorates the defeat of Nazi Germany at the hands of the Soviet Union in World War II.
Putin used his speech to claim Russian troops in eastern Ukraine were "defending the motherland."
He also said the "special military operation" in Ukraine was necessary and was provoked by the West.
However, he did not make any major announcement concerning the invasion, as many had speculated.
Russia said 65,000 personnel, 2,400 items of military hardware and more than 400 aircraft were taking part in Monday's parades across 28 Russian cities.
Ukrainian President Volodymyr Zelensky said Monday in his own Victory Day speech that Russia was repeating Nazi atrocities.
He also denounced heavy shelling carried out by Russia in eastern Ukraine and said a strike on a school building-turned-shelter in Luhansk Oblast killed 60.
NATO Secretary General Jens Stoltenberg has called on Putin to end the invasion of Ukraine immediately.
This story was provided to Newsweek by Zenger News.