As summer hits full swing, sports fans can rejoice as the 2018 FIFA World Cup makes it return Thursday.
The international soccer—or football, for those outside the United States—event occurs every four years. This year's tournament will be held in Russia. While the U.S. is not participating in 2018, 32 other nations—including Germany, Brazil and Mexico—qualify. Host country Russia will kick off the competition against Saudi Arabia at 11:00 a.m. ET (or 18:00 local time) Thursday. From there, the teams will battle it out in a series of rounds across 11 different cities. After 64 matches spanning over a month are completed, the final team standing will be revealed July 15.
While fans can tune in to FOX Sports to watch the games from the comfort of their home (or office desk at work), it's much more fun to head to a local bar to watch with fellow enthusiastic fans. In honor of the 21st edition, here is a list of bars in the top soccer-watching cities nationwide.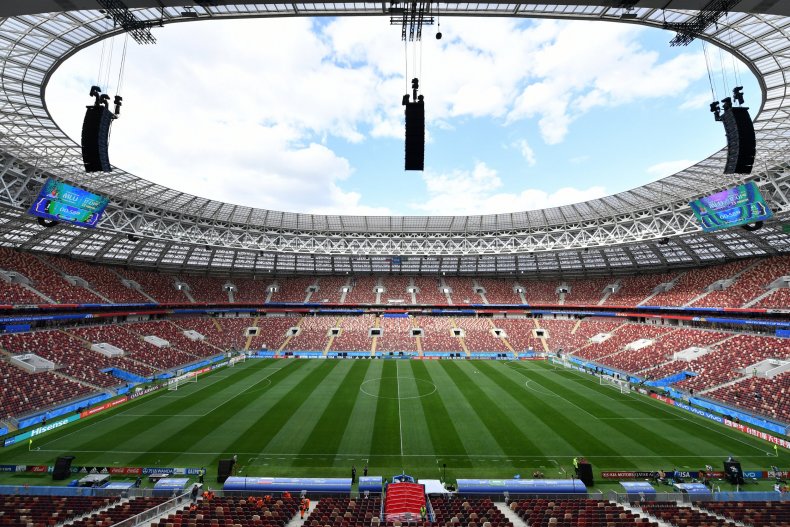 Washington D.C.
The nation's capital was ranked by Forbes as having the fourth best soccer fans in the U.S. for a reason. The region is home to D.C. United.
Lucky Bar—1221 Connecticut Ave NW (in Dupont Circle)
The Astor World Cup Lounge (at the St. Regis Hotel)—923 16th St NW
Los Angeles
The Greater Los Angeles area hosts two Major League Soccer (MLS) teams. While Los Angeles Football Club (FC) was founded three years ago, Los Angeles Galaxy is a staple team for the region.
Joxer Daly—11168 Washington Blvd, Culver City, CA
The Stalking Horse Brewery & Freehouse—10543 Pico Blvd, Los Angeles, CA
New York
Like Los Angeles, New York boasts two professional teams: the New York Red Bulls and the New York City FC. The big apple is home to an assortment of soccer bars.
Football Factory at Legends—6 West 33rd Street
Smithfield Hall—138 W 25th St
Seattle
As of 2018, a U.S. Census data report revealed 3.87 million people reside in Seattle. With numbers like this, it begs the question: How many residents are fans of its MLS team, the Seattle Sounders?
The Atlantic Crossing—6508 Roosevelt Way NE
Rhein Haus Seattle—912 12th Ave
Atlanta
The Georgia city first announced it's team—Atlanta United FC—in 2014, but they didn't begin to play until 2017. Atlanta's managed to become a top soccer-watching city nonetheless.
The Brewhouse—401 Moreland Ave NE
Hampton + Hudson—299 North Highland Avenue Northeast
Salt Lake City
Beginning in 2005, the Real Salt Lake was launched in Utah's capital as an expansion team of the MLS.
Lumpys Downtown—145 Pierpont Ave
Maxwell's East Coast Eatery—357 Main St
Orlando, Florida
Orlando is home to Disney World and Sea, but it's also the birthplace of the Orlando City Soccer Club (SC).
Finnegan's Bar & Grill—1000 Universal Blvd
The Pub Orlando—9101 International Dr #1003
Miami
Orlando City SC isn't Florida's only MLS team. Fútbol Miami was founded in January as a part of the MLS expansion plan.
Jezebel Bar + Kitchen—1625 Michigan Ave
The Jack Daniels Sports Bar (at The Clevelander)—1020 Ocean Drive
Chicago
Chicago Fire SC is the city's sole soccer team. Its name stems from the Great Chicago Fire of 1871.
Cleos Bar And Grill—1935 W Chicago Ave
The Scout—1301 S Wabash Ave
Portland
In 2017, the Portland Timbers finished their regular season in first place.
North 45 Pub—517 NW 21st Ave
Spirit of 77—500 NE Martin Luther King Jr Blvd
Kansas City, Missouri
Kansas City is home to Sporting Kansas City. The Missourian town is reportedly one of the 23 potential host locations for the 2026 World Cup.
The Brooksider Sports Bar & Grill—6330 Brookside Plaza
No Other Pub by Sporting KC—1370 Grand Blvd