FIFA President Suggests More World Cups Will Save Migrating Africans From Dying at Sea
Gianni Infantino, the president of the Fédération Internationale de Football Association (FIFA), sparked outrage on Wednesday after he claimed that hosting a World Cup every two years could help save African migrants from "death in the sea."
Speaking to a group of European politicians regarding his future plans for FIFA—the world's highest governing authority of international soccer—Infantino stated that it was important to think about the aspects of the sport that occur off the pitch.
"We need to find ways to include the whole world, to give hope to Africans so that they don't need to cross the Mediterranean in order to find, maybe, a better life but, more probably, death in the sea," Infantino continued. "We need to give opportunities and we need to give dignity."
Infantino stated that, because of the influx of talent among soccer players in Europe as opposed to Africa, "in Europe, the World Cup takes place twice per week."
"But if we think about the rest of the world...then we have to think about what football brings, which goes beyond the sport," he added. "Because football is about what I was saying at the very beginning, about opportunities, about hope, about national teams, about the country, about the heart."
FIFA currently hosts the World Cup every four years, and Infantino's comments marked the latest push by the organization to increase the number of tournaments.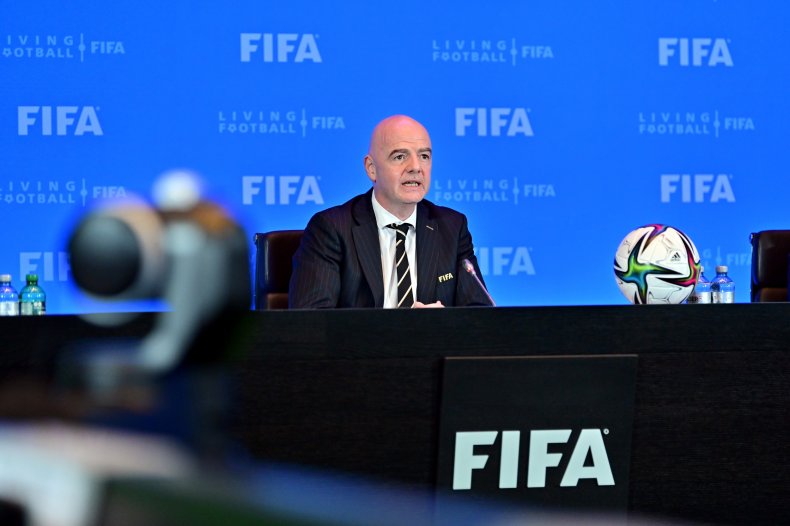 However, many parties expressed anger at Infantino's remarks on the African migrant crisis, including players and fans alike. This includes Tony Burnett, the head of Kick It Out, an organization dedicated to fighting equality and eliminating racism within soccer.
"FIFA is a multi-billion profit-making organization. They already have the funds to invest in creating and inspiring opportunity for disadvantaged people around the world," Burnett said in a statement. "It is therefore completely unacceptable to suggest that a biennial World Cup, predominantly set up to drive further profits for FIFA, could be a solution for migrants who risk their lives, sometimes fleeing war-torn countries, to seek a better life.
"If FIFA has a genuine commitment to tackling inequality, they should be investing time and resource into charitable causes on the ground, rather than disguising what appears to be a profit-making biennial World Cup as the answer to any existing problems," Burnett continued.
However, in light of anger, Infantino released a statement saying that his remarks on African migrants had been misinterpreted.
"Everyone in a decision-making position has a responsibility to help improve the situation of people around the world," Infantino said. "If there are more opportunities available, including in Africa, but certainly not limited to that continent, this should allow people to take these opportunities in their own countries."
"This was a general comment, which was not directly related to the possibility of playing a FIFA World Cup every two years," he added.
Infantino's comments come as Africa continues to see significant problems with migrants dying in an attempt to flee the continent.
The International Organization for Migration (IOM) stated that 11,098 migrants have gone missing from Africa since 2014. This includes 1,500 in 2021, along with 51 so far in 2022.
At least 6,680 of these migrants have gone missing from Northern Africa, according to the IOM, which provides the best pathway for migrants looking to access the Mediterranean Sea. About 1,577 of these fatalities were reported drownings, the highest among the known causes of death for African migrants.
A FIFA spokesperson referred Newsweek to Infantino's previous statement when reached for comment.