FIFA Should Have Boycotted North Korea from the World Cup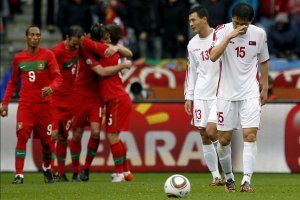 All I'd wanted was a ticket to today's unbelievable 7-0 win by Portugal over North Korea in Cape Town. Instead, I got stuck in Johannesburg, which turned out to be a stroke of good luck. There, I watched the game on TV in a gloriously faded old Mozambican restaurant called the Troyeville Hotel. Down in Cape Town, it poured rain on spectators and players through the entire match. After the kickoff, I asked my companion in the Troyeville, an American soccer writer, what difference the weather would make to the play. "Some teams actually like playing in the rain, because the ball moves faster over the pitch," he told me. "It also depends on what conditions they're used to." Then we both had the same thought: does it rain in North Korea?
With the recent exception of American golf, sporting tournaments usually provide little in the way of side fascinations, at least compared to the weirdness smorgasbords that are, say, political campaigns. Discipline is everything, and the imagery is predetermined. In theory, the World Cup constitutes a bazaar of nations, but in reality everything is thoroughly globalized: Nike dictates the fashion, Coke provides the musical jingles, and Europe sets the standard of play. And so the appearance of the insular, mystifying North Korea—its first in a World Cup since 1966—has injected a little delicious bizarreness into all this World Cup uniformity.
The South African and international papers have covered the lowest-ranked team like a small-town broadsheet would track the brief and tantalizing emergence of the local village hermit, recounting such wacky morsels as the manufacture of the North Korean jerseys: they are made by the Italian apparel maker Legeo (whose other clients—Iran and Zimbabwe—have snared them the corner in the niche market in evil), and snazzier designs were rejected in favor of "a very sober jersey" colored "a fiery red, like labor." Unsubstantiated rumors are also circulating that the North Korean players' amuse themselves on the road with the game of rock-paper-scissors and that Kim Jong-il himself outfitted them with individual earpieces so he can broadcast live advice from Pyongyang into their ears as they trot around the pitch. Without defending the general diligence of the press, these rumors simply couldn't be verified or disproved because every press conference involving the North Koreans has been preceded by a warning from a FIFA bureaucrat that "questions that intersect politics with football" are off-limits.
Mozambique's historical connection to Portugal made for an intensely pro-Lisbon crowd at the Troyeville Hotel, and each one of the sexy Portuguese boys' seven goals was met with exponentially louder howls of glee. But I have to admit that the more goals the Portuguese scored, the worse I felt. I didn't dare to wear my fiery colors of labor too obviously inside the Troyeville, but I was rooting for North Korea. Partly because of the amusement factor—rock-paper-scissors!—but mainly because, when I looked at those hapless North Korean players giving up goal after goal, I wondered how safe their friends and families would be.
Does that sound overwrought? Then take a minute to read some of the stunning dispatches by Barbara Demick of the Los Angeles Times (collected in a book called Nothing to Envy) on everyday lives in North Korea. As one reviewer put it, her stories "credibly suggest a human-rights tragedy of enormous proportion is taking place relatively out of Western public view." Petty and grand horrors fill Demick's accounts—she interviews an executive who forages for weeds to eat and a doctor whose underfunded hospital uses empty beer bottles as IV canisters—but a recurring theme is the ritual disappearance of the unlucky loved ones of those North Koreans who fail to bring honor to the state.
A soccer spectator should not have to worry about the bodily well-being of a losing athlete's family at the hands of his government. This is wrong. If we do have to worry, it raises a bigger question: why was that government allowed to compete in an international tournament at all? North Korea should have been excluded from the World Cup—especially from a World Cup held in South Africa.
In the runup to this first African World Cup, writers have ruminated endlessly over its greater meaning. How can it be substantively African, rather than just a Western event that happened to be held on African soil? (Don't say the vuvuzelas make it African, please.) FIFA—and South Africa—missed an opportunity by failing to ban the North Koreans. Enlightened people love to pooh-pooh cultural boycotts, but a ban would have reflected this part of the continent's unique ethos and history. South Africa is the single country where a sports boycott did the most to heighten outside awareness of the evils of a regime—and to foment internal restlessness for change.
As apartheid gathered steam through the second half of the last century, South Africa was banned from the Olympics, then international cricket, then international golf, then the rugby World Cups. In the beginning, the rationale for the exclusions was based on the fact that the teams themselves reflected the apartheid regime's core sin: they were all white. But soon sporting bodies were instituting boycotts as a broader comment on the regime's oppression and violence off the field. FIFA originally suspended South Africa on account of its soccer team's racial segregation, but it expelled the white-only government for good after the South African police massacred of a group of young black protestors in Soweto in 1976.
Toward the end, the apartheid regime made some gestures at desegregating its sports teams, but the boycotters made it clear the boycotts were bigger than that. The motto of the South African Council on Sport, an independent body advocating nonracialism in sports, was "No normal sport in an abnormal society." Its former president, Joe Ebrahim, explained in a 2007 interview with a German news agency that the sports boycott "focused people's attention on the fact that we couldn't live almost a dual life in terms of which in everyday society we were denied basic rights, we were denied the opportunity to exercise our universal rights and then go and play sport as if it was a normal world." South Africa is sports mad, and the country's exclusion from the rugby World Cups is credited with making obvious to ordinary Afrikaners the isolation their white rule was engendering—and laying a social foundation for political change.
People who dismiss boycotts say they punish ordinary people rather than those in power, and furthermore, that cultural exchanges like orchestra tours and sports matches help dispel the sense of otherness that hangs over pariah peoples, allowing us to recognize our common humanity. Permit me to suggest that, in the case of North Korea and the World Cup, this is idiocy. Consider North Korea's star player, the striker Jong Tae-se. A vocal and charismatic 20-something nicknamed "The People's Wayne Rooney," Jong has asserted that North Korea's participation in the World Cup will do a great deal to demystify the country, win it respect and understanding abroad, and stoke pride at home. Indeed, Jong himself leads a totally normal and enjoyable-sounding life, by professional-athlete standards. He rolls in a silver Hummer, loves to snowboard, travels with an iPod and a Nintendo, and aspires to bed one of the Wondergirls—the Spice Girls of Seoul. He has also never lived in North Korea. He was born in Japan and continues to reside there, in the better-off Korean diaspora. He was the one who told the newspapers about his North Korean teammates' quaint penchant for rock-paper-scissors. If Jong doesn't represent the existence of Joe Ebrahim's "dual life" in terms of North Korean society—in which a few nation-glorifying stars are allowed to pursue a capitalist lifestyle while most forage for food and dream about basic rights—I don't know what does.
North Korea's thrashing by Portugal means the team will not play on past their last group match, on Friday against the Ivory Coast. I suspect Jong Tae-se will manage. As for the regular North Korean fans, however, it's not clear if they'll be able to keep watching the Cup, thanks to a dispute between North and South Korea that affects the television signal. As for his rock-paper-scissors-playing comrades headed back to the Korean Peninsula, who knows—which is what makes North Korea's participation in a sporting event like this one really scary. The team's spokesman told South African journalists that the team's one aim was to make the Dear Leader (he really said that) happy. A team whose purpose in winning is to bring honor to an inhumane regime—as South Africa's apartheid rule was—should not be allowed a world platform to do so, particularly when its players face a dark reward for losing.

Fairbanks is a writer living in South Africa as a fellow of the Institute of Current World Affairs.