Fifth Arrest Made in London Bus Attack on Lesbian Couple
Police in London have arrested five teenagers — all male — in connection with a brutal attack and robbery of a lesbian couple who were beaten after they refused to give in to the teens' calls for them to kiss each other.
The Metropolitan Police announced Saturday morning that officers had arrested a 16-year-old male on suspicion of robbery and aggravated grievous bodily harm. This arrest came a day after authorities had charged four other young males — all between the ages of 15 and 18 — in the same incident.
Suspects in the case have not been publicly identified.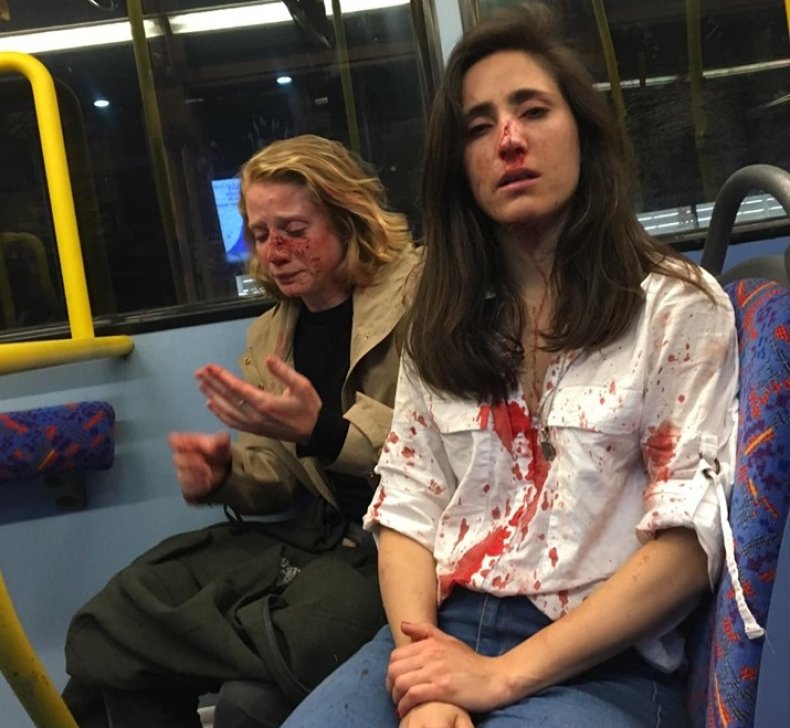 The May 30 attack gained worldwide attention Friday after 28-year-old Melania Geymonat, a Uruguay national, posted a photo taken immediately after the incident showing herself and her American girlfriend Chris, covered in blood.
In a Facebook post accompanying the photo, Geymonat said she and Chris had been on a bus to London's Camden neighborhood late that night after a date when a group of men spotted them sharing a kiss and began to harass them.
"There were at least four of them," Geymonat wrote. "They started behaving like hooligans, demanding that we kissed so they could enjoy watching, calling us 'lesbians' and describing sexual positions. I don't remember the whole episode, but the word 'scissors' stuck in my mind."
The couple's efforts to defuse the tense situation fell flat, she said, with the teens throwing coins at them and getting more riled up.
"The next thing I know is that Chris is in the middle of the bus fighting with them," wrote Geymonat. "On an impulse, I went over there only to find her face bleeding and three of them beating her up. The next thing I know is I'm being punched. I got dizzy at the sight of my blood and fell back. I don't remember whether or not I lost consciousness. Suddenly the bus had stopped, the police were there and I was bleeding all over."
In a statement released Saturday, Detective Superintendent Andy Cox called the incident a "disgusting attack on two women who appear to have been picked out and targeted by a group of youths."
Cox said police are still reviewing CCTV footage from the attack and they are hoping to speak with witnesses who were on the bus before or after the robbery.
"A number of active enquires are in hand to trace other individuals suspected to have been involved in the incident," said Cox. "Lots of people will understandably be outraged by this attack. Our efforts to trace all the suspects involved and bring them in for questioning will be relentless."