Democratic Debate Live Stream: What to Know As Biden, Warren, Buttigieg Face Off in Atlanta
The fifth Democratic debate will take place on Wednesday night in Atlanta with 10 candidates.
Top-tier candidates former Vice President Joe Biden and Senator Elizabeth Warren will stand at center stage at Tyler Perry Studios, with Senator Bernie Sanders and South Bend Mayor Pete Buttigieg beside them. The debate, starting at 9 p.m. ET and set to run two hours, will be moderated by MSNBC and The Washington Post, with both providing free live streams on their homepages MSNBC.com and WashingtonPost.com.
Cable subscribers can watch the debate on MSNBC, and the audio will be broadcast on SiriusXM Channel 118.
Since the fourth Democratic debate in October, former Congressman Beto O'Rourke has dropped out and former Housing Secretary Julián Castro did not meet the qualifying requirements: 3 percent in four major polls or 5 percent in two early state polls, as well as 165,000 distinct donors including 600 individuals from 20 states.
Here are the candidates who qualified, listed from left to right by their positions on stage:
Cory Booker (senator from New Jersey)
Tulsi Gabbard (congresswoman from Hawaii)
Amy Klobuchar (senator from Minnesota)
Pete Buttigieg (mayor of South Bend, Indiana)
Elizabeth Warren (senator from Massachusetts)
Joe Biden (former vice president)
Bernie Sanders (senator from Vermont)
Kamala Harris (senator from California)
Andrew Yang (entrepreneur)
Tom Steyer (business executive)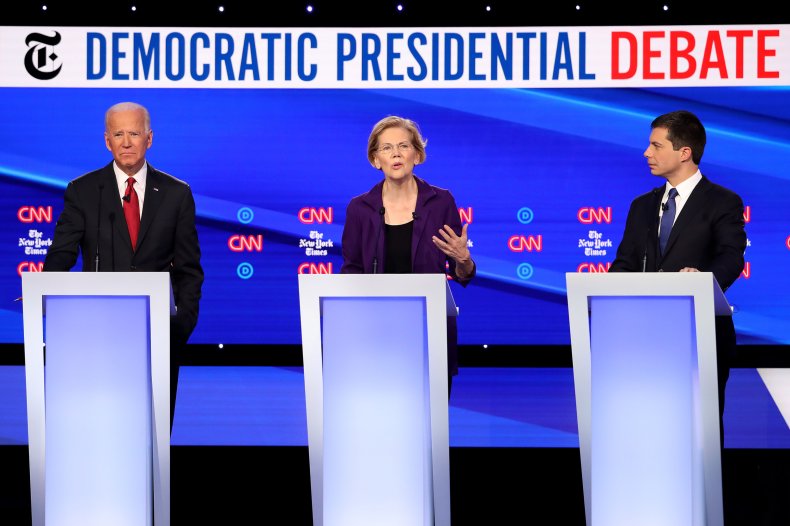 The moderators will be all women: MSNBC hosts Rachel Maddow and Andrea Mitchell, Washington PostWhite House reporter and MSNBC and NBC News senior political analyst Ashley Parker, and NBC News White House correspondent Kristen Welker.
Biden and Warren still lead the polls but since the last debate, Buttigieg has emerged as the rising candidate with support from South Carolina black voters. Former Massachusetts Governor Deval Patrick announced his bid last week, while former New York City Mayor Michael Bloomberg is considering making a late entrance out of increasing concern the current candidates may not be able to defeat Trump.
It is the first Democratic debate since the beginning of Trump's impeachment hearings earlier this month. Besides impeachment, candidates will likely discuss health care plans, including Warren's recently unveiled $20.5 trillion Medicare for All proposal. It remains to be seen if Sanders, on the progressive side with Warren, will attack her plan. Klobuchar, who successfully grilled Warren on how she would pay for Medicare for All in the previous debate, will seek another breakout moment. Harris, who has been polling low, will be looking for a way to bounce back.
The debate takes place less than three months before the Iowa caucuses -- the first votes cast in the presidential primary season. The sixth Democratic debate will take place on December 19 at the Loyola Marymount University in Los Angeles.