Who's Qualified for the Next Democratic Debate?
Ten candidates have qualified to participate in the fifth Democratic presidential primary debate, which will take place in Atlanta on November 20.
The candidates who will appear on stage include: Joe Biden, Cory Booker, Pete Buttigieg, Tulsi Gabbard, Kamala Harris, Amy Klobuchar, Bernie Sanders, Tom Steyer, Elizabeth Warren and Andrew Yang.
The event will be held at Tyler Perry Studios and will run from 9 to 11 p.m. Eastern Time. The debate will be moderated by an all-female panel from The Washington Post and MSNBC.
In order to qualify for the upcoming debate, candidates needed to meet two requirements. They either had to hit at least 3 percent in four national polls approved by the Democratic National Committee or hit 5 percent in two early-state polls. They also had to have more than 165,000 unique donors contribute to their campaign.
There will be two fewer candidates on stage next week than during the previous debate in October. Since then, former congressman Beto O'Rourke dropped out of the race and former Housing and Urban Development Secretary Julián Castro failed to meet the necessary polling requirements to qualify.
Other candidates who are still vying for the Democratic Party's nomination but did not qualify to appear on stage include Michael Bennet, Steve Bullock, John Delaney, Joe Sestak and Marianne Williamson.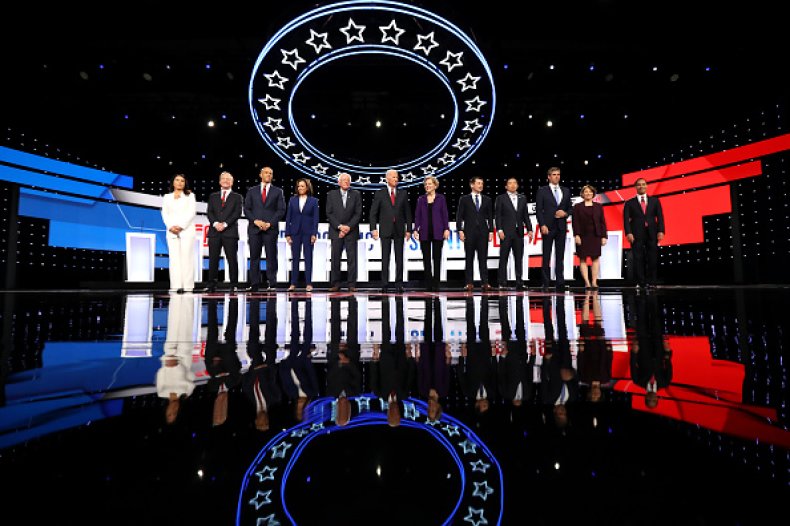 National polls show Biden, Sanders and Warren to be the steady front-runners of the Democratic primary field. Biden has largely been considered the leader since entering the race in April, with Sanders and Warren often competing for second place.
But early-voting states are still a toss-up. A new survey from Monmouth University released on Tuesday showed Buttigieg leading the pack in Iowa. The poll showed South Bend, Indiana mayor three points ahead of Biden with 22 percent support from likely caucus-goers.
Next week's Democratic debate comes three months before the first primary votes are cast. In February, early-voting caucuses in Iowa, New Hampshire, Nevada and South Carolina will give the first glimpse at where voters stand heading into the 2020 race.
After the fifth debate, it will only get more difficult for the remaining candidates to qualify for the next event. In order to appear on the debate stage in December, candidates will have to earn 4 percent support in four national polls or 6 percent support in two early-state polls. They will also need 200,000 unique donors to contribute to their campaign.
Just six candidates have qualified so far for the December debate: Joe Biden, Pete Buttigieg, Kamala Harris, Amy Klobuchar, Bernie Sanders and Elizabeth Warren. The deadline to qualify for the event is December 12.
Who's Qualified for the Next Democratic Debate? | U.S.